Midwest Today, June 1998
---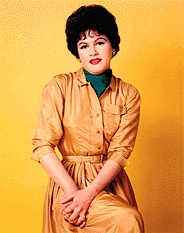 REMEMBERING
PATSY CLINE
Her last show was in Kansas City
35 years ago this Spring. Fans
remember country music's best
female singer of all time.
---
By LARRY JORDAN


One of the most beautifully distinctive voices in the history of country music was stilled 35 years ago this Spring, when Virginia Hensley, better known as Patsy Cline, was killed in a plane crash near Camden, Tennessee on March 5th, 1963. Patsy, along with Cowboy Copas, Hawkshaw Hawkins, and her guitar player/manager Randy Hughes - who was piloting the plane - had just performed at three benefit concerts in Kansas City, Kansas, and were en route home to Nashville when the accident occurred.

Patsy was only 30, and had recorded barely a hundred songs during her six years on the national stage. Her incredible voice had taken her from an impoverished background in Winchester, Virginia to the stage of the Grand Ole Opry, and even to Las Vegas, the Holly-wood Bowl and Carnegie Hall.

But Patsy Cline remained a simple country girl with a big heart and a bawdy sense of humor, whose life was tinged with sadness just like her songs. As a child, she was abused by her father, who moved the family 19 times in 16 years, and then abandoned them when Patsy was a young teen. Her first marriage, to a much older and overweight man, collapsed when he demanded she give up singing. Her second marriage had its ups and downs. Following an initial big hit, her career faltered when she was victimized by an unscrupulous song publisher, who took advantage of her naivete as she was just starting out. And she was permanently disfigured in a nearly-fatal car crash just as her big breakthrough hit, "I Fall to Pieces," was scoring on both the pop and country charts in 1961.

Yet she left behind a legacy of timeless performances, which have been rediscovered by new generations of fans.

Interest in Patsy was kindled when she was portrayed by Beverly DeAngelo in the film version of Loretta Lynn's life story, "Coal Miner's Daughter." Then Jessica Lange played her in 1985's "Sweet Dreams," and lip-synched to some of Patsy's greatest songs. For the first time, movie goers could thrill to hearing Patsy's exquisite voice on big theater sound systems - something even her contemporaries could not have done.

After an interim number of years in which her record sales were flat, averaging only around 75,000 units annually, Patsy's recordings suddenly became popular again. She has been awarded gold records posthumously and her "Greatest Hits" album has gone quadruple platinum, selling 8 million copies. One of her biggest hits, "Crazy," is still the Number One most-played song on jukeboxes.

Two theatrical productions based on Cline's life story, "Always" and "Closer Walk" have played venues from Branson to Toronto, keeping her name alive. Even the U.S. government has honored her with a postage stamp.

A True Original

Patsy Cline had a bell-clear voice that was both bluesy and countrified, with a torchy pop edge that she used to great effect. She had a very wide range, and could move effortlessly with swooping glissandos from full chest tones to soaring higher notes and back again. Listening to her recordings today, it's thrilling to hear a master at work.

Hers was an old-fashioned style of singing, and even without formal training, she had a whole bag of vocal tricks she'd dip into, depending on the tune.

Patsy would modulate for emphasis, use a throaty growl on swing numbers, do a little yodel on high parts or add dramatic poignancy with a little sigh or catch in her throat - such as that tremulous hitch that ached with sadness at the end of "Faded Love."

Ironically, her husband, Charlie Dick, told Midwest Today in an exclusive interview that Patsy's producer, Owen Bradley, "fought to keep her from doing that." But Patsy knew best. As Charlie says, "When she sang a song, it was just like her playing a part in a movie. That three minutes was a movie and she was living it while she was singing it."

Expounding on her approach, Patsy once said, "It's like writing in your diary when you sing a song. I want to get it just right so that when other people see it, they see how it was and how you really felt."

She told fellow singer Dottie West, "if you can't do it with feeling, don't do it."

Songwriter Harlan Howard credits Patsy with being an especially adept "reader of lyrics," knowing that "certain lines in a song are just there to be sung. They're not emotional lines.

"Patsy had a knack to hold back on those lines," he explained, "then when she got to the really juicy part of the song she'd give it everything she had."

Intriguingly, it may have been an early brush with death that gave Patsy the rare voice which she used to captive millions. She once told how a life-threatening bout of rheumatic fever at age 13 affected her voice: "In childhood I developed a serious throat infection, and my heart stopped beating," Patsy explained. "I was placed in an oxygen tent, and doctors brought me back to life. I recovered from the illness with a voice that boomed forth like Kate Smith."

Loretta Lynn recalls that Patsy "was a real pretty girl, much prettier than her pictures. Patsy loved pretty things in her house, beautiful clothes." At five feet, six-and-a-half inches and with brown eyes, Patsy created a sensation by wearing form-fitting clothes - many of which were made by her seamstress mother, Hilda Hensley.

Those who have not heard Patsy speak may be surprised that she routinely used Southern colloquialisms like "honey child," "lawsa mercy," "that's a frog strangler," and "big daddy". She'd tell audiences that they should "shake a leg - we don't care which one it is," or that they should "go ahead and let your hair down, let's see whatcha look like. Aaaaaaaeeeeee!" Or "Lord's-a-mercy. I hate to stop!"

As evidence that you can take the girl out of the country, but you can't take the country out of the girl, she told an audience after her triumphant return from Carnegie Hall that "Oh doggies, you talk about a hen out of a coop. I really felt like one up there... We were awfully proud of having the opportunity to go that 'fur' up in high cotton." But when she started to sing, her sophistication shone through.

Came From A Musical family

Biographer Margaret Jones told Noah Adams in an interview on NPR's "All Things Considered" that Patsy "came from a very musical family, though she concealed that information because of the very troubling childhood she had and the extremely problematic relationship she had with her father." Jones reported that "her father's side of the family were all very gifted musically. In particular, her father was a singer and a very accomplished singer. And she had aunts and uncles who attended Shenandoah Conservatory of Music and they all played several instruments. Patsy herself could play piano by ear. Music was very much a part of their life and in a sense, dramatics were too."

Still, it was all a struggle. While she worked as a drugstore-counter girl in her hometown, she would sing half the night at some small venue, and with little sleep be at work the next morning.

Recalling her first Opry audition (for which she was never called back), Patsy reflected, "When I first came to Nashville in 1948, I drove in with my mother, sister and a friend of the family. We shared expenses. I didn't even have enough money to rent a hotel room. The night before we were to audition we stopped outside town at a picnic site and I spent the night sleeping on a concrete bench."

She paid her dues in seedy roadhouses, school gymnasiums and service club dances, where she sang for as little as $10 a night. Her big break came when she auditioned for and won an appearance on "Arthur Godfrey's Talent Scouts" show in New York City in 1957.

On the nationally-telecast program, she turned in a winning performance of "Walking After Midnight," sending the applause meters off the scale and prompting Godfrey to remark that she was the biggest talent he'd ever had on his show.

Ironically, Patsy had privately derided "Midnight" as "a little ole pop song" and wanted to deliver it wearing her usual fringed suit, boots and Stetson, and yodeling cowgirl style. But the show's producers insisted that she wear a cocktail dress instead.

Out of her element in the big metropolis of New York, wearing a dress she wouldn't otherwise have been caught dead in, singing a song she hated, and concealing the identity of her own mother, who had to introduce her on the air, Patsy nevertheless charmed a nation.

Keeping in mind that television then was still in its infancy, and not well understood, Patsy seemed to instinctively know how to use the medium to establish an intimate bond with viewers. She just took charge and sang her heart out.

Missouri Man Unearths A Treasure

Enthrallingly, the audio from these early TV performances surfaced many years later on a cd called "The Birth Of A Star" (Razor & Tie). It features 17 previously unavailable songs from Patsy Cline's breakthrough appearances on Godfrey's television programs in 1957-58. Acetate recordings of these performances - thought for years to have been lost to water damage - eventually fell into the hands of a Springfield, Missouri man, country entertainer Tommy Overstreet, who said he got them from a man who'd had them in his attic for 25 years. Overstreet effused, "It's unbelievable. It sounds like it was done in the studio yesterday...There's an orchestra behind her, and on one track she's got a clarinet that sounds just like Pete Fountain noodling. I mean, it just blows your socks off." Randy West wrote in People that "The release...is an ear-opener to say the least.

"The revelation here is that the 24-year-old singer was no product of slick studio gimmickry," he effused. "The amazing pipes that would make her a star were already in place, and her gutsy vocal presentation is ever on the mark."

After Patsy's 1957 TV performance of "Walkin' After Midnight," Decca rushed to release her version on record. It sold 2-1/2 million copies in an era when 50,000 was considered a big hit, and crossed over from the country sales charts to score in the pop field as well - almost unheard of in those days. But appallingly, due to a bad deal she made with a song publisher, Bill McCall, she received only a fraction of the money generated by her smash hit, or about $900 total.

McCall, in fact, is a true villain in the Patsy Cline saga. By refusing to allow her to record anything other than songs copyrighted by his own publishing company, he effectively held back her career following "Mid-night" for an agonizing four years. Though Patsy and her Decca producer, Owen Bradley, tried valiantly to transform the inferior material into something that was commercially viable, they had only minimal success. Without any more hit records, Cline couldn't command the sort of fees that life on the road was able to bring other country music artists of the time.

The couple was so broke at one point that Patsy feared the finance company would repossess their car and refrigerator.

Still, she was a popular addition to "package" shows, and made frequent appearances on the Grand Ole Opry, finally becoming an official member in 1959, even without another hit.

Finally, when her contract with McCall was up, she and Bradley were free to collaborate in the choice of material. And thus a star was reborn. But tragedy stalked her career...

At Death's Door

Contrary to how it was depicted in the movie, "Sweet Dreams," Patsy's car accident in 1961 was not the result of inattentiveness on the part of her brother Sam, who was driving, but on a woman in the oncoming lane who pulled out to pass and struck them head-on. Patsy was thrown through the windshield, and suffered multiple crush injuries, a dislocated hip, broken wrist and severe facial lacerations. Insisting the ambulance carry the injured from the other car to the hospital first (including a six year old boy who later succumbed to his injuries), Patsy nearly died from blood loss. She remained in critical condition for several days, and in the hospital for six weeks.

The worst part was the facial gash. Charlie recalls: "It started right at the side of her eye and went right across the nose and just peeled the forehead back. The doctor sewed it up the best he could at that time, quick like, because she was bleeding bad." A few days after her condition had stabilized, the doctor went back and re-sewed the stitches to smooth things out. "As a consequence, she never had plastic surgery," Charlie explains.

In a Dick-produced video "The Real Patsy Cline," neighbor Joyce Blair recalls that "I went to her bedside. She reached over and got my hand, and she said, 'Blair, Jesus has been in my room. He has taken my hand and told me, 'No, not now, I have other things for you to do.'"

Struggling back from death's door, weeks later Cline appeared on the Opry stage on crutches to thank her fans for the 4,000 "get-well" cards she'd received.

For the rest of her life, Patsy would never be the same. She suffered from debilitating headaches so severe she would press her forehead against the cold bathroom tile, seeking relief. She told some friends she had blackouts. She wore heavy makeup and wigs with bangs that she pulled down to hide the scars.

Ohio Embraced Patsy's Comeback

What is remarkable is that Patsy Cline recorded some of her most memorable songs after her car accident. While still recovering from debilitating injuries, she hobbled into the studio for a series of recording sessions which produced hit after hit.

Her breakthrough was when she recorded Harlan Howard's "I Fall to Pieces," daring to accept a pop arrangement at a time when country records were mostly honky-tonk. But it almost wasn't a hit, except for the tireless efforts of a promotion man, Pat Nelson, who persisted in trying to get deejays to spin it. The breakthrough came in Columbus, Ohio when a pop station there began playing it. Based on this success, Nelson managed to get the song on jukeboxes, and thus built momentum for it across the nation.

Cline said to her producer that, after years of experimentation, "I think I've found out who I am and what we've been searching for. We don't have to search for my identity anymore. This is it! We're doing it right."

One night in Omaha, Neb. Patsy heard Carl Perkins working on a song in the next dressing room. As he told the story later, "She called out, 'Whose song is that?'

"'I just wrote it,' I said. 'It's mine.'

"'No it ain't,' she said, 'it's mine.'"

The song was "So Wrong."

Oddly, Patsy did not initially like her biggest hits. For instance, Charlie had brought home a record called "Crazy," by "Hugh Nelson" (later known as Willie), and kept her awake one night playing it over and over. When Owen suggested she record it, she threw a fit: "I've heard enough of that damn Hugh Nelson!"

She detested his self-demoed version because she didn't like the way he pulled tempos apart - singing ahead of and behind the beat. She just couldn't get into the song, and after four hours of trying in the studio, finally gave up.

That was the only song in which she came back after the instrumental tracks had been laid down, and did her lead vocal. And she nailed it in one take. In every other case, the musicians were right there with her as she performed - creating a synergism that was electrifying.

The lights would be turned down low and Patsy would stand in the middle of the studio - unlike some singers who hid off in a corner - close her eyes, and make magic.

Charlie reveals, "I have seen her, when we'd go to recording sessions, before we'd leave the house, she'd want to have a drink. I don't know whether it calmed her down, it was just false security...or what. Nobody could ever tell she had it or anything like that - but just one, never any more during the session. That was it."

It is said that the conflicts in the studio between a strong-willed Patsy and her producer kept her angry all the time, and that this came through as hurt on record. Witnessing one argument between Cline and Bradley, musician Lightnin' Chance (who later became a friend) remarked, "That's the meanest witch I ever saw. I wouldn't put up with her for 30 seconds!"

Cline lost the battle when she fought against adding four male voices - the famed backup group, the Jordanaires - to her sessions. She was afraid they would drown her out. But she was assuaged when she heard the beautiful results.

Charlie recalls that when recording "I Love You So Much (It Hurts Me)," "Patsy named a key. And Owen said 'No, Patsy. A girl can't sing that song in that key.' And she said, 'By God, I can.' So he said 'All right, take a shot.' And she sang the one verse, and they never argued about keys after that." Patsy hit the low notes easily.

She could go from rock to blues to country all in a single recording session.

Just listen as Patsy gets into the Latin rhythms on "South of the Border," sings it straight on Pat Boone's "Love Letters In the Sand," stomps out the Western swing number "Blue Moon Of Kentucky," frolics on "Tra Le La Le La Triangle," aches with sentimentality on "You Belong To Me," sweetly hums the bridge on the waltz "True Love," rocks with the best of them on "Gotta Lot of Rhythm In My Soul," gives a reverential reading of "Just A Closer Walk With Thee," or assures her immortality with her signature song, "Sweet Dreams," featuring the beautiful cascading strings.

But Cline's forte was really jazz-style phrasing, and her best-loved numbers were undeniably country-blues. On songs like "Crazy," "Stronger Than Me," "Leavin'' On Your Mind," "Why Can't He Be You," "Someday," "Never No More," "She's Got You," and others, Patsy sings a quintessential blues, seducing the listener as string bass, electric guitar, jazz piano riffs and lazy percussion set the mood.

Curiously, Patsy was rarely happy with anything she recorded. Her classic statement after listening to playbacks was, "Please, let's try it one more time." No matter how close to perfection she came, she always wanted to do it better.

She did enjoy hearing her voice on records though. She'd sometimes sit over a bowl of chili at Tootsie's lounge and play her tunes on the jukebox for friends.

Patsy Cline officially recorded only 102 songs in the studio, not counting alternate takes and a handful of remakes. This is a surprisingly sparse catalog, considering her six-year recording career, and has made it difficult for her label, MCA Nashville, to keep up with the public demand for new material.

There are over 40 compilations on the market, including some with new instrumental backgrounds. The most ingenious re-makes were the two songs - "Have You Ever Been Lonely?" and "I Fall to Pieces" - that were combined with tracks recorded by the late Jim Reeves to create "new" duets. The brainchild of Jim's widow, Mary, the songs hit the Top Ten in the early 1980s.

The Country Music Foundation also hunted up old transcriptions of some of Cline's Opry appearances and other performances for armed forces radio. What makes her radio work so interesting is that she got to choose her own material, in spite of McCall. One of Patsy's idols was Kay Starr, so she did songs like Starr's "Side By Side."

For some reason, Patsy never sang a song in which she was a mother. Her tunes were invariably about love - but her role in them was always as the narrator, the girlfriend, or the jilted lover.

Avid Cline collector Jimmy Walker of Lexington, Kentucky, says other live recordings exist, and he has some. There are also two unreleased Kinescopes of Patsy singing Christmas songs.

These recordings are kept at the Country Music Hall of Fame in Nashville, but so far are not on public display. The songs are both duets, and they are "Let It Snow" (Patsy with Ferlin Husky), and "Winter Wonderland" (Patsy and Red Foley). They where filmed in December 1960 for "Jubilee USA."

Her husband, Charlie Dick, says that "There's about ten songs, I think, that have never been out in video form. They were on TV back in those days, but there's always a deal where you gotta fight everybody. Nobody wants to give them up, but nobody wants to claim ownership, nobody wants to pay the bills."

Last August, cotta released a CD based on a crude tape of Patsy's first performance after her car accident - recorded at the Cimmaron Ballroom in Tulsa, Oklahoma. The tape had been given to Patsy years earlier. Charlie explains: "That came out of our house. When I sold my house I left some stuff in the basement and was going to go back and get it. I did wait longer than I should have, [but] when I went back to get it, one of the musicians who worked for the person I sold [the house] to told me the stuff got wet and they threw it away. Now it's turned up piece by piece."

Success At Last

With her recording success, Patsy's name was in lights. Yet she couldn't afford her own band, so had to rely on "house" bands wherever she went. The only overseas trip she made was to Hawaii. She had a ball, and sent tropical flowers home to her mother.

Her experience playing a Las Vegas casino was not so pleasant. She did four shows a day for 35 days straight, during the midnight to 5 A.M. shift, for only $6,300 a week. Out of this she had to pay the band and the booker. Shortly after beginning the engagement, she lost her voice due to the dry desert air, and had to lip-sync her numbers for a few days until her voice returned. Though the audiences loved her, it was a dispiriting experience for Patsy to be away from home during Christmas, and she was frequently in tears. But that didn't stop her manager, Randy Hughes, from booking her for a repeat engagement.

Most artists didn't travel in tour buses in those days. Long hauls over two-lane roads were usually accomplished in large sedans, with several performers packed into each vehicle, pulling trailers loaded with instruments.

Life on the road was an ordeal. On a two-week Midwest stint in 1962, Patsy mailed a letter from Joplin, MO. to her friend Louise Seger, saying, "I was in Canada and then South Dakota and then Chicago, then Indiana and now out here in Kansas City and Iowa and all these places. There's been so much snow, you can hardly move. I'm sick of it."

Barbara Mandrell, who was only 13 when she toured briefly with Patsy, remembers being asked by the singer to take her arm and help her walk across an icy parking lot in Des Moines because she was so afraid of falling and reinjuring herself after her car crash. Mandrell told Midwest Today that for the rest of the trip, Patsy looked after her like a big sister, insisting she sleep in her room, go shopping with her and even have Barbara do her hair before shows.

For years, rumors have swirled around Patsy's life on the road, fostered by unchivalrous men like Porter Wagoner and Jimmy Dean, who claim assignations with her. But her husband, Charlie Dick, says "She was a very nice person, a very caring person, a good mother, a good housewife, and a good-looking woman. And a lot of fun and just enjoyed life and loved to sing." She liked to embroider, delighted in hosting parties and, he says, was a good "country cook."

Beneath her blustery exterior, she was also known as being a softy. Songwriter Don Hecht told Country Music Magazine that "Once in Des Moines, IA., she was contacted by the mother of a girl who'd purchased a ticket for a performance, but was rushed to the hospital for an emergency operation. A tired and ill Patsy appeared at the foot of the semi-conscious girl's bed and spoke to her as though she had known her all her life. Then Patsy sat on the bed and asked the girl her favorite song. The child, thinking she was dreaming, quietly told the title, and Patsy sang softly as the girl went into a sleep from which she never awoke..."

Wilma Sedivy recalls seeing Patsy at a 1962 performance in Cedar Rapids, IA. at the cavernous Veteran's Memorial Coliseum there. The building, which is located on a small island in the middle of the river, is notorious for its bad acoustics. Yet Wilma told Midwest Today, "I'll tell you, [Patsy] could have sang clear past the river and you'd have heard her. I never heard anyone in my life with that kind of a voice...it was unbelievable. It was just the most emotional thing. She was so terrific and she had so much volume in her voice. I'll tell you this much: She quieted down that auditorium - you know what it's like in there, it's always noisy and everything else - but when she sang, you could've heard a pin drop. She was an artist with such a talent."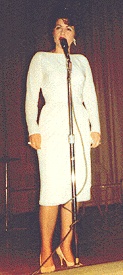 Reviewers who witnessed her live shows also commented on how sensuously Patsy moved - something that was rare for the time and that is not evident in clips of her more staid TV appearances.
If the truth be told, before a show Patsy often had butterflies in her stomach. She also carried a handkerchief in her hand on stage because her palms would sweat.
"People ask me if Patsy smoked, and I say she always had a cigarette in her purse, and occasionally she smoked, but she was like Bill Clinton - she never inhaled," Charlie says. "She told me the reason she didn't is because the doctor told her that if she ever smoked, because of [the rheumatic fever], that she might not even be able to talk. But occasionally she did like the taste of a cigarette."
In Peoria, Illinois, she told an interviewer for a school newspaper, The Lime-light, that "I am very nervous due to my automobile accident last year. Many times I have to leave a crowd and take a 15-minute rest." She also observed that her success meant that "I never have any time to spend with my family."
But she added humbly, "I have gotten more than I asked for. All that I ever wanted was to hear my voice on record and have a song among the Top 20." Cline did that, and more. She won numerous awards, including the coveted "Favorite Female Vocalist" honor.
She bought a white Cadillac and a comfortable home, complete with a bathroom that was flecked with real gold, just like she'd seen in a movie. "We went out and bought the furniture room-by-room, and had to order some of it," Charlie remembers. "She wanted it just so. Like [daughter] Julie's room, she was doing that room like she wished she always had when she was a kid and never did."
By this time, Patsy and Charlie had two children, Julie and Randy. She hated being away from them, lamenting, "I've become a captive of my own ambitions."
Patsy Cline's final recordings were mastered on four successive nights, February 4-7, 1963, between 7 and 10 P.M. It's as if she was in a hurry to leave a legacy. Prophetically, she invited some close friends to attend her final session, and a party atmosphere prevailed as she did "He Called Me Baby," "Crazy Arms," "You Took Him Off My Hands," and her last song, "I'll Sail My Ship Alone." Then she celebrated with champagne.
Her Last Shows
Typical of her big-heartedness, Patsy had agreed to perform for free at some benefit concerts in Kansas City on Sunday, March 3, 1963, to help raise funds for the family of a disc jockey, "Cactus Jack" Call, who'd been killed in an accident. She had been booked to play Birmingham, Ala. the night before, and Charlie had flown with the group to that show.
Fans remembered Patsy as being luminescent. She joked with the ladies in the audience about weight problems, and said "this is the first time in a long time I've been able to wear white." At the end of the show, she quieted everyone down, and said "I have really had a good time with you. God love you!" Then she said in a strange sort of confession, "I've done a lot of things that I'm not happy about. And in the short time God gives us on this earth, I'm doing something about changing all that. But I sure do appreciate you sticking with me and buying my records. Y'all been good to ole Patsy!"
On Sunday morning they dropped Charlie off in Nashville so he could be with their young son, who had pneumonia. The plane ride on to Kansas was awful, with Patsy complaining she was frozen and that made her chest cold worse.
Kansas City native Mildred Keith was at that final concert. She told Midwest Today that as a friend of the promoter, Hal Peeples, she was invited backstage to meet Patsy. Keith recalls that "When we got to the door, I could hear Patsy crying, and I said 'Don't knock yet,' you know, 'something's wrong.' And I could hear Dottie [West], say that 'It'll be all right, it'll be all right.'"
Patsy and Mildred had a nice visit, then Mildred recalls, "When we got to the steps, she was getting ready to go on-stage, and it dawned on me, I said 'Patsy, could I get one picture?' And she said 'Sure.' And she just stopped and I just took the one picture. I thanked her and she put her arm around me, and she walked on up that stage. She went on and she did that show and I'm telling you, she just brought the house down."
A Strange Twist Of Fate...
Monday morning, Patsy hadn't wanted breakfast. She'd been up coughing half the night, so Dottie West convinced her to ride back to Nashville with her and her husband, Bill, in their station wagon. Patsy had even brought her bags down in the elevator to the hotel lobby when she abruptly changed her mind. She said she felt a sense of loyalty to Randy, that she'd flown there with him, and would return the same way.
Patsy fatalistically brushed aside Dottie's concern about flying in bad weather, saying, "When it's my time, hoss, it's my time... If that little bird goes down, I guess I'll go down with it."
The party of four - Cline, Hughes, Hawkins and Copas - were delayed an extra day by bad weather. On Tuesday, March 5, 1963, they left Kansas City for home. En route, they'd had to land and take off several times, once running into hail. By the time they'd stopped late in the afternoon to refuel at the small Dyers-burg, TN. airport, they were catching up to a big storm front.
The weather at that hour was described by the FAA as "extremely turbulent." One commercial airliner had al-ready re-routed. The airport manager was so concerned, he offered to loan the foursome his car, and then fly Hughes' plane to Nashville the next day.
But Randy Hughes made the fateful decision to proceed. It was a gamble even in good weather, because at that hour in March, darkness was already descending and he was not instrument-rated.
Patsy had ordered an iced tea and shrimp salad in the airport coffee shop, and onlookers who spotted her in her red pants suit swear that the last song she heard on the jukebox was "Crazy." The group took off for Nashville at 6:07 P.M.
Asked if he was bitter about Hughes' misjudgment, Charlie Dick said "I would be if I thought he was just [a nut]." But, he explained, "Randy was a 90-mile-an-hour guy. At 6 o'clock in the morning, he might be out mowing grass, at 7 o'clock be in his office downtown, at 8 o'clock be out fishing, and back downtown at 9."
In addition to this, Charlie revealed to Midwest Today a conversation he'd had with Hughes when the two men flew together a short time before, and which eerily foreshadowed the accident.
"He was so proud of that little plane, and they had really psyched him up on it," Charlie recalls. "He told me a story about a guy that had a plane exactly like that, and was an inexperienced pilot, and got into a storm, and decided he would climb over it. Well, he went up so high and he seen he wasn't gonna get over it, so decided to go down and - being inexperienced - he didn't pull the throttle back. Well, the first thing he knows he's going a whole lot faster than that plane is supposed to be capable of withstanding. Of course, he realized it, and pulled it back and pulled it out of the dive and saved it, and when he landed, there were just a few wrinkles on the wing.
"So Randy thought that plane could do anything...I don't think he once thought he couldn't make it or even thought about having to turn back." The small Piper Comanche carrying Patsy Cline and the others went down at a 45° angle, barely disturbing the treetops, and crashed in a wooded ravine just outside Camden, TN. Local residents said the storm that downed the plane was of very brief duration, so they could have missed it entirely - but didn't.
Wreckage was strewn over a 250-yard area. When it was found the next morning, hundreds of onlookers converged on the scene, scavenging for souvenirs and carrying off personal effects - even a shoe with a human foot in it.
A strange postscript to the story is that both Randy and singer Jim Reeves took lessons from the same flight instructor. And barely a year after the Cline tragedy, Reeves was killed under identical circumstances - flying his plane straight into the ground under full power during a thunderstorm, just like Randy did. Was it just an incredible coincidence or were these two men given misinformation in flight school?
Friends later claimed Patsy had premonitions of her death, even saying she didn't expect to live to see 30, but Charlie claims "If she did, she didn't tell me a-bout it." She had established a trust for her children, however, in the final days.
The tragic circumstances of her death, and her hardscrapple life, have fostered many myths about the singer. For example, the film "Sweet Dreams", Dick says, "was a good movie if you like fiction. The basic story is there, but then they've just added so much to it. Just like the fight thing. We did get into it one night and I actually smacked her. And she should have been dead, according to the movie."
Tragedy continues to lurk in the shadow of Cline's legacy. Two Christmases ago, one of her daughter Julie's children, a young teen named Virginia (after Patsy's real name) - who, like her famous grandmother, was a good singer - was killed in a freak car accident.
Recently about 50 letters Patsy wrote to her first fan club president, Treva Miller - who also was killed prematurely in an accident - have surfaced and are being offered for thousands of dollars.
Her hometown of Winchester, which shunned her during her lifetime because, she said, she "came from the wrong side of the tracks," is belatedly working on a museum to honor her. Camden recently inscribed a big boulder at the crash site to honor the four stars.
Patsy Cline's fans - young and old - span the globe. There are a dozen or more web sites devoted to her (see http://www.nola.ovik.se/pj/patsy/), plus a fan club ("Always Patsy Cline," P.O. Box 2236, Winchester, va. 22604).
All of which would astound Patsy.
Asked one time if the only way people could see her was by her voice, what would she look like, Patsy replied, "Trouble and honey."
We miss you, darlin', more and more every day, as heaven would miss the stars above.
To hear our radio tribute to Patsy, including an interview with Charlie Dick and Mildred Keith, go to our RADIO EDITION page elsewhere on this site.)
For a copy of the issue of Midwest Today containing this story, send $5 (includes S&H) to: Midwest Today, P.O. Box 685, Panora, Iowa 50216.
Click Here To Recommend This Story To A Friend
---
Back to the top
Contents copyright 1995, 1996, 1997, 1998 and 1999. All rights reserved.