Midwest Today, June 1994
---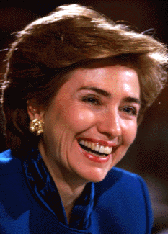 THE REAL
HILLARY CLINTON
Growing up in Park Ridge, Illinois, she
wanted to be an astronaut. Now, at the
center of a controversy involving her
husband the President, some critics
would like to send her to the moon
---
By LARRY JORDAN

(ABOUT THIS STORY: Midwest Today publisher Larry Jordan began following Bill and Hillary Clinton's various appearances around the country even before the 1993 Presidential campaign. Later, Jordan sat within a few feet of Mrs. Clinton for a couple of hours during a conference on health care. Then, after he did an exclusive interview with her husband, Hillary approached Jordan to talk. Until now, nothing about this has appeared in the pages of our magazine. This compelling portrait of the First Lady, with some surprising new facts, has been drawn from first-hand observations and interviews with White House personnel.)
---
Despite the smiles, the business-as-usual stance, will this be the summer of their discontent? The President and First Lady have become enmeshed in a tangled web of media-abetted controversy, spun by critics who hope to disable them from pursuing the political agenda they have begun.
The unfolding Whitewater story has cast Bill and Hillary Rodham Clinton as speculators in real estate, players in the commodities market, partners with the head of a failed savings and loan establishment, and contributors of used underwear to increase their income tax deductions.
Hillary Clinton in particular has been singled out as a target for vituperative GOP and right-wing attacks. She has been referred to as Lady Macbeth of Little Rock, the Winnie Mandela of American Politics, the Smiling Barracuda and That Dowdy Feminazi.
They say she is a political liability to her husband, the champion of an overly-complicated, unneeded and socialistic health care reform package, the zealot of opportunism by quota and by cronyism (the combination that has made such a mess of the Justice Dept.), the woman who helped create the Whitewater embarrassment in the first place and whose intimidating presence in the White House made it worse.
Still others accuse her of wanting public responsibility without public accountability. Critics delight in puncturing her supposed arrogance and hypocrisy. They say the woman who preached the politics of meaning practiced the politics of greed. They claim she's not really a high-minded career woman at all, and that she stooped to sacking a White House usher with a family to support for the heinous offence of returning Barbara Bush's phone calls.
Only a few months ago she was virtually canonized for her handling of health care and her impressive testimony - without notes - in front of Congress. But oh, how her fortunes have changed.
Summarizes columnist Joe Klein, "[Ms. Clinton's] combination of liberalism, legalism and her profound mistrust of those outside the inner circle probably haven't served the President well."
But is this an accurate picture of Hillary Clinton - or a grossly distorted, politically inspired, self-serving caricature created by those who feel threatened by her ambitious initiatives and how she's newly defined the role of America's First Lady?
She comes across on TV as direct, business-like, well-prepared and emphatic. But in person, she appears surprisingly diminutive and feminine, betraying the stereotypical depiction of her as the I-am-woman-hear-me-roar type. She has china-blue eyes and the hair is shorter - the jacket reportedly a size eight.
For Hillary Clinton, being in the White House is more than politics and policy. It's a moral narrative, a national drama with themes driven by metaphor and symbol. Though often thought of as a Southerner - because of her years as the wife of an Arkansas Governor, Hillary Clinton is actually a Midwesterner, whose values were shaped in the Heartland, and who brought many of her Illinois acquaintances with her to the Administration.
Born Hillary Diane Rodham on October 26, 1947, in Chicago's Edgewater Hospital on the city's North Side, she was raised in the suburb of Park Ridge, the eldest of three children. Brother Hugh, a Florida attorney, recalled "We were raised with traditional Midwestern values - family, church on Sunday, respect your elders, do well in school, participate in sports." While Hugh and younger brother Tony, now a private investigator, played football, Hillary participated in ballet, swimming, tennis, skating, softball and volleyball - and earned every badge as a Brownie and Girl School.
Father Hugh owned a fabric store and mother Dorothy was a full-time homemaker who had lunch ready for Hillary every day. Although Mrs. Rodham never attended college or pursued a professional career, she encouraged her daughter to do so, hoping she might become the first woman on the Supreme Court.
Hillary learned early on how to stand up for herself. Dorothy Rodham told an interviewer how she sent her sobbing four-year-old daughter back out onto the street to slug it out with another little girl who had been bullying her. "The next time she hits you, I want you to hit her back," her mother told her. Hillary did, to the astonishment of young male onlookers, who then invited her to play with them.
After church on Sundays, the Rodhams would take Hillary to the park for batting practice so she could compete with the boys. By age nine she was an ace shortstop who knew all the box scores and other baseball stats.
Mrs. Rodham told Paris Match that she used to tell her daughter that school would be "a great adventure" where she would learn many things and experience new passions. "I motivated her so that she wasn't simply resigning herself to go to school. I wanted her to be enthusiastic to the ideas. It may be for this reason that Hillary was never afraid. Not of school. Not of anything."
Her mother recalled that in high school, Hillary deliberately resisted the pressure on girls to not display their intellect or outshine boys. She was class president, on the debating team, and won Maine South High School's first social-science award.
As a young person, Hillary joined the Mariner Scouts and learned to sail on a little lake at the edge of Park Ridge, and to canoe down the Des Plaines River.
A devout Methodist, Hillary, along with her church youth group, helped to minister to the poor Mexican children of migrant workers who picked crops three blocks from her home.
A powerful early influence on her was youth minister Rev. Don Jones, with whom she has maintained a confidential correspondence over the years.
Mrs. Clinton herself described what she recalls was "a wonderful, stable upbringing."
When she was in junior high school in Park Ridge, ILL., Hillary Rodham wanted to be an astronaut.
"President Kennedy had just started the drive to the moon, and this was, like 1961, and I was, like, 14 or so," she recalled.
"So I wrote a letter to NASA and asked them what [I had to] do to be an astronaut. I told them something about myself..and they wrote back and said, 'We are not accepting girls as astronauts.' Which was very infuriating."
Mrs. Clinton cited this incident when asked to list the opportunities she felt had been denied her because of her sex. She concluded, however, with the observation that "I later realized that I couldn't have been an astronaut, anyway, because I have such terrible eyesight. That somewhat placated me."
She made the National Honor Society, then later went on to attend Wellesley college in Massachusetts.
Hillary maintained an excellent academic record and her former classmates recall she was very serious-minded and studious - a realist who was contemplative and analytical.
Though raised a die-hard Republican, sometime during her Wellesley education Hillary apparently began to regard the Goldwater solutions to America's problems as too simplistic. In 1968, she signed up for Democrat Eugene McCarthy's quixotic Presidential campaign. This did not stop her, however, from accepting a summer internship with the House Republican Conference in Washington. Then she shifted back again, riding a train to Chicago with a girlfriend to take in the 1968 Democratic Convention.
She Meets Bill
Hillary met Bill Clinton while both were students at Yale Law School. The future President's mother, the late Virginia Kelley, recalled in a new book just published that when her son first brought Miss Rodham home to meet her, Hillary had "No makeup. Coke bottle glasses. Brown hair with no apparent style."
Mrs. Kelley remembered wanting to "sit Hillary on the edge of my tub and give her some makeup lessons. Show her how to bring out all that natural beauty she was covering up by going natural."
There was a "cultural tension" between the two women, Mrs. Kelley wrote, and she regarded Hillary as being "some new import from Chicago."
But Bill defended Hillary to his mother, saying he was fed up with beauty queens and that "I have to have somebody I can talk with."
Indeed, Mrs. Kelley acknowledged that "There's no question that this was - and is - the smartest woman I've ever encountered."
One of Hillary's mentors, Peter Edelman, a former aide to Bobby Kennedy and Marian Wright Edelman's husband, warned her that she would be throwing her life away if she failed to go to Washington or New York. But she chose to follow her heart - and Bill Clinton - to Arkansas.
A year after their marriage, even though her husband was a candidate for Attorney General of Arkansas, Hillary left the state to work in Indianapolis in Jimmy Carter's 1978 Presidential campaign.
She later found satisfaction in her religion, delving into it so deeply that at one point she even toured Arkansas, speaking on the subject of what it means to be a Methodist.
Starting when he was elected Attorney General in 1976, a year after they married, Hillary's choices about work were increasingly proscribed by the realities of being married to an important politician in a small, conservative state. She couldn't take a public-interest job lest she come into conflict with him, and even as a private attorney, she had to be careful about conflicts of interest or becoming involved in controversial cases. (Some would later charge she wasn't careful enough). Her earnings were limited as well. While some partners at the Rose law firm where she worked were making up to $300,000 a year, Hillary usually kept within the $70,000 to $100,000 range. Her resume resembles a sort of patchwork quilt, stitched from the remnants left over after Bill Clinton's career had been cut out.
While choosing not to pursue elective office, Mrs. Clinton moved up through the hierarchy of business and foundation boards while her husband concentrated on politics. He eventually was elected Governor.
To further distance herself from her husband's career, she even, for awhile, kept her maiden name - something which put her into disfavor with many Arkansas voters. Years later, she reflected, "t seemed like a sensible way of keeping my professional life separate from [Bill's] political life. I sensed that this was territory I needed to walk through pretty carefully. I did not want to be perceived as a conduit to him."
Ironically, after Bill was defeated for re-election to the Governorship in 1980, many people blamed Hillary for his loss, despite her having made all those sacrifices for him. But she did what she had to do to help him get reelected - plotted strategy, took his last name, took a leave of absence from the law firm. Voters responded favorably, and by the next election Bill was back in the Governor's chair.
Children's Advocate
During this period, Hillary became even more engrossed in children's rights issues. One of the things that had galvanized her interest was when she represented the foster parents of a two-and-a-half-year-old boy whose biological parents wanted him back. The judge ruled in the foster parents' favor when Hillary managed to prove that the contract the foster parents had been required to sign with state authorities was null and void and therefore not enforceable.
The case was never appealed. But had it reached the Arkansas Supreme Court, it could have established precedents that might have affected the outcome of the Midwest's famous Baby Jessica case, which garnered national headlines last summer.
Hillary Clinton was also appointed to the unsalaried position of head of the Arkansas Education Standards Committee. She traveled the state holding hearings and formulating recommendations on ways to improve a public school system that was acknowledged as one of the worst in the country.
Teachers bitterly attacked her after her husband insisted that educators submit to competency testing.
Between the summer of 1990 and the fall of 1991, Mrs. Clinton was paid by the National Center on Education and the Economy to persuade states and the federal government to adopt the group's recommendations for upgrading the job skills of younger workers. She was successful in getting many governors and members of Congress of both parties to endorse the agenda, and those goals also emerged as a centerpiece of the Clinton campaign.
Interestingly, the Clintons have occasionally found themselves on the opposite sides of an issue. In 1990, for instance, the Children's Defense Fund Hillary chaired, lobbied Congress for a centralized system of child care. At the same time, the National Governor's Association, which Bill Clinton headed, came out in favor of a more market-oriented voucher system.
In 1991, a handful of Arkansas legal-aid groups filed a lawsuit against Bill Clinton over an issue that Hillary had made one of the focal points of her nonprofit work, child welfare. Critics claim that while she was traveling the country talking about the need to improve the lives of poor children, "basically, the state's child-welfare system was an abysmal failure," says critic John Brummett.
The lawsuit tends to illustrate, claims MotherJones magazine, "how fundamentally middle-class Hillary's best-known work has been, whether on education or at the ABA. And it shows how her involvement in issues of poverty, such as child welfare or legal aid, have been driven largely by her own needs to be a leader. Hillary has always been more moderate than people on either the left or the right have wanted to admit," the magazine reported.
Blant Hurt, a conservative columnist for the Arkansas Business Journal, says "My problem with Hillary has been that she has this [reputation] of being a reformer ... and that is a real stretch. I don't think people are looking at the facts - it's rhetoric. She's a good speaker. She's very smart. People want to believe she's going to fix health care. But they're going to be sorely disappointed, because there's not a salient fact that shows a thing has been accomplished [in Arkansas]."
Yet she became, according to historian and writer Garry Wills, "one of the more important scholar-activists of the last two decades," referring to her prodigious output of legal essays and articles.
A Lightning Rod
By the time her husband announced his candidacy for the Presidency, Hillary Clinton had already become a lightning rod for attacks from conservatives.
One right-wing newsletter called her "a radical feminist who has little use for religious values or even the traditional family unit." At their convention Republicans accused Mrs. Clinton of having a Rasputin-like influence over her husband to implement a secret, liberal agenda.
The American Spectator claimed that she endorsed the right of children to sue their parents. This charge was concocted from a scholarly article she tined in 1973, while still in Yale Law School. What was overlooked was her admonition that "in all but the most extreme cases, such questions should be resolved by the families, not the courts [and be] limited to decisions that could have possibly irreparable effects..."
Her views are now accepted as standard fare by the American Bar Association.
Newsweek magazine affirmed that "a careful reading of Hillary Clinton's 27-page treatise leaves a different impression than the one created by her husband's political opponents."
Mrs. Clinton said later that she thought the attack on her was "sad, because they all knew better. It wasn't accurate..." She noted that Barbara Bush, in a book that she had written, "complimented the work I've done on behalf of children," including Hillary's Home Instruction Program for Preschool Youngsters, which Mrs. Bush said was one of the leading "pioneering and promising efforts." Mrs. Clinton also reflected that in the past, even President Bush himself had "written me a note and thanked me for talking to him about things that were important, like infant mortality."
When it was suggested that her being a lawyer would somehow conflict with being First Lady, Mrs. Clinton made her famous remark that "I suppose I could have stayed home and baked cookies and had teas." Unfortunately, this was the only part of the comment that was reported by the media. But Hillary had gone on to say that "...what I decided to do is fulfill my profession. The work that I have done as a professional, a public advocate, has been aimed ... to assure that women can make the choices ... whether it's a full-time career, full-time motherhood, or some combination." Thus Mrs. Clinton learned a bitter lesson about "sound-bites."
A Campaign Asset
At a crucial junction, HIillary almost single-handedly salvaged her husband's faltering campaign for President in 1992 after allegations of his infidelity emerged. She told 21 million TV viewers after the 1992 Super Bowl that she loved and respected her husband, and "honored" what he'd been though. Hillary also set up a conference call and admonished the staff, "We're in this for a reason that's more than us as individuals. Get back to work..."
Though her husband is one of the ablest politicians of the 20th Century, it was Hillary Clinton's behind-the-scenes role which added the decisive touch. At a pivotal time in the campaign, she had a lot to do with installing James Carville in the top job of campaign manager, holding a late-night meeting with him which her husband later joined. She was drawn to Al Gore as a choice for a running mate, in large part because of his work on the environment. She suggested a new finale to Bill's victory speech following his nomination: "I end tonight where it all began for me: I still believe in a place called Hope." When he was so hoarse he could barely speak before one of the crucial debates, she spooned honey onto lemon slices for him to munch.
And to a great extent, it was the warm rapport between Hillary and the Vice Presidential nominee's wife, Tipper Gore, that allowed Bill and Al to relax with each other, work out issues and their political relationship. The two women immediately hit it off on a personal level, talking about themselves and their families, publicly hugging , even dancing to a campaign song. It was this public friendship that took some of the edge off the spiky image the Republicans tried to paint of Hillary as an ambitious careerist. Tipper Gore is especially effusive about her bond with Hillary: "I feel like I have found somebody I have known forever. She is like a long-lost sister."
As the Clinton-Gore bus caravan traversed America, some of the most memorable moments came in Mrs. Clinton's home territory of the Heartland. In Vandalia, Ill., the old state capital where Abraham Lincoln once served, 10,000 people lit candles and sang "God Bless America." Over 40,000 people turned out to meet the campaign caravan in St. Louis.
Enjoyed Campaigning
Though the campaign could at times be a grinding ordeal, more than once she remarked to a friend, "I know you think I'm nuts, but I find this exciting." It remained so, even when, from Cleveland, Ohio, the night before the election, the Clintons left in a frenzied fly-around that covered 5,000 miles and 14 states, before returning home to Arkansas.
As his victory was imminent, Bill Clinton was seized by a wave of emotion, even awe; it was Hillary who took charge of orchestrating their rite of passage while he devoted his time to retooling a draft of his victory speech.
"First Lady Plus"
When a reporter asked the President-elect who would be his Robert Kennedy - his most-trusted policy adviser and confidant - Bill Clinton answered without hesitation that it would be his wife. Accordingly, she got office space in both the White House East and power-centered West Wing.
The First Lady works in a small, boxy office on the second floor which, ironically, during the Bush Administration, was used by an aide to James Baker who was involved in the search of Bill Clinton's passport file. The striped sofa and small table are usually smothered in piles of paper and correspondence.
Much of her staff is surprisingly young; one reporter described them as looking "like extras on 'Beverly Hills, 90210' and others who resemble assistant deans at Smith College." Mrs. Clinton plays the role of Mother Hen asking "Are you getting enough sleep? Maybe you should stay home tonight." She sometimes offers bagels to visitors, and following the President's example, urges her staff to go home for birthdays, anniversaries and holidays.
Midwest Today has learned, from talking with White House staffers, that the First Lady plays a strong and largely unreported role in shaping the Administration's overall message. For instance, several months ago, she told her husband that he must avoid being viewed as "mechanic in chief," obsessed with policy details, and needed instead to explain a broader vision for the future. Since then, he has allocated time in each day's schedule for long-range contemplation and planning.
She is also the one who reportedly came up with the idea of going on the attack last November against the insurance industry. And late last year, when her fellow Midwesterners Reps. Tim Penny (D-Minn.) and John Kasich (R-Ohio), proposed an amendment that threatened to undermine funding for Mrs. Clinton's health care plan, she personally went to the Hill to lobby successfully for its defeat.
Not unlike First Ladies before her (most notably Nancy Reagan), Mrs. Clinton carefully scrutinizes her husband's schedule, and suggests eliminating those things which may tend to "weigh him down."
She makes sure that the Administration's Congressional allies are invited to private White House movie screenings and dinners on Friday nights. By contrast, the President has to be reminded not to be too chummy with those who have opposed his initiatives.
Remarkably, Hillary has read the biographies of every one of her 43 predecessors. She even read a series of mystery novels written by Franklin D. Roosevelt's son, Elliott, in which Eleanor Roosevelt appears as an amateur sleuth ala Jessica Fletcher.
To an unprecedented degree, Hillary Rodham Clinton has influenced the building of the Administration's infrastructure of policy works - some of whom could be said to be more liberal than the President. However, while overseeing a network of advisers that intertwines friendship with policy making, she is careful not to obviate the chain of command or usurp the prerogatives of cabinet members. Hillary can lunch with Administration heads like Commerce Secretary Ron Brown, Environmental Protection Agency head Carol Browner and Agriculture Secretary Mike Espy because they were her friends before they came to serve this Administration.
Although Mrs. Clinton's influence extends throughout the Executive branch, chief of staff Mack McLarty, George Stephanopoulos and David Gergen are the triumvirate that run the White House.
His Prerogative
The First Lady told Roxanne Roberts, of The Washington Post, that "A President has the right to seek advice from anyone whom he thinks can give him good advice, including someone he's related to, whether it's President Kennedy with his brother, or a President with his spouse..."
Still, Hillary insists, "The only person elected with [Bill] was Al Gore, and everybody else - whether they're married to him or not - [serves at his pleasure]."
Clearly, Mrs. Clinton has disregarded the advice of social arbiter and former Jacqueline Kennedy aide Letitia Baldridge, who warned that the First Lady "can 't be perceived by other people in the White House or the public and the press as interfering, because then she'd be fried in hot oil."
While convinced that she can redefine and adapt the role of First Lady to her liking, Mrs. Clinton respects the traditional roles, says chief of staff Maggie Williams. "There will always be state dinners and other constants," she assures. "On the other hand, [Mrs. Clinton] is her husband's adviser. She is smart, savvy and she deeply cares what happens to people."
Contrary to popular reports, the Clintons rarely see each other during the day, even though their offices are only one floor apart. But they often exchange up to a dozen phone calls a day, mostly initiated by the President, to discuss the progress of various initiatives, chat about their daughter Chelsea's day, or decide what to do for dinner that night. Explaining some calls to his wife, President Clinton confided almost sheepishly, "I just get lonesome in there, [the Oval Office] sometimes, if I've taken a good whipping or something."
Defending Her Role
The President told Eleanor Clift of Newsweek magazine that "what's really amazing is that if she weren't my wife, people would be throwing garlands at her feet, probably, for all the stuff she's accomplished. But if you're somebody's wife, you're still not supposed to have a mind. I think it's really crazy. She is a very serious mother, a very serious wife, very good at her life. She very much has mainstream values. To portray her as some sort of left-wing figure based on her activities over the last ten or 15 years is patently absurd.
"There are big chunks of the Presidency that she doesn't even comment on," he insists. "And then when she does comment, I quite frankly like it. I like to discuss things with her, and even if sometimes we have good, healthy arguments, it's kind of a constructive thing."
President Clinton says his wife often sensitizes him to trends around the country. After she visited many emergency wards, Mrs. Clinton reportedly began to tell her husband her impressions of the victims of crime. "I know you've got to deal with the economy and health care and foreign policy," he recalls her telling him, "but you've just got to do something about this. People's lives are being shattered out there."
Her role model as First Lady is probably Eleanor Roosevelt, who held an uncompensated position in FDR'S wartime Administration, as deputy director of the Office of Civilian Defense, and throughout his 13 year Presidency was sharply criticized for her crusades against racism, sexism and poverty.
Imaginary Friend
Intriguingly, Hillary Clinton confesses that she has, at times, carried on an imaginary conversation with Eleanor, whom she had never met, asking for her advice on how to cope with unfair criticism. The answer would always be "Get out and do it, and don't make any excuses about it."
When President Clinton appointed his wife to oversee the Administration's most ambitious domestic initiative, reform of the nation's $800 billion health-care system - the first time a First Lady has ever been assigned an official role in making domestic policy - Clinton said, "She's better at organizing and leading people from a complex beginning to a certain end than anybody I've ever met in my life."
Critics said it was unwise for the President to appoint his spouse to such a sensitive position because it personalizes the debate and doesn't allow him room to maneuver. Newsday editorialized, "To use the bluntest shorthand, when things go wrong, he can't fire his wife."
However, Mrs. Clinton has won bipartisan praise for her efforts. Her testimony to the House committees on Energy and Commerce and Ways and Means brought applause, and compliments from both Republicans and Democrats. She became the first wife of a President in history to testify on behalf of legislation that she had been in charge of drafting.
"She walked in there and took command," said Sen. Bob Kerrey (D-Neb.), who ran for the Democratic nomination against her husband. "I was very impressed."
Differences Between Them
The Clintons have a picture of themselves posing as the farmer and wife of Grant Wood's famed painting "American Gothic," with Hillary casting a sidelong "there you go again," glance at Bill.
Betsey Wright, a longtime aide to Clinton, comments that "I would call him less focused and disciplined. She is very task oriented." While the President is well-known for mastering the minutia of policy issues, Mrs. Clinton has a short list of goals she wants to see achieved - health care reform, diversity in personnel appointments, various children's issues.
In meetings, Bill Clinton's aides feel free to talk off the top of their heads; hers must come prepared to discuss solutions and proposals. She has the ability to move a meeting along and bring issues to closure.
Hillary has a skepticism about public opinion polls, preferring instead to trust her own gut feelings.
David Wilhelm, the Chicago-based political consultant who went on top manage the Clinton for President campaign and who now serves as head of the Democratic National Committee, recalled the first time he met Mrs. Clinton: "I remember thinking of Hillary, This is a person whose purpose in politics is issues."
The differences between Bill and Hillary serve as a sort of counterweight. She has the lawyerly, analytical mind; he is the back-slapping extrovert, with an insatiable hunger for new ideas and human contact.
According to Rudy Moore, Jr., former chief of staff to Governor Clinton, ["Hillary] ordinarily was a perfect balance to Bill, who tended to be hopelessly optimistic. She saw the dark side of events, and she could see that certain programs and ideas wouldn't work. She would say, 'Bill, don't be such a Polyanna. Some of these people you think are your friends aren't."
The Marriage
The Clinton marriage has been a durable partnership. At Yale, where they met, their courtship ran to passionate sessions on the art of changing public policy.
Last Valentine's Day, the exchanged gifts over a romantic dinner at a Washington restaurant and, says an observer, touched each other more in two hours than the Bushes did in four years.
One day the Clintons were glimpsed walking hand-in-hand through the crab apples and magnolias in bloom on the White House lawn, then having lunch together on the patio outside the Oval Office.
CBS reporter Steve Kroft, in his famous "60 Minutes" interview, had impudently suggested that the Clintons had "reached some sort of an understanding and an arrangement" in staying together. Bill strongly rebuked him: "Wait a minute. Wait a minute. Wait a minute. You're looking at two people who love each other. This is not an arrangement or an understanding; this is a marriage. That's a very different thing."
Hillary told reporters that their marriage was strong, that problems between two people who loved one another were nobody's business. Period.
A few months ago, another piece in the imperious American Spectator, quoted some disgruntled Arkansas state troopers as claiming Mrs. Clinton was a foul-mouthed, demanding, hot-tempered political viper who regularly clashed with her husband.
Then there were the unsubstantiated rumors of horrendous fights at the White House, in which Mrs. Clinton is said to not only hurt vulgarities at her husband but even, on one occasion, a lamp. Both intellectually competitive people, the First Couple acknowledge that they freely express their opinions to one another - though both are reportedly furious over what they contend are phony Secret Service leaks about what goes on privately between them - such as the lamp-throwing incident, which is hotly denied.
Betsey Wright told biographer Donnie Ratcliffe that "[Bill and Hillary] don't do anything that isn't strongly. Whether it's agree or disagree, it's strongly. They are two of the most passionate people I ever met. They love passionately, they argue passionately, they parent passionately, they read passionately, they play passionately."
One person close to the First Couple was quoted as saying, "Can you imagine if he married someone just like himself? His life would be a disaster. And if she married someone just like her, no one would have dinner at her house. People would be too intimidated."
How She Views Him
"What he's really done for me is share his heart, which is enormous," says Hillary Clinton, speaking affectionately of her husband. "He is an incredibly loving and compassionate and caring person. And it has made me a better person. He has the most extraordinary amount of patience and love for people of all kinds, and it is almost unfailing. I have watched that ever since I first met him and marveled at it. It has been a standard by which I have judged my own ability to reach out and care and grow.
"He's also genuinely optimistic and enthusiastic about life," she continues. "He cares about every day - he wants to jam-pack it with more than the day can hold. It's maddening to try to keep him on any kind of schedule because he wants to listen to everybody. It's not that he doesn't want to go on to the next event; it's just that he doesn't want to leave where he is until he's had a chance to see everybody there."
Spiritual Dimension
She had once shocked her parents with her "mixed marriage" (to a Baptist Democrat, no less), but Hillary remains a devout Methodist, even carrying scriptural passages with her when she travels.
The Clintons' faith is not a new characteristic. In fact, after his defeat for reelection in 1982, Bill and Hillary joined a group pilgrimage to Israel on a spiritual quest.
On the eve of the inauguration, the Clintons even left a black-tie party with Barbra Streisand to attend a midnight church service off-limits to cameras and reporters. The fact is, unlike some previous occupants of the White House, Bill and Hillary are deeply reticent about using their religious convictions as testament to their integrity.
When the First Family cannot get to church, they hold their own devotional. The President has said that in recent years, he and Hillary have had increasingly long conversations about how to live an honorable life and the nature of life after death.
On Motherhood
One thing nobody has ever criticized Hillary Clinton for is being a bad mother. Both Clintons, by all accounts, are devoted parents.
She expresses a view of parenthood with which many would no doubt agree: "No matter how hard you try, and no matter whether you're a full-time homemaker or a full-time career woman or trying to balance both, you're going to find at times that you feel like you're not giving your child enough. That is just part of the territory of being a mother and maybe always has been."
Mrs. Clinton says she thinks men are able to compartmentalize their lives more than women are able to. "I really do think it's something that is part of our makeup. I don't know whether it's biological or social."
She told Redbook magazine that, "In my own experience, I've worked with many, many men in many different settings, and nearly every one I ever worked with was, I thought, a devoted and caring and committed father, but it wasn't something that was always on their minds. They weren't anticipating the needs - I've got to get her a new pair of shoes, I've got to take her to get school supplies. I can't forget the school play. That was something that wasn't part of their daily concerns."
When Chelsea was kindergarten age, Hillary made tapes of herself that her daughter could play on the VCR, and when she is on the road, she checks Chelsea's homework via FAX.
Chelsea calls her mother when she gets home from school each day, usually between 3 and 5 P.M. (depending on whether she has soccer or softball practice) and Mrs. Clinton makes the five minute trek from her office to the residence to spend a few minutes with her daughter. Then the First Lady returns to work, leaving Chelsea under the supervision of the household staff.
One time when Chelsea came down with a cold, Hillary went home to make scrambled eggs and applesauce for her in the private kitchen of the White House. When Chelsea got a day off from school during a snowstorm, her mother made the most of the opportunity, announcing to aides that "I am going to spend the day with my daughter." Mother and daughter cooked a light lunch of soup and sandwiches, played cards and watched a movie in the family theater.
Her Philosophies
"I evolved my own political beliefs which frankly, in some ways...weren't dogmatically Republican, dogmatically Democrat, easily defined a liberal or conservative," Mrs. Clinton said, looking back over her lifetime in politics.
Last year, Mrs. Clinton made a widely criticized and extemporaneous speech in which she said that America suffered from a "sleeping sickness of the soul." She noted a "sense that somehow economic growth and prosperity, political democracy and freedom are not enough - that we lack at some core level, meaning in our individual lives and meaning collectively, that sense that our lives are part of some greater effort, that we are connected to one another, that community means that we have a place where we belong no matter who we are."
She spoke of "cities that are filled with hopeless girls with babies and angry boys with guns" as only the most visible signs of a nation crippled by "alienation and despair and hopelessness," a nation that was in the throes of a "crisis of meaning."
Hillary says she has been influenced by Methodist founder John Wesley, Reinhold Niebuhr and Michael Lerner, a liberal Jewish scholar who coined the phrase "politics of meaning," that she is fond of quoting.
If religion defines her life, politics has shaped it, as she struggles to integrate essential truths with social imperatives.
How Midwesterners Respond to Her
Hillary Clinton reflects, "If you don't stay in touch with the daily routine that most lives are made up of, it's really easy to forget what the texture of life truly is, what it's like for other people. And that's something I worry about a lot in the White House. I think it's been a great loss to our country that we have so isolated our Presidents and their families."
Mrs. Clinton likes to get out of the White House, and when she travels she encounters strong opinions, pro and con.
In Iowa, a woman took Hillary's arm and told her she had postponed chemotherapy just to speak with her. A man told of only being able to find a job that offered no health insurance. Meeting the First Lady after she had been attacked once again in the press, another woman told her, "Please don't lose heart." She was warmly applauded in Chicago when she threw out the first baseball of the season at a Cubs game.
Not all reactions are so kind. It was in April 1993 in Lincoln, NE. that Mrs. Clinton first encountered a placard demanding, "Hillary, Who Elected You President?"
While speaking at commencement ceremonies at the University of Michigan at Ann Arbor, a small plane flew overhead with the banner, "Impeach Hillary."
About 500 men, women and children braved a wet, bitter wind to protest her visit earlier this year to Wausau, WI. "Bill and Hillary, Prez and Co-Prez of Sleeze," read many of the placards.
The Charges
No portrait of the First Lady would be complete without an examination of some of the scandalous issues which have been raised against her.
Frank White, Bill Clinton's opponent in the race for Governor in 1986, first criticized Hillary's law practice, charging her with conflict of interest as a partner in a firm doing business with the state.
Two days before the Illinois primary, The Washington Post curiously resurrected this old charge under the guise of investigative reporting. That night in a debate, Jerry Brown accused Clinton of funneling money to his wife's law firm. Clinton exploded. He called it a "lying accusation" and said Brown wasn't fit to "be on the same platform with my wife."
Later, Hillary remarked, "As far as I know, I'm the only lawyer related to a public official that I'm aware of in this country who had actively practiced law who has never even shared in a penny of state funds that have ever gone to my firm."
Mrs. Clinton shared in none of the money spent by the state under terms of her partnership agreement. Nor did she share in fees that the firm earned from representing bond underwriters.
Unlike the Iran-Contra scandal, Whitewater lacks any great Constitutional issue or question of the separation of powers.
People understand, as Hillary explained it to them, that the Clintons had wanted to accumulate enough money to educate their daughter, finance their own retirement and help their parents in times of need. What people have a harder time relating to are the investment strategies the couple pursued in the early years of their marriage which did not fit the typical pattern of safe, predictable, mainstream investing chosen by most young couples trying to build a nest egg.
Instead, the Clintons repeatedly put their scant resources into highly risky and speculative ventures - commodities futures, oil-drilling leases, limited partnerships and real estate speculation.
Mrs. Clinton made $100,000 on an initial investment of only $1,000 on the Chicago Mercantile Exchange. And she used a broker and firm that were disciplined for routinely allowing clients to trade without putting up enough money to cover the trades. Another point of inquiry for regulators involves what is known as "allocating" trades, whereby brokers allocate winning contracts to some clients and losing contracts to others. Questions have been raised as to whether or not the Clintons - knowingly or unknowingly - benefitted from such an arrangement.
Someone has said "politics is perception" and regardless of how straight-forward and honest these investments may have been, they are difficult to explain.
What seems to be a fair observation is that the First Couple treated questions about their tangled investments just like the lawyers that they are. They saw the issues as consisting of technical finance and tax matters to be handled with carefully calibrated answers and limited disclosures. As a result, they now have to contend with a special prosecutor who signed a three year lease for office space in Little Rock, thus assuring that Whitewater issues will lapse into the 1996 election.
The Unfairness
The Associated Press reported that its review of charges made by chief Clinton critic Rep. Jim Leach (R-IA.) shows that several are questionable, including the amount Leach said the Clintons made from the sale of a model home, and legal fees.
There are also differing versions of the story that Washington officials of the Resolution Trust Corp. impeded Kansas City regional investigator Jean Lewis' attempts to seek a criminal referral on Whitewater.
in fact, the AP reported that it was a Bush administration appointee who earlier declined to bring charges in the Whitewater matter.
And although critics of the First Family repeatedly refer to allegations of file shredding as evidence of a cover-up, the two couriers who shredded documents at Mrs. Clinton's former law firm said they don't believe the files had anything to do with the Whitewater investigation. Unfortunately, their statements did not make the network news, and newspapers largely ignored the story.
In a surprising development, Rep. Jim Leach said the President should be given "the benefit of the doubt at every turn" in judging whether his business dealings violated any laws. Although other players in the failure of an Arkansas Savings and Loan owned by a Clinton business partner may face criminal charges, Leach said, "the S&L did a lot of things [Clinton] had no part in, and he should not be unfairly tainted for the acts of others.
"If criminal indictments are forthcoming," Leach continued, "care should be taken to not criminally implicate the White House..."
Some Perspective
Washington Post journalist Quinn reports that, "Newsrooms all over the country are struggling to define how to cover Hillary Clinton and where to play the stories. National or Style, health care or food, politics or fashion? Where does she belong?"
Ralph Whitehead of the University of Massachusetts has noted, "Our model of a public-spirited woman is Mother Teresa and our model of a public-spirited man is Lee Iacocca."
Susan Faludi, the author of "Backlash," thinks that "the rusting social order has its shorts in a knot over Hillary not because she's an independent woman but because she is unapologetic about it."
Margaret Colson says Mrs. Clinton "is not a long-suffering Eleanor Roosevelt, an overbearing Edith Wilson, a pill-taking Betty Ford, or an overthin, grandchild-averse Nancy Reagan. She brings her own agenda."
Critics act like there's something contradictory or morally reprehensible about wanting to do well while doing good - as if the Clintons" public-spirited impulses were not genuine if they wanted to also achieve a secure family financial base.
Columnist Ellen Goodman wrote, "If the Clintons made money on beef 15 years ago, it wasn't a character flaw. Making a profit doesn't make a hypocrite. The trouble with the '80s wasn't that a Michael Miliken made a fortune, but that he did so while wrecking other lives."
Anthony Lewis of The New York Times thinks that, "A sense of proportion is what has been lacking in much of the Whitewater coverage, along with a sense of history...
"Those who make it to the Presidency usually had some rich and influential friends along the way. Ronald Reagan had lots more than Bill Clinton. But the press was mostly afraid to tangle with Reagan...
"When it is all over, I think the press will regret its hysteria.... Magazines, television and newspapers have taken stories that deserve modest attention and blown them up to hyperbolic proportions.
"...writers and editors and all the others who ludicrously overplayed that tale should be sent back to school to learn some American history..."
James Carville diagrammed what he describes as the "Media Food Chain."
The Whitewater scandal, he insists, started with Alfonse D'Amato, Jerry Falwell, Gennifer Flowers and others, whose charges were amplified through radio yakkers Rush Limbaugh and G. Gordon Liddy, and then picked up by conservative publications like the Rev. Moon's Washington Times and the Wall Street Journal - ultimately finding their way to the news media in general.
Frustrations
Her husband defines the White House as "the crown jewel of the federal prison system" and has commented ruefully about how "surreal" their lives have become.
Friends of Bill and Hillary say the First Couple has expressed frustration that the capital has been so resistant to change, is so highly partisan and obsessed with "who is in and who is out" - a line Clinton even wrote into one of his speeches. They also feel that critics grossly exaggerate their mistakes while glossing over their accomplishments.
"People can lie about you on a regular basis, and you have to take it. That's very hurtful," observed Mrs. Clinton. "To see the things that are said without any refutation or correction most of the time is very painful to your friends and your family. I worry a lot about them."
As for critics, Hillary reflects that she realizes those people don't really know her, and that they are either "Misguided or malevolent," so she doesn't "really pay them much mind. If I worried about every time anybody said something nasty about me ... I would be incapacitated.
"I learned a long time ago," she reflected, "because my husband has been in this business for so long, that unfair criticism goes with the territory. And for me the challenge has been to take criticism seriously but not personally. I mean, if somebody has something legitimate to say that is grounded in fact, I'm interested in it. If they have their own opinion about who I am or what I should be, I'm really not that interested in it because that's their opinion, and there's a million of them. And there's just no time to spend worrying about people who say mean things about you."
The Private Side
In the midst of all the controversy, Hillary Clinton looks serene, a bit beatific. When she held her press conference to answer reporters' questions about Whitewater, she was composed, articulate and even warm. Dressed in a soft pink outfit, she was the picture of serenity and feminine charm.
She keeps her sense of humor, and has a raucous laugh. On one occasion, Hillary had about 30 of her high-school friends from Park Ridge into the Blue Room for a party. While one of the guests phoned his wife, who wanted to have the experience of being called from the White House, the First Lady took the receiver and joked, "Don't worry, now, we've worked out a way for him to pay for the Ming vase he knocked over."
The Clintons like to dine at the Red Sage restaurant in Washington, where they have "painted soup" and lamb baked in herb bread.
The private kitchen in the family quarters serves as the scene of potluck suppers, marathon Trivial Pursuit games, hearts and pinochle.
Mrs. Clinton prefers Italian and Mexican food. The President sometimes fixes her eggs with jalapeño peppers and Hillary carries Tabasco sauce wherever she goes.
She banned smoking in the White House and put more fruits and vegetables on the menu. The Clintons enjoy having celebrities to dinner instead of heads of state.
Mrs. Clinton has a lot she is determined to accomplish in the time remaining in her husband's first term, and those who know her well are betting that she accomplishes most of it.
Yet when imparting some advice to young women, Hillary Clinton seemed to describe her own predicament.
She said she could appreciate the "mixed signals" that make even the most liberated young women reluctant to step forward. "There's that kind of double bind that women find themselves in," she noted. "On the one hand, yes, be smart, stand up for yourself..On the other hand, don't offend anybody, don't step on toes, or you'll become somebody that nobody likes because you're too assertive."
Click Here To Recommend This Story To A Friend
---
Back to the top
Contents copyright 1995, 1996, 1997, 1998 and 1999. All rights reserved.