Midwest Today, February 1993
---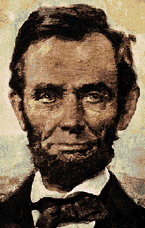 IN SEARCH OF THE
REAL ABE LINCOLN
He was on the national stage only six years, but in that period this enigmatic man from the Heartland became the human fulcrum that kept the American nation from collapsing


"Die when I may, I want it said of me by those who know me best, that I always plucked a thistle and planted a flower where I thought a flower would grow." - Abraham Lincoln

Two Short Quotations About Lincoln
---
By LARRY JORDAN

One of those rare men uncorrupted by vast power, Abraham Lincoln has been more written about than any other head of state with the possible exception of Napoleon. But something of a personal mystery remains.

A highly secretive man, easy to underestimate, whose inner musings were for the most part unknowable, Lincoln remains endlessly fascinating to school children, scholars and all those who view his life in epic terms.

He was the most severely tested of our leaders, as he held the nation to its founding principles, from Illinois prairie towns to battlefields where 600,00O Americans died. In a situation without precedent, through events of the greatest horror, with almost no consistently faithful allies, Lincoln never wavered in his resolve.

One-hundred and 84 years after his birth in a Kentucky cabin on February 12,1809, myths about Abe Lincoln abound.

Humble he was, and honest - but not a simple country boy whom fate thrust unexpectedly into the spotlight. Once, after his election, Lincoln told a friend, "You know better than any man living that from my boyhood up my ambition was to be President."

Still, almost from birth, Lincoln seemed likely to wind up an "also ran" in life's race. He was poor and had little formal schooling. He failed in business as a storekeeper. He was unlucky in both love and politics.

His youthful sweetheart, Ann Rutledge, died. The first woman he proposed to, turned him down. His subsequent marriage to Mary Todd proved a stormy one. He lost more elections than he won. Anticipating defeat in his first race for a seat in the Illinois legislature in 1832 - and he did lose - Lincoln wrote: "If the good people in their wisdom shall see fit to keep me in the background, I have been too familiar with disappointment to be much chagrined."

When his business failed, leaving him debt-ridden, he became a village postmaster. Had he succumbed to his tendency to melancholy and self-doubt, young Abe might well have disappeared into the mists of history, just another obscure frontier failure.

But he persisted. He turned to the study of law and grammar. Slowly his star rose.

"Lincoln was not a type," said Robert Ingersoll. "He stands alone - no ancestors, no fellows, no successors."

Still Emerging

One reason it has taken scholars so long to assess the man is that the time in which Lincoln lived was rich in expressive evidence. Letter-writing was still a fine art, because pens and pencils were the primary means of transcribing words. And Lincoln was a prodigious correspondent. Researchers didn't even have access to many of the President's personal records for a generation, because his son, Robert Todd Lincoln, didn't turn over his father's private papers until 54 years after the President's death, and they were not opened until 1947.

Historians generally cite these defining moments and characteristic in Lincoln's life:
The simplicity of his life on the frontier taught Lincoin to value democracy and equality, and gave him a burning sympathy for plain people struggling against the odds.
A man of action when circumstances demanded it, Lincoln's tremendous strength came in handy in tussles on the frontier, such as when he vanquished the town bully in a wrestling match in New Salem..
"The Rail Splitter" was a title Lincoln earned. His vagabond farmer father put an ax in his hand when Abe was only eight. As President, he understood the character of the backwoodsmen, and shared their love of lonely forests.
Rivermen in Civil War day found a President who knew their problems. Abe was a flatboat oarsman who rode the Mississippi waves as a youth and knew the Iowa shores.
His romance with Ann Rutledge ended with her death of malaria. But her love inspired him, and deepened at an early age the emotions which eventually were to crystallize in Lincoln the humanitarian and emancipator.
The small businessman had Lincoln's full sympathy after his own unsuccessful venture in storekeeping in New Salem.
Sword in hand, Captain Lincoln drilled his volunteer company at New Salem, IL., for the Blackhawk Indian war. It was a little-relished foretaste of the day when he would be forced to call for Northern volunteers in the Civil War. But it broadened his conception of the soldier's task.
Marriage to the socially prominent Mary Todd united Lincoln with the ambitious woman credited with driving him to the Presidency. Mary's fiery character helped to push the gentle frontiersman to great heights.
Abe entered politics by becoming a candidate for the Illinois state legislature. He promised that, if elected, he would use $2.50 of his $3-a-day salary to pay off the debts of his store. (He won the election).
Forged in the fires of his debates with Stephen A. Douglas was the steel of Lincoln's oratory.
Nearly 128 years after his death, more than 6,000 people subscribe to a monthly journal about Lincoln's life. Schools in Canada, Australia and England offer Lincoln study fellowships; Taiwan has a Lincoln Society and Tokyo's Meisei University even has a Lincoln Center. There are three or four dozen new biographies of the 16th President produced every year.
In Lincoln's hometown of Springfield, IL., in the basement beneath the Old State Capitol where Lincoln gave his famous "House Divided" speech in 1858, is the Illinois State Historical Library which contains thousands of documents and hundreds of personal items. Curator Thomas Schwartz fields scores of queries on a daily basis.
Log Cabin Birth
Born on a farm three miles south of Hodgenville, Kentucky, Lincoln moved with his parents and sister Sarah to what is now Spencer County, Indiana when he was seven. Two years later, his mother, Nancy Hanks Lincoln, died of milk sickness, and the next year his father remarried. When Abraham was 19, his only sibling, Sarah (who had by then married), died in childbirth.
In 1830, Abe and his father, stepmother and other relatives moved to a site ten miles southwest of Decatur, IL. on the north bank of the Sangamon River (now Lincoln Trail Homestead State Park). And when he was 22, he left home.
Apparently, Abraham Lincoln was always a bookworm. A contemporary of his recalled having encountered young Abe during his stint as a clerk in a general store, "at full length on the counter, his head resting on a bolt of blue denim as he studied a book in his hand. He wore the same shirt and one suspender and the linsey trousers which he had worn in the dooryard of the tavern, but his feet were covered only by his blue yarn socks."
As a village postmaster, Abe also got a chance to read the newspapers that came in, thus learning about the world. But for all his erudition, Abe could also be hot-tempered. A proposed duel between Lincoln and another man was averted only after friends on both sides intervened.
In 1842, Lincoln and Mary Todd were married after having at one point broken off their engagement for 18 months when Abe became bedridden with depression, and they lived at the Globe tavern in Springfield. Eventually, they paid $1,200 for a house now known as the Lincoln Home in the business district of town.
While riding the circuit as an ambitious young country lawyer, Lincoln also got a chance to preside on several occasions as a judge over county court.
People forget that after a stint in the Illinois legislature, Abraham Lincoln became a Congressman (in 1847) though his record was not exemplary.
That same year, he made his first ten-day speaking tour of New England.
He applied (in 1849) for a patent on a "new and improved manner of combining adjustable buoyant chambers with steam boats or other vessels." Later that year, he declined first an offer of the secretaryship of the Oregon Territory, and later the governorship of Oregon. By 1856, Lincoln's political fate could have been foretold. He was spending more time on the road, as when he accepted an appearance that year to speak before a crowd of 10,000 in Kalamazoo, MI.
Though having pressed his first attack on slavery as early as 1837, when he opposed an anti-abolitionist resolution passed by the Illinois House, "Lincoln was calculating and equivocal on the issue of slavery," contends political analyst Garry Wills. He also notes that Lincoln "was nominated [for President] by one of the most corrupt conventions ever held. He hid his views so carefully that he issued not a single statement, gave not a single speech, between his nomination and the 1860 election."
By today's standards, it could also be said that Lincoln told racist and even obscene stories to make his points among his peers. One man who served with him in Congress recalled Lincoln's "story of the old Virginian stropping his razor on a certain) member of a young Negro's body."
The first Republican to be elected President, Abraham Lincoln was given quite a send-off by his fellow Illinoisans: a torchlight parade lasting four hours, with elaborate floats - some of which were pulled by as many as 24 oxen. But after a 12-day trip and many speeches and public appearances, Lincoln had to sneak into Washington because of reports of an assassination plot at Baltimore.
Ft. Sumter was attacked by the newly-organized Confederate army slightly more than a month after Lincoln's inauguration.
While his conduct of the war overshadowed the other accomplishments of Abraham Lincoln's term in office, he is also credited with establishing the Department of Agriculture and a system of national banks, in addition to actions of lesser but equally enduring significance, such as proclaiming the first Thanksgiving.
It is the Emancipation Proclamation, signed only after the ailing Lincoln could steady his shaking hand - and the Gettysburg address, delivered in 1863 - for which he is best remembered.
Lincoln's address, with its eloquent simplicity, has moved people through the generations, the world over. No other speech contains so many familiar phrases, and no other has been so widely quoted.
The world has carefully noted and will long remember what Lincoln said at Gettysburg.
Interestingly, his speech, in which he had succeeded more incisively than the Founding Fathers in defining the American ideal, was relegated to an obscure position in the newspapers.
The reason is that the speaker preceding him was Edward Everett, who as the foremost orator of the time, addressed the crowd of 15,000 for an hour and 57 minutes.
When it was his turn to speak, President Lincoln took a manuscript from an inside pocket, put on steel-rimmed glasses and stood high above the crowd.
The audience was restless after three hours of ceremonies and began to drift away.
Then he began to speak in the high, reedy-pitched southern Indiana twang his friends knew so well but which sounded foreign to these Easterners.
Ten sentences - 269 words - two, perhaps three minutes, and the President had finished.
The audience had scarcely settled back when it was all over. The applause was perfunctory, a few hand claps - polite recognition for a man who "also spoke."
The President's "few appropriate remarks" - which the planners of the event had asked him to make only as an afterthought - fell flat.
"That speech won't scour," Lincoln remarked afterward to a friend. "It's a flat failure and the people are disappointed." (Lincoln was again using a homely phrase. Any farm boy of his day knew that when wet soil clung to a plow,the mold-board wouldn't scour.)
The next day, the Chicago Tribune was one of the few newspapers to praise the speech, correctly prophesying that it would "live among the annals of men."
Another Chicago newspaper, The Times, called it "silly, flat and dishwatery."
But even Everett was not deaf to what he later called "the unexpected masterpiece of oratory that fell from Lincoln's lips." He wrote to the President the very next day: "I should be glad if I could flatter myself that I came so near the central thought of the occasion in two hours as you did in two minutes."
Lincoln replied that he was "pleased to know that, in your judgment, the little I did say was not entirely a failure."
Always Improving
What amazes Lincoln buffs was his capacity for growth, his intellectual resourcefulness, given the obstacles and miseries he had experienced during most of his life.
Horace Greely wrote (in a book that's a favorite of President, Bill Clinton), that Lincoln "was not born king of men ... but a child of the common people, who made himself a great persuader, therefore a leader, by dint of firm resolve, patient effort, and dogged perseverance. He was open to all impressions and influences, and gladly profited by the teachings of events and circumstances, no matter how adverse or unwelcome. There was probably no year of his life when he was not a wiser, cooler, and better man than he had been the year before."
For all of his serene amiability, Lincoln at six-feet, four inches not only towered physically over most of his contemporaries, but intellectually as well.
His private secretary, John Hay, acknowledged that some cabinet members found insufferable Lincoln's alleged "intellectual arrogance."
His law partner in Illinois, William Herndon, remembered that Lincoln "was not impulsive, fanciful or imaginative; but cold, calm and precise. He threw his whole mental light around the object." And his language "contained the exact coloring, power and shape of his ideas:"
When he did not want to discuss certain matters, he loaded his sentences with what the political analyst Willmoore Kendall called "verbal parachutes" - phrases he could use to bail out of anything he said.
Legacy of Words
Historians have commented that Lincoln's was the only Presidency in our history which would lose its meaning if you took away its words. Lincoln even wrote statements and documents for underlings - cabinet secretaries and other government officials - in a sort of ghost-writing in reverse. So prodigious was his output that it greatly surpassed Shakespeare's one million words.
More than most, Lincoln was in love with language. And his fascination with the telegraph influenced him to write and speak in an abbreviated, direct and the telegraphic manner. Garry Wills explains that Lincoln's rhetoric was "surprisingly masculine, with no filler .. [and] without copula. He didn't like to use pronouns. [But] in almost every sentence there's an echo of the previous." His style, says Wills, was "closer to poetry than prose."
As Gerald Parshall commented in a cover story for U.S. News & World Report, (Oct. 5,1992): "When Lincoln ... wrote speeches, proclamations or letters, he was communicating with himself as much as anyone, thinking with the nib of his pen, discovering the path of logic. As a youth, he split logs with a single well-aimed blow from his ax. Later in life, the sharp edge of his prose found its mark just as efficiently, laying the truth bare with poetic, resounding whacks."
Garry Wills notes that "Opponents would later exaggerate his crudity; but as a man on the frontier who neither drank whiskey nor smoked cigars, [Lincoln] used his disarming gifts as a storyteller in ways that later Americans have preferred not to remember."
Someone has also observed that Lincoln was a country ham that couldn't be cured. "I laugh because I must not weep - that's all, that's all," he once explained.
He read newspapers, the Bible and the Bard (especially "Macbeth," "Hamlet" and "Richard III") but surprisingly little else for a man acclaimed as a genius.
It is also noteworthy that the primitive photography of his day, which required long time exposures and stiff poses, failed to capture Lincoln's spontaneity and animation. "Graphic art was powerless," wrote John Nicolay, "before a face that moved through a thousand delicate gradations of line, contour, light, and shade, sparkle of the eye and curve of the lip, in the long gamut of expression from grave to gay and back again from the rollicking jollity of laughter to the serious, faraway look with prophetic intuitions."
Lincoln was not an isolated, lonely man. He got out often - for carriage rides with his wife and visits to the Old Soldier's home, (where he stayed to escape the summer heat), to train trips to New York or conferences with his generals on various boats. At times, he also acted as his own R&D chief, quizzing inventors and even testing weapons on or near the White House grounds.
Lincoln's office and cabinet room - "the shop," as he called it - was in what has since become the "Lincoln Bedroom" on the second floor of the White House.
There, he sat in a horsehair swivel chair and worked on papers plucked from the alphabetized pigeonholes in his high postmaster's desk. Amazingly, he only had three clerks on his payroll to help him as he won the Civil War, secured the future of democracy, and dealt with a Cabinet of prickly men.
Twice a week, he took what he called "public opinion baths," meeting with any citizen - war time or not - willing to stand in line to claim a moment with the chief magistrate.
If he had one weakness, it was his indulgence of his wife. From all
accounts, Mary was a woman with a mercurial personality, who was given to extremes of mood and extravagance. She was dictatorial and haughty, petty and jealous, and her life was dominated by fears.
Reflecting on his marriage, Lincoln once confided to a friend, "My father always said, 'When you make a bad bargain, hug it the tighter.'"
When his second Vice President, Andrew Johnson, showed up embarrassingly drunk at his swearing in at the Capitol, a fact which mortified the audience, Lincoln defended him. But privately he refused to see Johnson - except, propitiously, on the one day a clairvoyant Chief Executive might need his Vice President - April 14, 1865.
In the weeks preceding his death, Abraham Lincoln was 35 pounds underweight. He was 56 but looked much older, his sallow skin and sparse beard attesting to his deteriorating condition. He walked slowly because his feet hurt, often wore a shawl and was increasingly given to bouts of depression. His extremities were frequently cold, and he slept fitfully.
He was averse to food in general, dining on an egg and coffee for breakfast, a biscuit and apple for lunch, and some soup with meat and potatoes for dinner. He would eat dessert if it was apple pie.
On one occasion he collapsed from exhaustion, and his physician worried the President was on the verge of a "nervous breakdown." So open was the concern about his health, newspapers began speculating what would happen to the country if Lincoln died.
He confided to a friend, "I hardly know how to rest. It may be good for the body. But what is tired in me lies within, and can't be got at."
Lincoln's grief over the loss of his second son, Willie, due to illness was so intense, he twice had the boy's body disinterred to gaze on his face.
He thought and talked about death often - with sadness and resignation rather than fear. He reflected, "If I am killed, I can die but once; but to live in constant dread of it is to die over and over again." To reinforce this point, one of the pigeonholes in his desk had a bulky envelope marked "Assassination." It contained 80 threats on his life. He was shot five days after the end of the Civil War, and after having dreamt vividly of his own demise.
Thomas Schwartz says there are intimations that an unsuccessful plot against the leader of the Confederacy, Jefferson Davis, was hatched in the White House - contributing to later suspicions that Lincoln's murder involved elements of the South who may have retaliated by aiding the Booth conspiracy.
As for his place in history, Lincoln was philosophical. "I'll do the very best I know how, the very best I can, and I mean to keep doing so until the end. If the end brings me out all right, what is said against me won't amount to anything. If the end brings me out wrong, ten angels swearing I was right will make no difference."
ILLINOIS POET CARL SANDBURG
TALKED OF LINCOLN
(Sidebar)
Fellow Illinois native and prairie poet Carl Sandburg was born in Galesburg, IL. 13 years after "Abraham Lincoln was shoveled into the tombs," while the Civil War was still being fought at the crossroads store. It was a section of the Heartland rich in Lincoln lore, and men still young who put on their blue uniforms on the Fourth of July often spoke of their neighbor who lay buried a scant hundred miles away and of the debate he held with "The Little Giant" at Knox college.
These stories made an impression upon a sensitive boy, who, although he quit school when he was 13, read all he could find about Lincoln.
Sandburg went on to win a Pulitzer Prize, do editorial work for The Chicago Daily News, and become a poet of international renown. He also wrote a book on Lincoln, which remains a definitive portrait even today.
In a fascinating magazine interview published 54 years ago, the eloquent Carl Sandburg commented insightfully on Abraham Lincoln:
"Lincoln was too big and too complicated to be painted in a few strokes. There is too much subtlety about him, there are too many delicate halftones; you cannot picture him in simple lines.
"I should say that the two salient characteristics were his sadness and his humor - a sadness born of sympathy and understanding, and a humor which ran from the finest threads of irony to the coarseness of the livery stable.
"He came from a breed and a region where the language of Shakespeare still persisted and he knew the value of obsolete words and did not hesitate to use them. He developed a style which was the result of natural feeling, deep thought and his early environment. He had the poet's sense of rhythm. To give you an example, in the last draft of the Gettysburg speech he substituted, 'It is altogether fitting and proper' for the less euphonious 'This we may in all propriety do.'
"He was a dreamer and a man of revery, as all poets are, while at the same time he had the practical qualities of Edison - a combination you don't often find. Besides, he was endowed with New Testament patience and Old Testament stubbornness.
"Although many people do not know it, he was a man of piety and of deep religious belief, and evidence of this is to be found in all his speeches and messages. But he did not parade his religion. While he attended church, he usually sat alone in the pastor's room, so that he might hear without being seen."
---
Back to the top

Contents copyright 1995, 1996, 1997, 1998 and 1999. All rights reserved.