12 All New Overdubs
(including unreleased new vocals by Jim,
new versions of classic songs,
and sparkling new musical arrangements
all mastered by a top engineer!)
(


Click the blue song titles to download mp3 samples.
Be sure to press the BACK button on your browser to
return to this page after listening to each one.
Once again VoiceMasters presents the world premier of some very rare and previously unreleased (non-RCA) Jim Reeves recordings. There are also new versions of familiar classics. Even if you are an avid Reeves collector, there is plenty new here, that you can't get anywhere else. All 12 of the songs on "Jim Reeves: Shepherd of Love" have been overdubbed with beautiful new musical arrangements for a fresh, contemporary sound. And one of the best engineers in the business (who has done work for Kenny Rogers, Dolly Parton, Floyd Cramer and Ray Price), has been brought in to master this CD (in addition to VM's own engineer, David Lawrence, who has worked tirelessly for months). The result is simply magnificent!
You will be in awe of how clear and intimate these songs sound today! It is literally like hearing some of Jim's best-loved standards for the very first time. This is a real collector's item. Even the photos in the CD packaging are new and have never been seen by fans before.
One highlight of the album is the first new overdub of Jim Reeves' most famous demo, "Distant Drums," since it topped the charts in 1966! Using a superior tape original, plus 24-bit digital remastering, VoiceMasters has been able to mirculously make this timeless classic sound better than ever before. A compelling new orchestral sound, plus an all-male chorus add poignant new meaning to the lyrics at a time when Americans are once again going off to war. This song is so pretty you will play it over and over. Hearing the incomparable Jim Reeves sing in a whole new musical setting is simply thrilling.
VoiceMasters also presents the first release of a new demo on "Is It Really Over?", which Jim sings with elegant simplicity.
You'll love the pretty strings and the male/female background singers who compliment Jim's smooth voice on "I Love You Because." VM also has the world premier on this audio track.

Jim liked singing "I Know One" and a previously unreleased new vocal by him is included here, in a new musical setting.
One of the prettiest songs on this CD is "Lonesome Waltz." Unlike the RCA rendition put out years ago, which sounded foggy, and on which Jim even mispronounced a word, on the VM version it is sung correctly, and the audio is bell clear. David Johnson's fine arrangement has a real country/bluegrass feel -- with mandolin, fiddle and upright bass.
"Pride Goes Before A Fall" is an extended rendition with Mr. Velvet's incomparable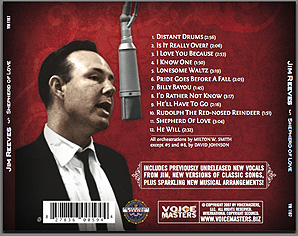 baritone in peak form.
On "Billy Bayou," famed singer Wesley Pritchard harmonizes with Jim, as a group of male and female vocalists add bounce to this fun number.
If you like waltzes, you are going to be thrilled by "I'd Rather Not Know." And you will be stunned by how clear and rich Jim's vocal is on the VoiceMasters release compared with the RCA overdub done years ago. The new arrangement also has a country/bluegrass feel to it, and features dobro.
Jim Reeves' signature song and biggest seller, of course, was "He'll Have to Go." This new CD proudly debuts a new vocal by Gentleman Jim, which is one of his finer efforts. A male chorus gives this song a melodic new appeal.
Jim never cut a master on "Rudolph the Red-Nosed Reindeer," but VoiceMasters has found a real treasure here -- a longer version and in a different tempo than VM has previously released. Plus Milton Smith has written charts for the orchestral accompaniment, ala the Boston Pops. Jim is in great voice! This track alone is worth the price of the CD. It is sure to be a favoite of yours for many Christmases to come!
The title track, "Shepherd of Love," is another rarity, done in a different tempo than what VM premiered a few years ago. Famed saxophonist Mike Duva has been brought in to underscore the jazz mood. Fans also get to hear a performance by Jackie Moffett -- the only drummer whom Jim allowed to do solos during their stage shows.
This wonderful CD concludes with "He Will," a reverential selection which, as far as is known, was the last religious song Jim Reeves ever recorded, in the summer of 1964. Through the combined talents of Milton Smith and Wesley Pritchard, the song has been transformed into something very different than what you've heard before. A fantastic male chorus sings with Jim on this number, too.
No other label anywhere in the world is doing what VoiceMasters is doing -- rescuing previously unreleased vocal performances by Jim, and overdubbing them with new music to not only help preserve but enhance his artistry.
Fans will immediately be enthralled by the quality of the sound on this CD. You won't believe your ears...
PLEASE NOTE THE MP3 SAMPLES ARE "LOW RESOLUTION"
TO CONSERVE ON BANDWIDTH. THE ACTUAL SOUND
ON THE CD WILL BE MUCH BETTER.

Your collection won't be complete until you order "Shepherd of Love."

ORDER TODAY!
BUY WITH CONFIDENCE: ALL U.S. ORDERS
WILL BE SENT WITH DELIVERY CONFIRMATION*
TO TRACK ARRIVAL. THE PROOF OF MAILING
FOR ALL FOREIGN ORDERS WILL BE SUPPORTED BY
CUSTOMS FORMS AND POSTAL RECEIPTS.
(* a surcharge of 75 cents will appear on your credit card statement)




FOR CREDIT CARD ORDERS ONLINE
CLICK HERE
PLEASE NOTE ALL ORDERS ARE NON-CANCELLABLE AND NON-REFUNDABLE.
***NOT RESPONSIBLE FOR DAMAGE OR LOSS IN TRANSIT. NO EXCEPTIONS! ***
Buyer assumes all risks of non-delivery. We cannot be held responsible for postal mishandling.
If you wish to have insurance, please email us here to request a quote.

Audio samples courtesy of VoiceMasters, LLC.
Copyright 2007 by VoiceMasters, LLC. All rights reserved.
International copyright secured.