FEATURING NEW SONGS FANS HAVE NOT HEARD BEFORE PLUS,UNRELEASED DEMOS OF TUNES JIM REEVES LATER RECORDED AT RCA, ALTERNATE TAKES, REMIXES AND COMPLETE VERSIONS OF SONGS THAT HAD BEEN EDITED BEFORE THEY WERE RELEASED EARLIER!
It is probably safe to say that these are among the last such unreleased songs you will ever hear from one of the world's greatest singers.
This collection of rarities from VoiceMasters documents some of Jim's outstanding demo work. Offered on this new CD is a wide variety of material, ranging from the "unedited" original rendition of "Crying Is My Favorite Mood," to an alternate take on "Make Me Wonderful In Her Eyes."
You also get to hear Jim's demo versions of tunes he later did at Studio B, including "The Talkin' Walls" and "Most Of the Time," plus completely new arrangements of "You Kept Me Awake Last Night" and "Read This Letter" -- all of which feature some skillful back-up by the Blue Boys. None of this has ever been issued before.
For the first time ever, we take you inside Jim's recording sessions to let you hear him giving instructions to the musicians. In one instance, singer Dottie West can be heard encouraging Jim to try again after several false starts, as she sings back-up (but was never credited).
BEST OF ALL, this CD marks the world premier of 8 totally new songs that have never been heard before. There's the title track, "I Call Her Heartache" (a memorable country number), "Subconscious Heart" (with a clarity rivaling Jim's RCA recordings), and "Shepherd of Love" (an ode to a teenage girl). "Jeopardy" is a bouncy number with a blues flavor. "Believing In You" is a quiet song of tribute. "Standing In My Way" is another country melody that will linger in your mind days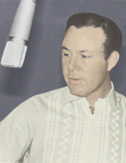 after you hear it. "(Roses Are) The Language of Love" is a cute novelty number that also shows how adept Jim was at playing guitar. You'll find yourself humming "Broken Heart Parade."
Jim displays his versatility with some blues-influenced numbers he recorded in New York with a jazz combo, and that he sings to a real swinging beat. There are also unreleased studio recordings of such Reeves standards as "Overnight" and "If Heartache Is the Fashion."
Many of these are songs that Jim wrote or co-wrote, worked on, and experimented with, but which he never got around to recording for RCA.
VoiceMasters also premiers the first commercial release of two songs done by Jim in 1964 in Sweden, including the only known live recording of "I Can't Stop Loving You" -- sung with a freer style than his studio version.
All of the songs on this CD are studio tracks, except for 3 home recordings and 2 in-concert selections. They have been carefully remastered using today's digital processing techniques for wonderful sound quality. Jim's lead guitartist, Leo Jackson, served as a repertoire consultant on this project.
This keepsake CD includes intriguing liner notes by Ray Baker, who worked in Jim's at-home office, and co-wrote the last song Jim ever recorded. Ray also was present in the recording studio during the last years of Jim's RCA and demo sessions, even manning the control board when Jim cut "I'm A Hit Again" one afternoon after they wrote it together. After Jim's untimely death, it was Ray Baker who was assigned by Mary to search for every tape that might have Jim's voice on it. It was Ray who collated and preserved all these years the songs on the tapes from which the VoiceMasters material for this CD are drawn. This is the first time Ray has ever come forward to discuss in print his role as a right-hand man to this internationally famous singing star. His insights are intriguing, to say the least! It's another VoiceMasters exclusive!
And it's another "must have" for any true Jim Reeves fan, released in very limited quantities, and not sold in stores.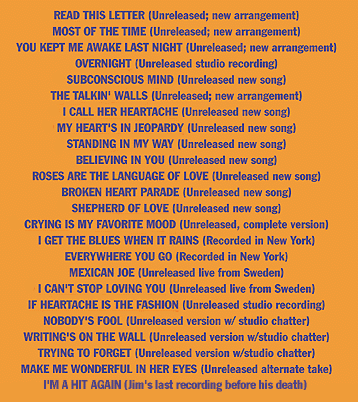 Audio clips courtesy of VoiceMasters, LLC.
Copyright 2003 by VoiceMasters, LLC. All worldwide rights reserved.