Midwest Today, January 1995
---
T R E N D S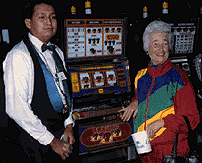 GAMBLING ON
A NEW LIFE
Indian gaming is not such a sure bet;
despite its success, opposition abounds
---
By NEAL LAWRENCE


Tim Giago, Publisher and Editor-in-chief of the Indian County Today newspaper in Rapid City, S.D., talks reflectively about what he calls the "casino culture."
He observes that "Many years ago, when I worked as a 'keyman' at Harrah's Casino in Reno, NV., while attending school there, I never dreamed that huge, Reno-like casinos would eventually become a part of the landscape on Indian reservations.
"It is almost scary to see this culture invading the quiet, peaceful lands of the Indian reservations."
Giago admits he has mixed emotions about it.
Rick Hill, a Wisconsin Oneida Indian who is chairman of the National Indian Gaming Association (NIGA), puts it bluntly: "The tribes don't have any money unless we do gaming, because we don't have a tax base. We have lived in Third World poverty conditions, but gaming has proven to be mutually beneficial to state and tribal governments."
Some tribes have had a lot of luck with gambling. Others have rolled snake eyes.
The message from the tribes is that they want jobs, not welfare. A Harris Poll showed that 70% of Americans support Indian gaming.
Some tribes are using their casino profits to establish college scholarships for their young people, to construct health clinics and hospitals, build new schools and day-care centers, open hotels, restaurants, gas stations, and flower shops; to fund retirement programs for their tribal elders, and to make long-term investments in hydroelectric as well as manufacturing plants.
But others are not planning for their future. They're taking today's profits and squandering them. There are also questions about where some of the money is going. Statistically speaking, only a small percentage of American Indians derive direct benefit from the operation of the casinos.
"Instead of giving tribal members per capita monthly payments, Indian tribes could be using gaming profits to purchase more land and expand their reservation base," Tim Giago believes. "They could put the money into long-term investments... Some are doing this; many are not."
Giago also worries that in some cases, "the few real Indians ... have allowed [outside] casino managers to take control ... to desecrate and insult the religious practices, traditions and culture of other Indian tribes."
Along with the salvation afforded American Indians by the arrival of the "new buffalo," gaming is a two-edged sword.
From a single bingo hall in Florida about 15 years ago, Indian gambling has exploded to more than 89 casinos and 170 high-stakes bingo games in 24 states, with more opening almost every month.
Half of the nation's 318 federally recognized tribes, with a total of 1.9 million members - are trying to get involved in gambling. To date, surprisingly few have benefited.
Indian gaming represents only about 5% of all gambling in the United States and only a third of tribes currently operate gaming facilities. About 40% of gambling revenues come from state lotteries and the remaining 55% is dominated by commercial entities in Nevada and New Jersey.
While some tribes have earned millions, others remain mired in poverty. The problems of the Indian reservations include a 24% poverty rate, a suicide rate more than twice that of all other nonwhites, and the highest high school dropout rate among all non-whites. Many Indians live on remote lands with no resources. The federal government has reduced economic assistance by two-thirds over the last 15 years. Unemployment still averages 45%.
Jim Northrup, a member of the Fond du Lac band of Lake Superior Chippewa wants people to know that "most tribal councils do not share the profits with the [tribal members]. There are a few exceptions. [But] it is creating a class society because not all members get to share in the profits. Only a small fraction of Indian people actually get money from gambling. Here at Fond du Lac, we get a ham."
Charles Keechi, chairman of the Delaware Nation and former head of the NIGA, said "People think all the Indian tribes are getting rich on high-stakes bingo, but here in Oklahoma we're just a step above playing with corn or beads on a hard card."
As CNN's Ann Blackman reported, "Notwithstanding [the) spate of good publicity (and some modest but real political and financial gains), Native Americans are struggling with the wages of survival. Once the only people on the North American continent, they have persevered as an ethnic minority only to face the classic minority dilemma of whether to assimilate or to affirm a separate identity - and, if they choose the latter, they further face a raft of federal definitions that can profoundly affect their common welfare."
Indian tribes have existed as sovereign governments for Centuries. Some tribes, like the Sac and Fox of the Mississippi in Iowa, boast treaties entered into as far back as 1804, when Thomas Jefferson was President. Historically, however, state governments have been hostile to the concept of recognizing and dealing with tribes as sovereign entities.
The most searing rebuke came in a 1953 Congressional policy, bluntly titled "termination." The Federal government severed its legal obligations to 50 tribes and groups, and relocated thousands of people from their reservations to nearby cities. Tribal protests in the 1960s and '70s brought about a reversal in government policy, and many Indians reclaimed their roots.
In the late 1980s, a sweet series of Indian triumphs had left some bitter aftertaste. Some recognized tribes won the right to run high-stakes gambling, regardless of prohibitions in bordering states. The result is a handful became fabulously wealthy, and some financial benefits started to accrue to impoverished reservations. But friction increased between recognized and unrecognized tribes.
Then there are problems which stem from ambiguities involving the muddled relationship between American Indians and the state and federal governments. Specifically at issue is the interpretation of the Indian Regulatory and Gaming Act, implemented in 1988.
Writing in the St. Paul Pioneer Press, Julie Shortridge raised some good questions:
"Why does [a] state have the right to negotiate away aspects of a federal treaty with a sovereign nation anyway?" she asked.
"If Indian tribes are independent nations unto themselves - separate to govern under their own laws; exempt from all local, state and federal regulations; and autonomous to negotiate treaties with the U.S. government - then why do Indians vote in U.S., local, state and federal elections?
"Were Indians sovereign when the treaties were drafted, but subject to U.S. authority now? Are the federal courts involved in making determinations about other U.S. treaties with foreign nations? Are Indians considered American citizens, citizens of a separate sovereign nation or dual-citizens? In what way is Native American sovereignty the same or different from the sovereignty of foreign countries, the powers of the commonwealth of Puerto Rico or those of U.S. states?"
She says she wishes people had "the courage and depth" to discuss these questions. "Obviously," she concludes, "the relationship between states, the federal government, Native American tribes, treaties, property rights and resource management is not as clear-cut as some would suggest."
Conflicts Over Sovereignty
Randy Brown of the Wichita Eagle observes "A key factor in dealing with Indian tribes is the phrase 'good-faith negotiations.' A state doesn It have to accept just any deal, but should work with the Indians to make a reasonable deal."
The process does not always go smoothly, to say the least. The Ponca Nation of White Eagle, OK., for example, has been unsuccessful in its attempts to persuade Oklahoma officials to negotiate in good faith a proposed expansion from bingo to casino gambling. Conditions on the reservation remain bleak. At a dusty crossroads, dirty children swing on clotheslines because there is no place else to play, intoxicated men loiter about, and stray dogs rummage through garbage.
Officials from four of South Dakota's nine Sioux tribes spoke at a hearing held last year by the U.S. House Native American Affairs Subcommittee. They accused state officials of "economic racism" in negotiating agreements for tribal casinos. They cited as examples the fact that state officials limited each tribe to a maximum of 250 slot machines, no matter how large or how remote the tribes are.
Tuffy Lunderman, gaming liaison for the Rosebud Sioux Tribe, said "The compact process in South Dakota is racist and reactive and protects the state's video lottery system."
Tribal officials said their experience in dealing with South Dakota officials is so repellent that it convinced them that states should have no input in decisions on tribal facilities.
An amendment to the Indian Gaming Regulatory Act pending in Congress could eliminate a governor's veto authority over Indian gaming and instead only allow him to advise the Interior Department.
An attorney for the Cheyenne River Sioux tribe revealed that state officials had offered tribes the prospect of allowing more slot machines in their casinos if they agreed to give up criminal jurisdiction over Indians who are not members of their tribes.
That demand clearly conflicts with a federal statute giving tribal governments the power to bring criminal cases against any Indian who violates the law on a reservation.
The tribes believe they should not have to cede their jurisdiction to get economic development. They point out the many benefits to the state from the operation of their casinos.
William Schumacher, chairman of the Flandreau tribe, says his group has created more than 1,000 jobs, boosted sales tax revenue and used casino profits to start farming and cattle operations, and doubled the size of its small reservation.
The Fort Randal Casino has more than 600 workers, helps get families off welfare, and has enabled the tribe to build new offices, a water tower as well as a drug and alcohol treatment center.
University of South Dakota economics professor Michael Madden said tourism spending in the five counties with tribal casinos increased from $8 million to $31 million after the casinos opened in his state.
Debate Over Regulations
Federal regulators contend that chaos is developing in the Indian gambling industry because of lax oversight and the absence of federal standards for tribal casinos. Regulations are seen as inconsistent and fragmented nationwide. The National Indian Gaming Commission also complains it does not have the resources to be able to regulate the existing gaming operations.
The biggest problem is in illegal casinos springing up in California and New Mexico, not the legal operations in other states.
The commission has 17 employees in the field, but there are over 200 Indian gambling facilities nationwide.
Gerald Torres, counsel to U.S. Attorney General Janet Reno, says "Many states are ill-equipped to regulate Indian casinos."
Indian leaders say they don't object to the idea of federal standards per se, but they oppose the expansion of the Indian Gaming Commission proposed in legislation drafted by a Senate committee. The bill would overhaul the Indian Gaming Regulatory Act that established the commission.
Marge Anderson, chairwoman of the Mille Lacs Band of Chippewa in Minnesota says the legislation "could turn all regulation at our casinos over to some distant bureaucrat."
Richard LaFromboise, chairman of the Turtle Mountain Band of Chippewa in North Dakota affirms that "We believe our present regulatory structure is more than adequate for our tribal activities."
Both Republicans and Democrats on the Senate Indian Affairs committee have said that tribal casinos should be forced to adhere to much stricter federal guidelines, including licensing of games, background checks of key casino employees and accountings of revenues and profits.
One proposal would also let states refuse to allow Indian gaming within their borders - a right they don't have now.
Henry Buggsalo, a Minneapolis lawyer who represents tribal governments with gaming interests, says "I would call it a pretty deliberate attack on Indian gaming."
Indians Victimized Again
Some of the regulations are clearly designed to help, not hurt, tribes. Federal officials say Indian casinos are currently losing millions of dollars in excessive management fees, and they're vulnerable to criminal activity through a lack of adequate gaming control.
Although most tribes run gaming operations themselves, about 70 hire outside companies.
One government report claimed that tribes have lost "substantial amounts of potential revenues" because of "inadequate management direction and oversight, certain fraudulent or wasteful activities and deficient decion-making by management."
The growth of the industry occurred so quickly, and so many of the tribes lacked the business experience or financial expertise to completely protect their interests, that they once again fell victim to unscrupulous predators.
For example, after reviewing 37 management contracts (signed before 1993, when the National Indian Gaming Commission began its oversight operations), the Interior Department concluded that there were excessive fees amounting to $62.2 million in 18 of them. The management companies' risk and investment did not justify their fees - as high as 40% of net revenue a report claimed.
Investigators also warned the industry could be open to theft and embezzlement. Tribes in eastern Wisconsin lost more than $500,000 through that method from 1986 to 1991.
The Interior report warned that "Any type of business that operates primarily on a cash basis without receipts or other written records needs stringent controls to protect the establishment and its employees and patrons."
The theft of $395,000 from a Wisconsin tribe, for instance, would have been discovered earlier if the gambling operation (a bingo parlor) had standard controls over daily ticket counts and cash reconciliations, the investigators noted.
Among the startling revelations in the Interior Department's 1993 probe was that six tribes in Wisconsin and seven more in Michigan paid $40.3 million to lease gaming equipment that they could have bought for just $3.2 million.
Ada Deer, of the Bureau of Indian Affairs, admitted that in the past, some tribes "entered into unconscionable contracts and leases" that called for "exorbitant or excessive fees."
Benefits and Drawbacks
There can be no doubt that Indian gaming is an economic boom not only to the tribes but to the surrounding communities. In Michigan, for instance, Indians now spend more than $40 million annually on food, supplies, utilities and insurance required to run their casinos - with 95% of the money remaining in the state.
Welfare is being reduced. In Minnesota, roughly 37% of the tribal gaming employees had received state or federal welfare assistance prior to their employment and another 31% were drawing unemployment compensation. Daniel Tucker, chairman for the Sycuan band of Mission Indians, points out that "Indian gaming not only reduces the burden on tax-funded social programs but it now increases available reserves."
But are there hidden costs? A new study underwritten by the Ford Foundation says officials in various states have glossed over gambling's substantial negative economic consequences while touting its job and income-producing potential.
A second study, by University of Minnesota researchers, raises questions about the extent to which that state's Indian casinos have benefited economies in rural counties where most are located.
The theory propounded by the Ford Foundation is that although legalized gambling has produced increases in employment and state revenues, a shift of large amounts of consumer spending to state and tribally-sponsored gaming enterprises has had negative effects on other businesses, notably the restaurant, entertainment and lodging industries.
To take Minnesota as an example, the report claimed that business volume has actually fallen by 20% to 50% at restaurants located within a 30-mile radius of casinos with food service. And at $558 per capita in yearly wages, gambling expenditures in 1990 exceeded such categories of retail spending in Minnesota as appliance, clothing, electronic, home furnishing and shoe stores, as well as hotels.
In addition, for every problem gambler addicted to high-stakes gaming, Minnesotans must pay at least $13,200 to prosecute them, incarcerate them and provide restitution to their victims.
The University report claims that the social costs of compulsive gambling alone are equal to about one-half of a casino's gross revenues. If that is correct, the estimated social cost of Minnesota casino gambling would be $250 million per year.
The Shake-Out Has Begun
When gambling was new, each new track and casino prospered at the beginning. But as gambling has expanded and saturated the market, the economic laws of survival came into play.
"Gaming is only valuable in its rarity," says Anthony Hope. "Once everybody's got it, it's worthless."
Around the region, casinos nearest to large population centers are thriving while remote sites could be eliminated or forced to serve as small, resort-season outlets.
The first big shakeout is pari-mutuel betting on greyhounds. In Wisconsin, the state's five dog racing tracks have suffered from competition with 17 tribal casinos.
John Tries, chairman of the state Gaming Commission, says "The dog tracks are very, very susceptible at this point to closure." Wisconsin dog tracks were expected to suffer a $52 billion downturn in bets when results for 1994 are tallied.
The dog track at Wisconsin Dells has parlayed the success of the nearby Indian casino into improving its own financial situation. Often the casino is so crowded that the spillover crowd ends up at the dog track. It is this sort of phenomenon that other tracks want to emulate.
Everybody Wants In On the Act
Even when a casino is hugely successful, the success begets problems.
Take, for example, Mystic Lake - one of the nation's largest casinos - which has turned 150 members of the Mdewakanton Dakota tribe into millionaires since it opened in 1992.
A dispute has arisen over who is entitled to share in casino profits. Leonard Prescott, head of a corporation that runs the casino at Prior Lake, MN., says the success of his facility has resulted in dozens of people who don't belong to his tribe nevertheless clamoring for tribal membership.
Some have a dubious claim, Prescott believes. "They are people who never lived on the reservations and they may be cousins or relatives of somebody who does. They don't help us build the business."
Admittedly, rules over tribal membership are confusing and complex, and one of the basic tenets - proof of a 25% bloodline - is a standard that is increasingly difficult to maintain with each succeeding generation.
The other problem is that many nonIndians want to share in the largess. Challenges have been mounted to the legal monopoly on casinos for Minnesota's estimated 50,000 Indians in 11 federally-recognized tribes.
Eugene Christiansen, president of a New York gambling consulting firm, notes "Indian gambling is goading state legislatures to authorize casino games and other forms of gambling. If the Indians have casinos and states can't tax them, there is a natural tendency for legislators to say 'Hell, we'll have our own casinos that we can tax."'
Developers and bar owners have been clamoring for expanded forms of non-Indian gaming - ranging from a multimillion-dollar casino and entertainment complex in downtown Minneapolis to legalized slot machines in bars and restaurants. Instead of opening their own casinos, other state governments have begun looking for ways to extract concessions or financial rewards from the Indians in lieu of taxes to forge a rewarding, if sometimes uneasy, coexistence.
But Indians not directly benefiting from Mystic Lake's success have come to its defense. "We see those politicians crying about a 'level playing field.' None of them were concerned about a 'level playing field' for 600 years, when we were subjected to campaigns of internment, campaigns of genocide," said Vernon Bellecourt, the American Indian Movement leader.
"It just reeks of racism," Bellecourt fumes. "I read that 'this' CEO of 'this' corporation gets a $4.5 million bonus a year. What's wrong with having another 150 millionaires in Dakota County, particularly since these people have suffered economic hardship?"
Rick Hill says efforts to restrict or do away with tribal gambling are modeled on the "cowboys and Indians" mentality.
Indian Casinos Favored
Despite challenges, the Indian-run gambling operations are exceedingly popular with the public.
Casinos around the Heartland are generally scrupulously well-run enterprises that are finding ways to help their native populations, and preserve their heritage even as they improve life.
And, those who are familiar with Las Vegas, Reno and Atlantic City gambling establishments say that most of the Indian-owned casinos are just as good in terms of service and operation. Tim Giago says "the thing most gamblers should consider when choosing a vacation spot where they can play the slots or play a few hands of blackjack is that the money they win is as good as if they had won it in New Jersey or Nevada, but the money they lose goes to the many social and economic development programs of the different Indian tribes."
Click Here To Recommend This Story To A Friend
---
Back to the top
Contents copyright 1995, 1996, 1997, 1998 and 1999. All rights reserved.