Midwest Today, Summer 1999
---
N E W S F R O N T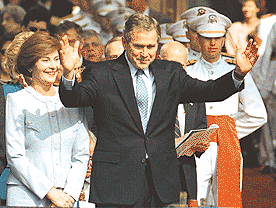 BUSH LITE
In Iowa, the Annointed One preaches to the party faithful.
But is he really the savior of the GOP?
---
By LARRY JORDAN / Copyright 1999

Shortly after he boarded his campaign plane at 7:28 a.m., bound for Iowa, he spoke over the intercom, and made fun of the precipice on which he stood. "Please stow your expectations securely in your overhead bins, as they may shift during the trip and can fall and hurt someone -- especially me," said Gov. George W. Bush, who was wearing cowboy boots and a shiny, brass belt buckle with his name emblazened on it.

As chuckles rolled through the cabin, Bush added: "Thanks for coming. We know you have a choice of candidates when you fly and we appreciate you choosing 'Great Expectations.'"

His reference was not only to the nickname of his plane, but also the state of his campaign.

Even before coming to Iowa as he did on this trip in early June to formally announce his candidacy for the year 2000 Republican Presidential nomination, expectations about his election chances were soaring to stratospheric heights.

Pursuing a strategy that dates back to Ohio's William McKinley in 1896 and his "front porch campaign," for awhile this son of a former President never seemed to leave his home turf. Instead he hosted a series of party bigshots who made a pilgrimage to see him. Capitalizing on his famous family name, and with virtually no exposure among rank-and-file voters on the national scene, George Bush managed to garner the endorsement of a majority of GOP Governors and House members, raise millions more dollars than all his competitors combined, and secure a comfortable lead in the polls.

The nation would have to go back to 1952, and the nomination of a war hero, Dwight D. Eisenhower, to find someone so untested emerging this far ahead of his party's pack.

But George W. is no war hero. He avoided Vietnam by serving in the Texas National Guard. His business career has been marked by mediocrity or failure which nonetheless has resulted in him getting lots of money from his father's political allies. And his political career has been handed to him on a platter by his famous name, and his dad's cronies.

A Governor for only 4-1/2 years, George Junior has compiled an undistinguished record. In the process, he has taken millions in campaign contributions from the same big businessmen who were in on the insider deals that made him rich -- and who themselves have received billions in sweet deals from the Texas state government during Bush's term.

So what's going on here? Are there no candidates on the political right who are more qualified to seek the nation's highest elected office? And why is it that so many Republicans are writing a blank check to a blank slate?

It could be that "The vacuum is sucking him into being the pre-emptive front-runner," as GOP strategist Tony Fabrizio delicately describes it.

Yet if one merely examines Bush's recent electoral performance, it is hard not to be impressed.

In 1998, George W. Bush became the first politician in Texas history to get himself re-elected to a second successive term as that state's Governor. And most significantly, he carried key voting blocs that could be the basis for a new Republican Presidential coalition in 2000. Bush won not only more than two thirds of female voters but 70% of independents, 60% of moderates, and nearly a third of Democratic liberals. Perhaps his most impressive achievement was in garnering the support of 49% of Hispanics, a group he made a special effort to court.

Not surprisingly, Bush's across-the-board appeal has convinced many of his party's faithful that he is the strongest possible candidate to head his party's ticket next year. His stock is further inflated by polls which show him trouncing Al Gore, the presumed Demo nominee.

But Texas good-ole-boy politics is a lot different than a national campaign. Despite all the hoopla that surrounds him at this stage, the 53-year-old Bush, whose friends call simply "W" --- pronounced "dub-ya" in Texas -- is largely untested.

His performance in office, as well as his close ties to controversial GOP leaders in Congress, raise enough questions about him that no one with any political sense would consider Bush a shoe-in.

In fact, as public awareness dawns about some of the drawbacks to his candidacy, George Walker Bush could eventually join the long list of political figures who looked great in the early going but fell flat when it counted -- such as George Romney, Edmund Muskie, Ted Kennedy, Robert Dole, John Glenn, and Bush's father, George Herbert Walker Bush, who lost his first run for the GOP nomination to Ronald Reagan in 1980.

One thing is certain. "His poll showings are grossly inflated," says Hugh Winebrenner, a political analyst at Drake University in Des Moines. "Eventually they'll come down. And how the press interprets that will be important."
The Silver Spoon

Like his probable Democratic opponent in the next election, Al Gore, George Bush Jr. had a rarefied upbringing.

Born on July 6, 1946 in New Haven, Connecticut, George was a toddler when his parents moved to Texas. He attended junior high school in Midland, and the Kinkaid Academy in Houston. He was then sent east to become a student at the elitist Phillips Academy in Andover, Massachusetts, and finally to Yale University, both alma maters of his father. Even then there was talk that he got into Yale not on the basis of academic merit, but because of whose son he was.

George W.'s scholastic career was anything but distinguished. According to a Newsweek profile, he "went to Yale but seems to have majored in drinking..."

Somehow, he managed to get a bachelor's degree from Yale University and an MBA from Harvard Business School.

Like Dan Quayle and Steve Forbes, two other politically-connected rich kids, Bush Junior got into his home state's National Guard in 1968 at the height of the Vietnam war, despite the fact that there was a waiting list of 100,000 other young men nationwide. A recent investigation by the Los Angeles Times showed that W. was given a coveted spot in the Texas unit with a special commission that made him an instant second lieutenant without having to go through the rigors of training in officer candidate school.

This was despite Bush having lacked the military experience and aviation skills that some other applicants had when he was admitted to the elite ranks. In fact, on a written test, Junior showed below-average potential as a would-be flier.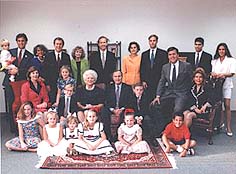 Bush secured his slot in pilot training school at a time when there was no shortage of pilots. And w., whose father was a u.s. Congressman, was assigned to fly a plane that was being phased out of Vietnam. Later, he was allowed to transfer to Alabama to work in a political campaign, then left the Guard seven months early.

In 1975, George started his business career in Midland with $17,000 from an educational trust provided by his parents. Family friends invested hundreds of thousands, some persuaded by Jonathan Bush, his uncle, who was a stockbroker.

When he ran into trouble, Junior sold 10% of the company to a friend of his father's eventual Secretary of State, James Baker III. Strangely, although the company was worth only $382,000, for his 1/10th share W. received $1 million.

After a second merger, in 1986, Junior received stock and a position on the board of Dallas-based Harken Energy Corp. Shortly thereafter, it got a $25 million stock offering from an unusual bank with CIA ties, and in 1990 won a surprise exclusive drilling contract with Bahrain, a small Mideast country. It did so by beating out Amoco, despite no offshore drilling experience. Then an Arab member of its Board of Directors was suddenly admitted to the highest levels of White House foreign policy meetings with President George Bush. These were not Clintonesque meet-and-greet fundraisers, but actual working policy meetings during a critical period.

There are also questions about George W.'s June 1990 sale of $848,000 of stock in Harken. That was brilliant timing because in August, Iraq invaded Kuwait and Harken's stock dropped 25%. Soon after, the company posted very poor quarterly earnings that caused the stock's value to plummet an additional 25%.

Junior violated at least one Securities and Exchange Commission (SEC) rule explicitly. He was required to register his sale as an insider trade by July 10, 1990, but didn't until March 1991, after the Gulf War was over. He claimed the paperwork got "lost in the mail."

The SEC investigated Bush in 1991 for possible insider trading, but after a two year review took no action.

W. then worked in his father's 1988 Presidential campaign, where he bird-dogged the staff. This prompted one journalist to christen him "the Nancy Reagan of the Bush White House."

After serving as his father's trusted consigliere, young George became involved with the Texas Rangers baseball team in 1989. He was offered a piece of the valuable franchise by supporters of his dad, who also bailed out his failing oil company. George bought stock with borrowed money, then was made one of the managers. His only qualification? That he worked at failing oil companies.

But Dubya's real wealth came from simply being given 10% of the team (or $12.12 million) as a "bonus" for "putting together the investment team." Yet the only investor Bush actually brought in was Roland Betts, a Yale fraternity brother, and that wasn't good enough.

One of the most troubling aspects of George W.'s accumulation of wealth is that he and his partners relied on massive government intervention to do it.

Before he became Governor, George Bush, Jr. told the voters of Texas that he would "do everything I can to defend the power of private property and private property rights..." His opponents charge that's hypocritical, given his history.

The main value of the Texas Rangers is its new stadium (ranked by Financial World as the most profitable in baseball) and 300 acres the team owns near 6 Flags of Texas.

When George and his partners originally found the land, the private owners didn't want to sell it. Bush and his partners gave them only a lowball offer, and when it was rejected they arranged for a new government agency (the Arlington Sports Facility Development Authority) to condemn it.

The agency foreclosed the land and paid the owners a very low price, which a jury later determined was only 1/6th of its actual value. The agency also floated bonds, guaranteed and repaid by taxpayers, to finance the purchase. This amounted to a $135 million subsidy for Bush and partners, compared with the $80 million they paid for the franchise. Since they later sold the entire franchise for $250 million, it's easy to see whose money Bush pocketed.

On the campaign trail, when Junior talks about tax cuts, his opponents are likely to point out that Arlington had to impose a new sales tax just to pay for the subsidy Bush and his partners received.

He claims that he "wasn't aware of the details" of the land condemnations, even though he was the team's managing general partner and has bragged about personally getting the stadium built.

When the team was eventually sold, Bush received $14.9 million on an investment that totaled $606,000 -- or a return of more than 2,300%.
What Kind of Governor?

Though he lost his first bid for Congress in 1978, he rebounded and defeated popular Democrat Ann Richards for Governor in 1994.

The conservative Manchester, New Hampshire Union-Leader says of Junior's five years at the helm in Texas, that "the Bush style is to lay low, look for popular issues, let others do the hard work, and then step up to claim credit in the hour of victory."

Though he's now singing W.'s praises, Wisconsin's Gov. Tommy Thompson admitted in February that, "He hasn't really done much as a Governor in regards of doing anything new or innovative."

In 1995 Bush made good on a promise to bring tort reform to Texas -- but he also declined to veto a 1997 bill, the first of its kind in the nation, exposing HMOs to malpractice suits. He believes in helping business create jobs, but the rate-cutting and deregulation policies of his appointees to the Public Utility Commission have weakened Texas electric utilities.

The Governor has campaigned to eliminate the social promotion of students who cannot read at grade level. He favors curbs on punitive damages. He proposed raising the state sales tax, already one of the highest in the nation, by half a cent (to 6.75 cents per dollar) and also embraced a business activity tax. Bush has gone against public opinion in opposing tougher gun laws.

W.'s one big idea flopped when he attempted to win legislative approval for a massive property-tax reform package.

To a vacancy on the Texas Supreme Court, Bush appointed a defense lawyer from Houston who has written one of the most radical anti-labor decisions handed down by one of the most conservative courts in the nation.

In 1997, Bush gave away a budget surplus to wealthy property owners in a state that ranks 50th in per capita spending on government programs and 5th in the number of people living in poverty.

Texas is the largest polluter in the nation, and while Bush has been in office it bottomed out at 49th in spending on the environment.
A "Good Administrator?"

Bush has admitted that while he may not be an intellectual, at least he's a good administrator. But a look at the Texax charter school system belies that assertion.

In Milwaukee, he said when it comes to education we should "set high standards and high expectations." He also said the charter school movement "should encourage local folks to develop accountability measures." But none of these things has occurred under his guidance in Texas.

"The truth is that 10% of the independent charter schools operating in Texas are currently under investigation by state and federal governmental authorities for financial failures, student abuses, fund misappropriation and forgery," says Jerry Politex of the online Bush Watch (http://www.geocities.com/CapitolHill/3750/bush.htm).

"Although the state has poured $77 million into Texas charter schools since 1996, the schools are only answerable to the Texas Education Agency (TEA) for their financial, not their educational activities, suggesting that Bush was more interested in the charter schools as exercises in entrepreneurial privatizing, not education," Politex asserts.

"Also, he did not provide the TEA with the money or the manpower needed to police the charter school system."

Bush's spinmeisters say that, like Reagan, Dubya's administrative style is to come up with big ideas, then delegate the details to others. However, it is obvious that often, as Bush Watch observes, "his ideas have not been thought through, he has not provided his administrators with the tools to do the work, and he fails to make the needed corrections in time to head off disasters."
"Compassionate?"

Though George W. touts his "compassionate conservativism" (sic), his record shows a certain hard-heartedness.
For instance, during his 1998 campaign for Governor, he jumped on the "welfare reform" bandwagon, proposing withholding benefits from the children of recipients if their parents are deemed unwilling to work. Held hostage under Bush's plan was the already meager $188 a month Texas bestows upon a welfare mother and her two children.

Bush proposed these reforms because, he said, he wanted to help "instill personal responsibility" in the poor people of Texas, and give them "a future of opportunity, instead of dependence on government." In other words: do as the Reverend Bush says, not as he has done.

His first tax cut to pass both houses was an emergency bill for his buddies in the oil business, remembers Joe Sanchez, a spokesman for the Mexican American Legal Defense and Education Fund.

Yet Bush recently vetoed a bill that backers said attempted to balance the scales of justice for poor defendants.

"He is showing his conservatism to the poor and his compassion to the rich," Sanchez said. "The people who are left sitting there without appointed counsel for long periods of time would take issue" with Bush.

"Governor Bush's action on the bill is an important indicator of how much confidence we can have in his commitment to equal justice for the poor, racial minorities and other disadvantaged persons," said Stephen Bright of the Southern Center for Human Rights in Atlanta.



Under Gov. Bush, Texas is cramming its massive prison system with its social problems and carries out a third of all U.S. executions. W. pushed through a measure that lowered to 14 the age at which children can be tried as adults.

He refused to take a stand on a measure that would have included gay-bashing as a hate crime and his anti-abortion views are too extreme for most voters.

One particularly telling episode was a legislative battle over implementation of a 1997 federal law -- passed with bipartisan support in Congress -- called the State Children's Health Insurance Program ("s-chip"). Under the terms of s-chip, the federal government offers to subsidize health insurance for children whose families make too little money to afford it, yet make too much to qualify for Medicaid. Half of the uninsured children belong to parents who hold low-paying jobs that lack benefits -- in other words, just the kind of hard-working, responsible souls that compassionate conservatives can feel good about supporting.

But even then George W. showed an aversion to government activism on behalf of the poor and disadvantaged.

Although his state ranks second in the nation in the number of children not covered by health insurance, and plenty of money was available from both federal and state sources, he dragged his feet in implementing the plan. Then he proposed funding levels for the state's share of the program that would have left 250,000 uninsured children ineligible for coverage. Meanwhile, he pressed for a $2.7 billion tax cut. So much for his "prosperity with a purpose,"

In the end, the Texas legislature rejected Bush's philosophy, and financed the state's share of the program with a portion of tobacco settlement money. Bush, presented with a fait accompli, made the best of it. At a signing ceremony, he hailed the bill's supporters for "doing what's right for Texas," even though they did so without his help.

While he casts himself as a solidly pro-education candidate, Bush has tried to weaken the Texas Education Agency's ability to set health, safety, and educational standards for public schools, supported a voucher program that could have cost the state $1.6 billion at the expense of its public schools, and cut funding for the state's Teacher Retirement System. While in his Presidential stump speech he talks about giving a $3,000 raise to teachers in Texas, that raise was part of a Democratic bill that he fought against. Texas still ranks 38th in teacher salaries.

During his tenure as Governor, the number of child abuse investigations in Texas has declined because he hasn't simply given Child Protection Services enough money to do the job. According to the Dallas Morning News, 40% of the allegations of child abuse go uninvestigated, and Bush Watch estimates that "25% of those cases would turn up actual abuse or neglect. That's 17,000 children that have remained abused and neglected in Texas in 1998."
Takes Care of His Friends

One thing the Governor is good about doing is making sure his wealthy benefactors are taken care of. As R.G. Ratcliffe reported, in a series of well-researched pieces in the Houston Chronicle, "a pattern emerges: When a Bush is in office, Bush's business associates benefit."

Michael King of the Texas Observer comments, "A diligent prosecutor with subpoena power and a large staff might well find evidence of specific crimes or corrupt practices by investigating one or more of the [business practices of Governor Bush]. At a minimum, the Bush biography should provoke the sort of public and press scrutiny that, thus far, candidate Bush has avoided."

Even so, King says that "While specific state transactions might indeed be subject to conflict-of-interest inquiries, the state policies -- privatization, regressive taxation, state subsidies and tax abatements for corporations, the systematic use of public resources for the benefit of private power -- represent not a conflict, but a confluence of interests, between the state's major business entities and the politicians they support and underwrite. The fact that among those entities are corporations and businessman with whom Bush himself has done particular deals -- well, that's not corruption, exactly. It's just business as usual."
Sins Of the Father

George W. is full of talk about "fresh starts" and "clean slates." He tries to convince voters he is his own man.
"I'm not interested in the people who lost my dad's election," Bush told a conservative suitor recently. "This is going to be my race, not my dad's."

Yet Time magazine asks: "If George W. wants his campaign to look different from his dad's, why is he enlisting Dad's staff?"

Indeed, as the magazine reports, "W's Rolodex isn't that different from his dad's. It's getting hard to keep count of all the veterans of the old Bush Administration who are now house-hunting in west Austin" (to be near Bush quarters).

Fred Wertheimer, president of Democracy 21 and the eminence grise of the campaign reform movement, wonders, "How do you run as a Washington outsider when your campaign is loaded with big-money players and lobbyists who are at the core of the status quo?"

Sounding an even more ominous note, Robert Parry of the Consortium for Independent Journalism, says since "George W.'s foreign policy would likely be an extension of his father's...the lingering suspicions about President Bush's involvement in a variety of illegal acts are reasonable issues to weigh when considering George w. Bush's candidacy for the Republican nomination."

Parry refers to unresolved questions about President Bush's "precise role in the now-corroborated accounts of Republican secret contacts with Iranian radicals holding 52 U.S. hostages in 1980, while President Carter was trying to negotiate their release;
"Bush's knowledge about his Cuban-American allies and their participation in cocaine trafficking under the umbrella of President Reagan's Nicaraguan contra war in the 1980s;

"Bush's participation in supplying secret military assistance to the armies of Iraqi dictator Saddam Hussein in the 1980s, including supplies and technology through Pinochet's Chile;

And "Bush's close financial relationship with Rev. Sun Myung Moon, a major conservative political funder but also a controversial religious-business figure who favors the subjugation of the American people and who has close ties to figures from Asian and South American organized crime."

Parry notes that after leaving office in 1993, George Senior "also blocked closure about his responsibility for the Iran-contra scandal. He stiffed Iran-contra special prosecutor Lawrence Walsh, who believed he had Bush's assurances to undergo a final interview in 1993 but was denied access to the ex-President.

"Bush, therefore, was never questioned in detail and under oath about any of these issues. He was able to escape with cursory denials, often made in fleeting news conference comments."

So Parry asks "Is the personable Texas Governor, in part, a front man for the restoration of his father's unsavory cronies who relied on national security secrecy to avoid accountability for serious mistakes and even criminal acts?"

The role that persons loyal to George Bush played in stirring up the Whitewater scandal in which the Clintons became embroiled is also suspect, especially given Kenneth Starr's eventual admission that no prosecutable offense was committed by Bill or Hillary.

The elder Bush's long history of association with questionable and even sinister characters from the intelligence world surely poses troubling questions about the political rise of his oldest son.
Lying About Religion, Campaign Strategy

George W.'s spokeswoman Karen Hughes "keeps a straight face while spinning yarns to reporters," says Jerry Politex. "Her most memorable mythology," he says, was that last January when Bush heard a sermon by an Austin pastor, Rev. Mayfield, it was instrumental in convincing Dubya to run for President. "The sermon was about the need for good men such as Moses to step forward to lead the children into the promised land," Bush Watch reports.

Many wonder: If you're willing to lie about religion, what else will you lie about?

Hughes' story is absurd, says Politex, because as far back as 1996, George's "operatives made their first fund-raising trips and stealth missions to primary states.

"By 1997, GOP chairman Rich Bond was spending time in Iowa stirring up Bush Presidential support. In June of that year, the Zogby American poll had 21% of the Republicans polled favoring Bush."

Bush Watch says W. "claimed [at the time] that he was amazed by the poll, although [one has to] wonder why, since he had spent a year in the field priming the political pump."

R. G. Ratcliffe, writing in the Houston Chronicle, reported that "On the surface, it appears that Bush's bid for the Republican Presidential nomination -- unprecedented in its early popularity -- ignited spontaneously in the eight months after his landslide re-election as Texas Governor. But Bush's campaign success is actually based on more than two years of strategic planning and preparation as his aides and allies built a network of potential supporters and financiers."
Be that as it may, there's no denying George W. is at the top of his game.

"The assumption of political pundits is that 40% of the voters in next year's Presidential election will go Republican and 40% will vote Democratic," reflects Jerry Politex. "The belief is that the two parties are more evenly matched than ever. That leaves Bush and Gore to fight over the remaining 20% in the center."

To do this, Junior is "going to have to start filling in the blanks," said Peverill Squire, a political science professor at the University of Iowa in Iowa City. "I can't think of anybody who has come into the state with such expectations."

Still, his stump speech these days is a kind of Rorschach test for Republican activists, a mirror that allows people to see in it anything they want.

Robert Novak, the dean of right-wing columnists, admits that George W. is a "blank page when it comes to foreign and much of national policy."

It's always been said that elections turn on pocketbook issues. If that's the case, then Bush will have to make the case for evicting a party that might as well change its name to Dow 10,000.

The unwavering public support for President Clinton's policies through a solid year of calamitous publicity and conservative moral thunder has to make conservatives wonder if the same public might elect Al Gore in 2000.

Columnist Chris Mathews reflects that, "Whatever it may have proven about Clinton, the sordid impeachment drama of months past showed a face of the political Right that is not presentable in electoral prime time."

So Bush will put a smile, not a frown, on conservatism. Bush claims to be an optimist who dares to accentuate the positive. Where Clinton felt our pain, Bush will say he wants to heal the wounds that the pain-feeler caused. He is a tax-cuttin', pro-gun, pro-life conservative, painted yellow and decorated with a smiley face.



But is this just a clever ruse? Conservative James Robinson, in a revealing commentary in the Los Angeles Times, gloats that, "just as Ronald Reagan's infectious congeniality gave him cover to pursue bold conservative policies, in the right hands the cloak of 'compassionate conservatism' can perform a similar function."

Writes Jon Pepper in the Detroit News, "The key to Bush's success so far is to pitch basic conservative values in a more positive way, to include minorities and talk about his ideas in emotional terms that suggests some feel for the people involved."

The GOP is apparently willing to sacrifice much of the conservative message that brought Ronald Reagan to power in 1980 and Newt Gingrich in 1994. All for a poll-created candidate whose only apparent asset, besides setting fund-raising records, is that he leads in the polls.

Betsy Hart, a commentator on CNN and the Fox News Channel, feels that "George W. is vague on his positions on everything from taxes to abortion to racial preferences to why in the world he wants to be President anyway... And a portrait in courage he's not. While light-years ahead in the polls and fund-raising, Bush still found it necessary to pander to Iowans by supporting the boondoggle of ethanol subsidies there, a low his major rivals haven't stooped to."

And he is willing to bend the message. On a Wednesday in Los Angeles, Bush praised a group of teachers and said he understood how hard it is to be a teacher. On Thursday in Silicon Valley, he condemned teachers' unions for resisting change.
Manipulating the Media

A generation ago, Jimmy Carter arrived in Iowa carrying his own garment bag, to make the state a foundry for political underdogs in the first-in-the-nation Presidential caucuses. When George W. arrived in the state this year, he had 200 members of the press in tow, producing the kind of frenzied campaign day that Iowans usually don't see until Winter.

Some politicians are snakes. Bush is a charmer. Aboard the plane in June enroute to Iowa, he pushed a meal cart down the aisle, shook the hand of every journalist, and even tweaked the suspenders of one.

On the tarmac at the Cedar Rapids airport, he took to the crowd like a pickpocket to Times Square on New Year's Eve.

He playfully punched the upper arms of three teenage boys he had just met. He cocked his head forward as an older woman talked to him, gently resting his hand on her shoulder. He acted downright chummy to a down-home fellow dressed in overalls. He mingled with kids from 4-H.

"He looks like a winner, walks like a winner, talks like a winner, smells like a winner," reflects Stu Rothenberg, editor of The Political Report newsletter.

Bush's talent for "retail politics" should "send a shiver down the spines" of Democratic hopefuls Al Gore and Bill Bradley, says Dee Dee Myers, former press secretary to President Clinton. W.'s social skills and memory for names are Clintonesque.

But unlike Bill Clinton, the Guv is far more comfortable as a salesman than a thinker, and it shows.

There was, for example, his disastrous interview with C-SPAN's Brian Lamb last year, in which Dubya's head bobbed and weaved like a boxer's, and he seemed incapable of thinking on his feet.

And while Al Gore is often berated as being wooden, George W.s performance at the podium isn't good either. His flat delivery tends to suck the life out of a live speech and undercut his message His smirkiness makes him look cocky.

Given George's weaknesses, his handlers have apparently concluded it's prudent to keep him insulated from meaningful interchanges with reporters or even voters.

While the media are thus invited only to stage-managed events, W.'s traveling retinue is so large it prevents the sort of one-on-one exchange with average people that Heartlanders have grown to expect from candidates. When it comes time for Bush to do his fundraising schtick, reporters are often shunted into press-quarantine areas and plied with opulent spreads like poached salmon and imported beer to while away the time.

Recently at an upscale home on the shores of Lake Minnetonka, there was puff pastry with spinach filling, smoked salmon, pate, crostini and wine. Hundreds of cars were parked in the yard: Mercedes, Lexuses and SUVs. Rattling around inside the 30,000-square-foot home (the size of a football field) were 600 Republicans, some of them going down a two-story water slide and splashing in an indoor pool.

But no Minnesotan saw this on television.

While Bush was collecting more than $500,000 in contributions at the home of information impresario Rick Born, his face was all over TV, showing a stop he'd made at Sharing and Caring Hands, a well-loved local charity. There W. was, putting on a grand display of compassion for po' folk while putting a big fig leaf over his fat-cat fraternizing.

All this prompted Nick Coleman of the St. Paul Pioneer Press to wonder "whether we in the media are bigger saps than we already suspect. We seem to have learned nothing from 'Primary Colors' and other revelations of how politicians play us for fools, feeding us shallow photo ops while shutting us out of the real action."

And, warns psychologist Aubrey Immelman, "Political charisma creates a dangerous illusion. It can trick voters into attributing other admirable qualities to a candidate -- often for no good reason."

Texas-based syndicated columnist Molly Ivins observes, "The main thing about Bush is that there's not much 'there' there. This is not a person of great depth or complexity or intelligence; he does not have many ideas... If you think his daddy had trouble with 'the vision thing,' wait'll you meet this one. I don't think he has any idea why he's running for the Presidency, except that he's competitive and he can."

While Bush and his staff try to convince voters he is running a different kind of campaign, in at least one respect they're resorting to the same old focus-group approach.

For instance, in May, in several critical states including Michigan, the Bush campaign assembled groups of average citizens to watch films of the candidate. Each person held a meter in his hand with a knob that he turned one way or the other, depending on whether he liked what he was seeing or not. Bush and his aides later watched graphs superimposed on the films, showing exactly what lines, what gestures, what facial expressions made people like or dislike Bush.

Sometimes all this contrivance doesn't keep him out of trouble, however, as when he made a tasteless public joke about dyslexics and later one about Jews.
Trouble Looms On the Horizon

George W. has a long history of flare-ups and tough-guy tactics. Declaring that "There ought to be limits to freedom," Bush directed his campaign staff to file a complaint in April about a website that parodied him. When that wasn't good enough, Bush lawyers filed suit against the site in May.

"In unguarded moments he sometimes lapses into a dour, self-pitying mode, perhaps a throwback to his boozing years," says Bush Watch's Jerry Politex. "He is disciplined enough to repeat what he is told to say, limited enough not to be particularly bothered by philosophical contradictions, and political enough to do and say whatever it takes to win. One senses that condescension is sometimes just below the surface."

Writing in Texas Monthly, Paul Burka gives Dubya a grade of "F" for attitude, saying he "grumbles," he "bristles," and he's "testy."

A case in point: The day before his announcement speech in Iowa, the Bush campaign had the candidate scheduled in Chicago and St. Louis, for some heavy-duty fundraisers, where he raised $1.5 million.

This meant Bush was visibly fatigued when he set out from Austin, Texas, to Iowa the next day. "I only got six hours' sleep last night," he complained, with a weary shake of his head. "I need more than that."

Privately, Bush had been outraged that his schedule meant he wouldn't get home until late. He fumed, "What you're telling me is that because you guys f----d-up, I got to break my ass all day and won't get home until midnight?"
Feet Of Clay?

And other dangers may lay ahead. Recent polls suggest that Americans are fed up with politicians who have feet of clay. They're tired of the hypocritical public posturing and the private dirty deeds. It's obvious that what this country doesn't need right now, as we approach the new millineum, is to get bogged down in still another distracting scandal.

A large percentage of the people who are supporting George W.'s nomination are doing so because they say they liked his dad, and they think Junior is a highly moral man.

"There's the feeling that President Bush would never have asked Monica Lewinsky to be anything but an intern," says Steffen Schmidt, a political science professor at Iowa State University.

But do voters know the real Dubya?

"I'm interested in things like taxes and military readiness," says Dan Keith, an investment rep in Iowa City. "But the most important thing is having a good character."

Dawn Knudsen, a 19-year-old sophomore at Drake University in Des Moines, says, "He's like so moral on family issues that my first vote for President will be that much more memorable."

"He doesn't have some kind of a scandalized background," his father, the former President, insists. "As Barbara put it, rumors to the contrary are baloney."

It's all a matter of perspective. Aside from the questionable way in which George W. amassed his fortune, there are questions about his private life as well. Friends nicknamed him "Bombastic Bushkin" and say he partied from high school until he was 40, spending a lot of time in bars and being a bully.

He's foresworn liquor, and invokes his friendship with the Rev. Billy Graham as evidence of religious conversion.

But when Newsweek probed "If you're asked specifically about marijuana or cocaine, what's the answer?", Bush replied what he did until age 40 "is irrelevant to this campaign. What is relevant is, have you grown up, and I have."
---
Back to the top

Contents copyright 1999. All rights reserved.