Midwest Today, October 1994
---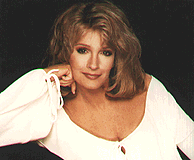 HAPPILY EVER AFTER
Finally, after years of searching, this popular daytime Soap Opera queen has found happiness. Here is a warmly intimate visit with Deidre Hall at home.
---
By LARRY JORDAN

Deidre Hall has just come back from Playschool with her young son, David, on one of her days off from the popular TV soap, "Days of Our Lives." While the nanny watches her little boy for awhile, Deidre retreats upstairs in her Los Angeles home to chat with Midwest Today.

One of America's most beloved actresses, "Dee" as her friends call her, has for the past 18 years portrayed the character of Dr. Marlena Evans on NBC's long-running daytime series.

A couple of years ago, Deidre and her third husband made headlines when they became the parents of a baby boy conceived through artificial insemination via a surrogate mother. This, following a half dozen operations in which Deidre attempted to conceive through in vitro fertilization, and at one point slipped into a near coma.

In 1986, she became the first performer ever to star in both a daytime and primetime series when she was cast as Jesse Witherspoon in NBC's "Our House." Co-starring with Wilford Brimley, Deidre and her television family created characters of such value and believability that the show was the first series to win a Viewers for Quality Television "Seal of Approval."

Since then, she has appeared on such shows as "Wiseguy," "Perry Mason," "Hunter" and various movies-of-the week, including the popular mini-series "And the Sea Will Tell."

Last Spring, Deidre performed on stage for the first time, starring in A.R. Gurney's "Love Letters."

Recognizing her broad appeal, the, Hallmark Corp. chose Deidre as a celebrity spokesperson for a new card line called, "To Kids With Love."

Deidre's flair for fashion has not gone unnoticed. She has been named "Best Dressed Woman" twice, and one of America's ten most beautiful women by TV Guide and Satellite Orbit magazine.

Born in Milwaukee, WI. on Halloween as an identical twin, Deidre grew up in a family with five children.

She became acutely aware of tragedy at a young age when her brother Terry was diagnosed with Downs Syndrome. She volunteers her time for many charitable causes.

On New Years Eve (December 31, 1991), Deidre was married to best-selling author and former Columbia Studios Chief, Steve Sohmer, in a traditional ceremony held in a 17th Century English manor house. Together, they are the proud parents of David Atticus Sohmer.

Deidre resides in Los Angeles with her husband, plus Freckles (the Basset) and Lucy (the English Bull Dog).

Dressed in jeans, white shirt and tan vest, the five foot, eight-inch blonde with hazel eyes evinces a regal bearing and an appealingly feminine charm. Although her persona on the show is somewhat intimidating, in person she is warm and unpretentious.
---
We begin our conversation by talking about her work on "Days."

Deidre says she gets up around 1 A.M., has breakfast and then commutes to the studio, a half-hour drive away.

"We have rehearsals all day and begin taping the show around 2 o'clock in the afternoon, and I'm there until 5:30 or 6," she explains.

With the daily grind of a series, we wondered if it was hard learning her lines.

"If I have a lot to do, I'll read it over the night before, to get a sense of what I'm doing the next day," she says. "If I don't have a lot, I'll learn it when I get to work.

"I know it may seem surprising to people, but learning dialog that has a conversational flow to it is not that difficult."

Does she have any input on scripts, to influence the dialogue of her character?

"We certainly have permission, but it's very hard to improve on that," she replies. "[The producers and writers] know what the audience wants to see, how fast the story should go, they know which scenes should be in there so the audience is teased but not over-informed. They have written stories that are so intricate, and such good soap storytelling, that I can't imagine improving on it."

She reflects that "Every time I've had a major story line, I remember gasping when I [looked] at the script and thought 'I never would have guessed that that would happen.' I wouldn't have had the daring to have those things happen - that [as Marlena] I seduced Stafano, that I slept with John and got pregnant, that I didn't know whose child it was, that I didn't tell Roman. There are all kinds of things that they've done that have been really stunning to the audience, and shocking to me when we were about to do them."

Are there any similarities between Deidre and the woman she portrays? "I don't think there are many dissimilarities," she asserts. "I play her from myself We both have the same devotion to our families. We both love our careers. We enjoy our great women friends. I can't even think what the difference would be."

She does allow that there is a difference between the public's perception of her and her real personality. "I've had people tell me that they're surprised at my humor and playfulness," she affirms. "I guess I strike people as very serious, or very intense."

As for the show itself, which is taped about three weeks in advance of air date, Deidre comments on the changes longtime viewers have noticed.

"We've changed writers and producers, and I'm asked all the time, 'How can you tolerate this in vitro story?"' she acknowledges. "We're doing a story where two middle aged women have been through the in vitro process and one switched the petri dish, and got the other one's fertilized egg. It is so preposterous. And we've taken a lot of hits on that story line.

"I guess what I want to say about it is that Jim Riley is a fantasy writer," she continues. "He has a different way of story telling. It isn't to take our show as literally as perhaps one used to. It's to kind of sit back and be teleported into someone's imagination. We've had points in the show where ... things were followed to the letter in medicine or law or psychiatry or whatever it was. And we're not doing that anymore.

"Part of it's harder for me," she admits. "I'm used to playing literal story lines and dealing with people's emotions. I had a story where I was put in a dungeon for four weeks," she laughs. "That to me is such an unlikely scenario, I had a very hard time making my imagination go there. I find myself not actually playing it. I will show up for it. I will let the audience do whatever they want to, and I'll play the reality of it but I won't play the drama."

We note that often daytime television performers are not accorded as much respect by critics as are primetime TV stars.

"There's no doubt about all you've said being true," she agrees. "The fact is that daytime television is less valued than nighttime, and it's partly because of the product that we produce. We do a one-hour show in 12 hours. Nighttime produces a one-hour show in seven to nine days. We are doing [so much more] work we have to sacrifice on occasion the quality of the lighting, the sound, the wardrobe, the dynamics of a scene. There is not the luxury of time that nighttime people have. So we have a product that doesn't look as completed, as finished, as 'tight' perhaps, as the way we would like it. It's also on tape so it doesn't have that great, high-quality look."
Likes Co-Star
Still, she's very proud of the show, and rightly so. She enjoys working with the cast and crew, and compliments her male co-star, Indiana native Drake Hogestyn, who plays Marlena's love interest, John Black.
"Drake probably is the most consummate professional I've ever worked with," she enthuses. "He takes every scene every day, prepares, absorbs it, really considers it - makes artistic choices, makes dramatic choices."
Would she like to do another primetime series, like "Our House?"
"I don't know. I don't know," she hesitates. "It was a lot of work and my family is now my priority."
Speaking of which, we ask her: How's her little boy? "David - he's a dear baby," she smiles. "He's happy, he's healthy, he's adorable, he's active, bright, he's got a darling sense of humor, he's a little flirt."
He is, in short, a very happy ending to a very long ordeal, in which Deidre put her own health in jeopardy in a futile attempt to use medical science to overcome an infertility problem. Looking back, she said, "I didn't know how far I could go. I surprised myself. I had friends who were going through the process also. There was never a point in my life where I gave up. My marriage, as you know, fell apart. Then I thought, 'Okay, I will not stop the search. I will have a child. I will raise a child.' I can remember being in the hospital, and coming out of anesthesia and being so sick and throwing up and in terrible pain, and thinking: I must have cancer. Because you're so groggy, you've long forgotten why you're there. There are so many disappointments, so many needles stuck in you, so many people with their hands under your skirt, that the child at the end of the search becomes unfathomable to you. I salute women who do it. I can't tell you the desire you must have in your body to go through it."
Knowing firsthand what a child can mean in one's life, Deidre referred to the famous Baby Jessica adoption tragedy.
"I found it so painful I couldn't watch the news footage at all," she reveals. "I was too torn to pieces by it... We're one of the lucky couples. So many people never get that chance."
These days, Deidre says, "I'm doing a lot of child research now because of my son. I've taken him to swimming class, and I go to Mommies and Me, and [I'm] researching all the books. I get all the parenting magazines. I think with women who are doing it all for the first time, and are not quite my age, there's this process of discovery. I discovered last week that if I will say to David, 'If you throw you tractor again I will take it away from you,' he understands the action and consequences. And now he tests it, and I'm firm. He's such a person, I'm so impressed by who he is. His ability to assimilate and make a decision, and to accept the consequences."
Would she like more children? "I began late," she sighs. "I would have ten children. I think they are the most fascinating, and it's the only thing in the world that hasn't been overrated."
Besides child-rearing, one of the things that interests her is travel. She describes a trip to the former Soviet Union during Christmas. She says it was "a life-altering experience - seeing how people live. From my own childhood I thought they were terrifying. We always thought the Russians would bomb us. I remember the Cuban missile crisis and fallout shelters. And when I was there I was talking to a woman, and we got very close, and I said, 'Isn't it wonderful not to be afraid of each other any more?' And she said, 'What do you mean?' I said, 'I feel this enormous sense of peace in the world, somehow, having [reduced the chances of an East-West confrontation]. You must feel the same way.' And she said, 'Oh no, I was never afraid of you.' Come to find out, the Russians were never afraid of the Americans. They weren't raised with the terror that we were by our government. I was struck by how our government misled us for so many years.
"I don't know if you travel," she continues, "but sometimes I will allow myself to fantasize about what [it would be like] if you were never able to go home from this place. And I found it unimaginable in Russia. It was so oppressive and so sad and so devoid of any dream or fantasy or hope, that I feel such enormous sadness for the Russian people."
The formal part of the interview was ending when Deidre Hall lingered to enthusiastically compare notes on parenting. She said now that she's a mother she likes staying home. "I've found that everything else falls away. My ambition just falls to nothing," she observes.
But she wanted to know: "What do you do at night? You can' t watch what's on television. You can't sit through 'Lady and the Tramp' one more time... In the evenings, I don't know. I still find it a little bit of a struggle, because I want the time with [David], and I don't want to put him in front of a television set because I miss him so."
Click Here To Recommend This Story To A Friend
---
Back to the top
Contents copyright 1995, 1996, 1997, 1998 and 1999. All rights reserved.