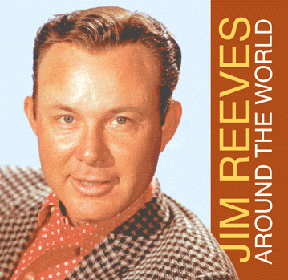 VOICEMASTERS LABEL
VM02001
VM
This is the one that started it all last November, when VoiceMasters unearthed Jim's long-lost network radio show. NONE of these songs have been heard since they were originally broadcast live in 1957-58. Jim's rich voice caresses a melody, and carries you along with the song. You could listen to him forever without ever getting tired of hearing him sing. He was truly one of a kind!
Hear Jim as he uses that warm, intimate voice of his to "cover" hits by Pat Boone, Frank Sinatra, Jo Stafford and Nat Cole. Enjoy AROUND THE WORLD, JUNE NIGHT, LOVE LETTERS IN THE SAND, MOONLIGHT SWIM, TAMMY, LOVE ME TO PIECES,HONEYCOMB, DANSERO, IN THE MIDDLE OF AN ISLAND, MY HAPPINESS, YOURS, I'M GONNA SIT RIGHT DOWN AND WRITE MYSELF A LETTER, SWINGING SWEETHEARTS, IT'S NOT FOR ME TO SAY, LANGUAGE OF LOVE and others!
Buddy Hall, Dolores Watson, the Anita Kerr Quartet and the orchestra under the direction of Owen Bradley turn in some musically sophisticated and highly enjoyable performances. The conversation between songs reveals a side to Jim that is tender, fun-loving and intelligent. It's a wonderful CD every fan will want.
32 tracks plus 6 page booklet by Reeves biographer Larry Jordan. And as a special bonus, a touching letter to fans by one of Jim's sisters, who shares her special memories of her brother with us!