Last Modified - 8/6/98 by EP---->
---
Midwest Today, Holiday 1997 Issue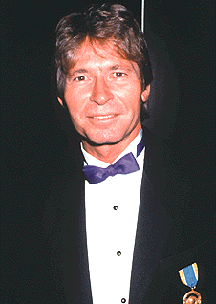 JOHN DENVER:
THE BABY BOOMER'S POET LAUREATE
OF SONG


By ZADE DUVAL




The Baby Boomer's poet laureate of song, John Denver, died doing what he loved - soaring with the eagles. Still, when the small, experimental airplane he piloted nose-dived into the surf off the California coast one sunny Sunday afternoon in mid-October, it left his many worldwide fans stunned and sorrowful.
It didn't seem possible that this cheerful troubadour of songs which celebrated the wonders of all God's creation, and that had touched so many lives, would depart this world so abruptly and unexpectedly, without even knowing how much his leaving it would be mourned.
Here in the Midwest, Denver was a familiar figure. His first wife, Ann Martell, was from Minnesota, and he immortalized her in one of his biggest hits - "Annie's Song" - written, he claimed, in only ten minutes while on a ski lift in 1974. What is not generally known is that he actually wrote the material for his first three albums, including his first Number One song, "Sunshine on My Shoulders," while in Minnesota. The couple lived in Edina from 1968 to 1971.
In recent years, John has returned to play venues all across the Heartland, even recording in Omaha.
Though his star had faded after 14 gold and eight platinum albums, and being the top-selling recording artist in the world in the 1970s, John Denver seemed in the last year or so to be undergoing a Tony Bennett-like transformation from obscurity to celebrity redux.
What many people hadn't realized is that while the singer had disappeared from the radio and singles charts, he quietly built, through personal appearances, a worldwide fan base that was enthusiastic in an almost cult-like sense.
Indeed, Denver's concert tours reached millions globally, from the U.S. and Canada, to Australia and New Zealand, the Orient and the United Kingdom. Denver's audiences in the English-speaking world have always been loyal and large; he was much admired in Ireland, Holland, Germany, France and Italy, and he had plans to expand his touring to include Eastern European countries as well. He did benefit concerts for victims of the Chernobyl accident in the former Soviet Union, and was the first artist to do a multi-city Chinese tour.
Clearly, John Denver had grown up. Gone was the flaxen, mop-haired look and the wire-rimmed glasses that had once characterized this granola-eating ex-hippie. In their place was a 53-year-old man of confidence, who never lost his boyish enthusiasm even as he became a committed environmentalist and global thinker - a latter-day renaissance man.
"I think I'm singing better than I ever have before," he remarked only a few weeks before his death, and those who heard him in his final concerts, agreed.
Baby Boomers weren't afraid to admit they liked him, and were packing the arenas where he played.
Fans adored John Denver for many reasons, among them the wonderful expressiveness of his tender heart.
A sublimely sentimental, reflective and sometimes brooding man with a true poet's soul, Denver possessed keen sensitivity to the world around him, and an uncanny ability to capture layers of emotion in words and music. His sincerity was such that he was one of the only songwriters who could get away with a line like "You fill up my senses...like a sleepy blue ocean, like mountains in Springtime, like a walk in the rain..." and not sound sappy. He was inducted into the Songwriter's Hall of Fame last year.
An underrated singer, he had a clear, perfect-pitch tenor that could soar like the mountains, was sometimes gentle, often high-spirited, always deeply intuitive.
Born Henry John Deutschendorf, Jr., the son of a test pilot in Roswell, New Mexico, John was given his first guitar at age seven (a Gibson acoustic) by his grandmother, Kate Swope, whom he frequently visited on her farm in Corn, OK. His gift to her years later was the hit single, "Grandma's Feather Bed."
"I wrote my first song when I was 13 years old; it was called 'Lazy Little Stream,'" he recalled in one interview, noting, "From the very beginning, nature was a part of my self-expression."
As he grew serious about a music career he dropped out of architectural school and changed his last name to "Denver," both because he loved the city and he needed a shorter name to fit on record labels. His big break came when he wrote a hit called "Leaving On a Jet Plane," for Peter, Paul and Mary. It lead to a solo recording contract with RCA.
Over the next 18 years, he compiled a discography which includes a long list of tunes that have since been embraced as standards. "Music is far more than just entertainment," he once reflected. "It's a tool for coping."
In the early days, John Denver performed mostly on small college campuses and in coffee houses, bringing along a slide projector, movie clip and screen that was hung behind him on the stage, flashing colorful mountain scenes while he sang. "I don't want to entertain people," he explained. "I want to touch them."
In concert, John Denver was a masterful showman. Usually he never left the stage for over two hours, even when his band took a break, and he sang his heart out. Playing six- and 12-string guitars, electric guitar, fiddle, mandolin, and even piano, Denver took his listeners to all of those magical places he had taken them before - from the "Country Roads" of West Virginia to the "Rocky Mountain High" beauty of Colorado to the "Country Boy In Paris," and to the high seas on the good ship "Calypso." Denver even took them to China, where a month-long visit inspired his hit single, "Shanghai Breezes."
It could truly be said that as he got older, he got better. Last year when he played the Rosemont Theater, the Chicago Sun-Times said he "delivered a powerful performance filled with sweet surprises - [renditions that were] truer and richer than when he first performed them..." He himself said, "I'm pleased to show the difference in the way I'm singing now than the way I was singing 15 years ago."
Kathy Beck of Belleville, MI., who at-tended a Sept. 20th show in Baltimore, wrote shortly before John was killed: "By the end of the concert he was absolutely glowing! I can't ever remember seeing a person look so happy...except maybe if I'd looked in the mirror at that moment! That concert was such a gift."
John's last public performance was in Corpus Christi, Texas on October 5, 1997.
In addition to innumerable TV appearances, including a special for which he won an Emmy, Denver co-starred with George Burns in the movie "Oh God," and became the first nonclassical musician to be given the Albert Schweitzer Music Award for lifetime humanitarianism (in 1993). He served on the Presidential Commission on World Hunger, entered into serious discussions with space officials about becoming the first civilian to ride the shuttle, and used his own money to establish the Windstar Foundation - a nonprofit environmental education and research center.
Denver immensely enjoyed the out-of-doors - backpacking, hiking and climbing. He loved to fly fish and was found with a rod and reel as often as a guitar. An avid golfer (with a handicap of 7), he played in numerous golf tournaments.
On two Wintry nights in 1995, John taped (for video and CD release) an extraordinary, 30-song, "Wildlife Concert" at the Sony studios in New York. His remarkable virtuosity was on full display, as he combined talents with some legendary musicians. One highlight was when he ac-companied himself on piano, backed only by a string quartet on "For You," (written for his second wife, Cassandra).[Listen to this song]
In June, Reader's Digest released a three-CD, 60-song retrospective of his career, and in recent weeks, John had re-corded "All Aboard," a new album of train songs (like "City of New Orleans"), none of which he wrote; he seemed deeply conflicted about that. But fortunately, John lived to see his new "Best of John Denver Live" put him on the Billboard chart for the first time in years. It is an enhanced audio cd that also functions in a Mac or pc, with scenes from Aspen and video clips from the Wildlife concert. He also filmed a direct-to-video family movie, "Walking Thunder," for Spring re-lease, and a new song, "Yellowstone."
Emily Parris of Kansas City, MO., who ran the John Denver web site, was the first to advise fans that John had, indeed, been aboard the downed plane. After sending out an e-mail bulletin to fans on her mailing list at 4:35 A.M., she was swamped with over 600 letters in four hours - over 6,000 by the next day.
In a frenzy of posted messages, people poured out their hearts about what John Denver's music meant to them. They recalled episodes in their lives that were somehow connected to songs he had done. Many wrote their own tributes in homely verse, or probed his lyrics to find comfort and understanding.
"The last five or six years have been the hardest part of my life," John said earlier this year, no doubt alluding to his divorce from his second wife, his two drunk driving arrests and his inability to secure a long-term recording contract.
As for critics, he observed, "When you're a positive person there are people who would like to find something sordid or crummy about you and I just refuse to be anything other than what I am."
In one of his songs, he summed up human existence as a "funny, funny riddle." Sitting backstage calmly smoking a joint at the St. Paul Civic Center before a concert one rainy night he reflected, "I am not happy. As Ionesco said, 'I am merely pleased. One can never be happy...'"
Denver could also be temperamental, with a definite streak of pomposity. In his 1994 autobiography, "Take Me Home," he wrote, "you can't stay around me and not grow also." In a q&a on Compuserve in September, he dismissively responded to some adoring fans with mere one-word answers or "no comment."
But few people can claim friends with such zealous loyalty as John Denver.They explain their devotion by saying it was unfailingly reciprocated. He was also a family man. At his memorial service, a deeply moving letter was read aloud that he had written to his mother in August.
An experienced pilot, he flew his own Lear jet, was at one time an aerobatic pilot, and was even licensed to fly gliders. He had flown Air Force f-15 fighters and the Space Shuttle simulator. But he was also a confirmed daredevil, as some of his friends who had flown with him have attested. One favorite trick was to cut the engine about 35 miles out from Aspen, and glide in with no power.
Whether he was engaging in some similarly risky stunt when his plane crashed is not known. He had promised his lawyer only a couple of days earlier that he would quit taking such gambles, as he very much wanted to be around to enjoy his eight-year-old daughter, Jesse Belle. The child, whom her dad had arranged to spend the day at Disneyland with her friends, sobbed "not my Daddy!" when told the news of her father's death.
Three days before the crash, John hosted four writer friends at his Aspen home - three men and a woman. They cooked him a meal of trout, sweet and mashed potatoes, corn-on-the-cob and a salad with home-grown tomatoes, the latter of which he'd raved about in a folksy song. They watched a trio of deer outside his home, and John was bright and bubbly, laughing and marveling at the wonders of the Rockies in Autumn. He talked about what a great life he'd led, how much he loved flying.
Though he confided he had "always been concerned that I'm going to run out of life before all my dreams come even close to being fulfilled," friends later re-called he did say that "When my day comes, I want to be lucky and die doing what I love most - flying. What a glorious way to pass on!"
For a copy of the issue of Midwest Today containing this story, send $5 (includes S&H) to: Midwest Today, P.O. Box 685, Panora, Iowa 50216.
"It is reasonable to look at the man's claim."
Click Here To Recommend This Story To A Friend
---
Back to the top
Contents copyright 1995, 1996, 1997, 1998 and 1999. All rights reserved.