Midwest Today,
---
C O U N T R Y C H R O N I C L E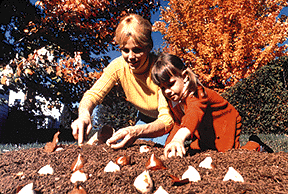 THINGS TO DO
IN THE GARDEN
NOW
Based on gardening in the American
Heartland, late Autumn 1997. Print
out this handy guide and save.
---
By ALLEN BOGER / Midwest Today Garden Editor
Gather ornamental grasses for dried flower arrangements.


Induce flowering in your poinsettia by providing total darkness from 5 P.M. to 8 A.M. daily until the bracts begin to show color.


Harvest strawflowers for drying when the blossoms are about half open. Hang them upside down in a dry, well-ventilated area that is out of direct sun.


Gather blooms of chrysanthemums that have not been damaged by cold temperature, remove leaves and put them in a pail of water in a cool location for use as Thanksgiving decorations.


Transplant evergreen trees or shrubs. Keep them watered regularly until the ground freezes.


Dig and pot up plants of parsley, chives, sage, and thyme from the garden to grow on a sunny windowsill.


Surround the trunks of fruit trees with cylinders of hardware cloth to prevent rodents from chewing on them in Winter.


Separate crowded lily-of-the-valley crowns. Replant three inches apart.


Clean up after planting bulbs. Bits of the bulb's tunic (skin) on the soil surface leave a scent that will attract squirrels.


Plant or transplant ferns. After planting, keep them watered regularly until the ground is frozen.


Dig Summer flowering bulbs such as cannas and dahlias after the tops are damaged by frost. Dry, remove soil, and store in peat moss or vermiculite in a cool dark location.


Plant trees and shrubs such as arbor-vitae, ash, crabapple, honey locust, juniper, linden, maple, pine, plum, redbud, serviceberry and spruce.


Dig horseradish roots and trim the tops from the roots about one inch above the crowns. Replant the smaller roots for next season's crop.


Pot up Spring flowering bulbs to force them into bloom indoors. Keep the soil moist and store in a refrigerator for ten to 13 weeks before starting them into growth.


Reduce water and fertilizer applications to house plants as growth slows in response to shorter days and lower light intensity.


Spade level garden areas to make Spring planting easier and earlier. Wait until Spring for sloped areas to prevent erosion.


Check out your snow blower if you use one. Replace the spark plug and prepare it for the Winter ahead.


Visit a greenhouse or garden center and select new plants for indoor decorations for the coming holidays.


Finish cleaning up flower beds and the vegetable garden.


Shape evergreens outdoors with light pruning cuts to provide clippings for holiday decorations. Some of the best include yew, holly, boxwood, and juniper.


Select a site for a living Christmas tree if you plan to plant one. Dig the planting hole before the soil freezes. Cover the hole with a piece of 3/4-inch plywood and store the soil in a location where it won't freeze.


Wrap the trunks of Fall-planted trees with tree wrapping material to prevent sunscald injury during the Winter months.


Clean, sharpen, oil and repair garden tools before storing them for Winter.


Check firewood stored indoors for the presence of sawdust and other indications of insect activity. It's best to store only enough indoors that will be used up in a few days.