Midwest Today, January 1997
---
C O U N T R Y C H R O N I C L E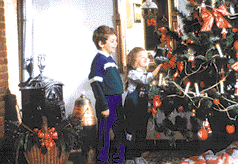 REMEMBRANCES OF
CHRISTMASES PAST
---
By OLGA JORDAN

During the Depression years, many families didn't exchange gifts at Christmas, because times were tough.

Still, my brothers, sisters and I looked forward to Christmas as all children did then and now. Mother would be in the kitchen baking dozens of cookies, decorating them with the likes of an artist. She also baked various kinds of fruit breads. A special treat was a steamed suet pudding, which was very rich and served with a special sauce. How we looked forward to all the goodies! She rarely needed to use a recipe, unless it was a new one she wanted to try.

Along with all the baking, she made special efforts to make Christmas the most enjoyable celebration of the year.

My parents had been living on a farm, and I was the fifth child of six children. They worked hard all their lives, as did other farm families. Modern conveniences didn't exist at the time. But we were happy.

One thing we youngers enjoyed is when dad hitched up a team of Percheons, Sly and Babe, to pull a sleigh in the Wintertime to take us to church two miles away, or visit neighbors and friends who lived nearby. Sometimes, we were taken to and from school in one. Cars were difficult to start in cold weather, and roads not fit.

Dad had two robes -- a brown one and black one -- made from animal hides, and they really kept us toasty warm in the sled.

Christmas Eve was a special event at our church, which was always packed. It was beautifully adorned with candles on the windowsills and greenery here and there. A gold star hung from the ceiling above the pulpit. A tall, live Christmas tree was set in front of the church in one corner. It was decorated by the young men and women of the congregation. There were no strings of electric lights available in those years, so five to six-inch tall candles were put into holders that were then clipped onto the tree branches, and lit.

The program began at 7 p.m. The congregation sang a Christian hymn, our pastor read the Christmas story from Luke 2, and said a prayer, followed with another Christmas song.

After several weeks of rehearsals, the children were ready to perform. The first group were the five to ten-year-olds. Little girls would walk to the stage, dressed in pretty dresses their mothers had probably made. Some wore big bows in their hair. The boys wore knee pants, a white shirt and a bow tie, with their hair neatly combed. They sang all the verses of "Away In the Manger," and recited a Christmas poem in unison.

The boys and girls, ages 11 to 13, took part in the re-enactment of a manger scene. They were dressed in clothing or wraps, according to Biblical history. They needed no prompting.

As the props were removed, the 14 to 16-year-old boys and girls sang in harmony several Christmas carols.

The program was now over. Yet a tradition that had been practiced for years was yet to be accomplished.

Many months before Christmas, parents would order large bags with treats, one for each child, to be distributed after the Christmas Eve program. Each bag contained an apple, orange, peanuts, mixed nuts, a box of Crackerjacks, and a small amount of candy. They cost only 50 cents. The bags were placed under the Christmas tree at the church, and were distributed by some men in the congregation as each family's name was called.

With wishes of a Merry Christmas and a Happy New Year echoing throughout the church, we were on our way home.

Later, mother fixed us a cup of hot cocoa. To warm our beds, she had foot warmers she had brought over from Germany -- larger than a thermos and made of copper, filled with water heated on the back of the old wood stove -- then wrapped in a piece of flannel. The bedrooms were upstairs, heated only by stove pipes running from the parlor stove. We slept between flannel sheets under handmade quilts mother had sewn.

We had a goose for Christmas dinner, and vegetables preserved from our big garden. Despite times of scarcity, none of us suffered. We were rich in spirit and love.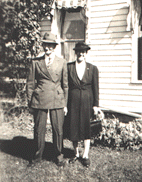 The writer's parents, Jacob and Martha Buseman
of Grundy Center, Iowa in the 1930s.
Click Here To Recommend This Story To A Friend
---
Back to the top
Contents copyright 1995, 1996, 1997, 1998 and 1999. All rights reserved.