Midwest Today, January 1997
---
A CONVERSATION WITH
BILLY GRAHAM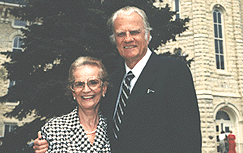 "I hardly ever go anywhere as President that Billy Graham hasn't been there first - preaching.

-- President Clinton, at a Washington dinner on May 2, 1996, after Ruth and Billy Graham received the Congressional Gold Medal.


---
By LARRY JORDAN

This man must be divinely blessed. At a stadium rally this Fall, 75,000 people witnessed a miracle. A cold, driving rain was drenching the crowd when Billy Graham mounted the podium. He asked for silence and told the audience that God would create a "dry hole" over the arena -- that it would stop raining. He lifted his eyes heavenward, and it did.

It has been estimated that Billy Graham, who has been called the "Protestant Pope," has preached to 210 million people -- in person -- in 185 countries. He is the only human in history who has ever spoken to 1.5 billion people worldwide on a single day -- April 14, 1995 -- in a satellite TV hook-up from Puerto Rico that was translated into 116 languages.

Billy Graham has assumed the role of being the nation's pastor, and we look to him when tragedy strikes. He has never failed us. He has been on the scene during so many momentous occasions in the country's history. He was at the White House the night before the Persian Gulf War began. He presided at a memorial service for Oklahoma City bombing victims. He has delivered the eulogies for fallen leaders.

His magazine, Decision, reaches 1.7 million people, his column appears in 100 newspapers, his weekly radio program is broadcast by 700 stations worldwide, and his books are best-sellers. "Angels," published in 1975, sold a million copies in 90 days, and is credited with spurring today's fascination with the heavenly beings.

With his resonant voice, his mane of white hair, and a side profile that looks remarkably like America's national symbol, the bald eagle, Billy is probably best known for his televised crusades, aired quarterly in prime time.

Typically, Cliff Barrows leads a huge choir of several thousand, George Beverly Shea sings favorite old hymns in his rich bass-baritone, and a celebrity or two witnesses about their faith. Billy Graham still displays his oratorical gifts, and stays relevant by applying Biblical lessons to current social issues.

Graham's outreach to young people began with intensity in 1994, when he drew 65,000 to Cleveland Stadium for his first youth night. He went on to draw 79,000 in Atlanta in 1994, and 84,000 in Minneapolis at the giant Metrodome in June (with 12,000 more outside).

His September appearance in Charlotte, NC was advertised on MTV and country music stations, and each night overflowed the new 75,000-capacity Ericsson stadium there, even on the night when it rained.


---

Born on a dairy farm in South Carolina, Billy Graham graduated from Wheaton College in Illinois in 1943. That same year, he married fellow student Ruth Bell, daughter of a missionary surgeon in China, and went on to pastor at the First Baptist church in Western Springs, Illinois.

Being of the Baptist faith and having married a Presbyterian, Graham preached widely in independent Bible churches, and developed strong ties to prominent business figures.

He joined Youth for Christ, and became president of Northwestern College in St. Paul, founding radio station KTIS, now the flagship of one of the largest Christian radio networks in the world.

Billy's big break came in 1949 during a tent revival in Los Angeles when he caught the eye of press baron William Randolph Hearst, who wired the editors of his newspaper chain that they should "Puff Graham."

Billy's weekly "Hour of Decision" radio broadcast, which debuted in 1950, quickly became the most widely heard religious broadcast in the world. He also founded Christianity Today magazine.

"Graham made a conscious effort to befriend people in power so he could gain access to bigger crowds," said Stephen Winzenburg, a communications professor at Grand View College in Des Moines, Iowa, who has studied Graham and other evangelists.
Billy Graham's great accomplishment, according to his biographer, William Martin -- who wrote a 1991 book on Graham, }A Prophet With Honor" -- is that he has rescued revivalism from the narrow, anti-intellectual obscurity that it sank into after Darwin, Freud and modernist Biblical scholarship came on the scene a century ago.

The proof of that, Griffin says, is in the broad span of denominations that respond to him.

When he held his crusade in Minneapolis last Summer, for example, 1,075 local churches participated, representing 60 denominations.

"For Graham, a lot of the issues that cause great disagreements simply aren't essential to the core of his ministry," says Griffin. "For him, the essential thing is the acceptance of Jesus Christ, revealed by the gospel, as one's personal savior. He's willing to accept disagreement on many other things."

From the training center he established in North Carolina, (The Cove) to the schools of evangelism he sponsors all over the country, Graham is also involved in training everyday preachers in the nuts and bolts of evangelism.

Over the years, Billy Graham's counsel has been sought by ten Presidents. He has also regularly travelled to Communist and Third World countries, befriending world leaders and tribal bushmen alike.

Despite his popularity, Graham has not always avoided controversy. In a 1993 sermon in Columbus, Ohio, he commented, "Is AIDs a judgment of God? I could not say for sure, but I think so."

A few days later, in an interview with the Cleveland Plain Dealer, he retracted that remark, and apologized:

"To say God has judged people with AIDs would be very wrong and very cruel. I would like to say that I am very sorry for what I said."

A wide range of groups have honored him, including numerous honorary doctorates from many institutions in this country and abroad. Along with his wife, Ruth, Graham received the prestigious Medal of Freedom honor earlier this year

The Grahams have two sons and three daughters. Like many American families, they have had their share of problems. One son became a motorcycle hippie, another was into cocaine and a teenage daughter for awhile pursued a professional modeling career.

Eventually, however, after the kids all sowed their wild oats, they matured into Christian ministries of their own, including one aimed at international relief.


---

Though his health is somewhat precarious, Graham's character has never faltered. Perhaps the reason he inspires such devotion is that people sense Billy Graham's sincerity. Indeed, he lives an exemplary Christian life. Unlike other well-known televangelists, who have been caught with their hand in the till, Graham has a rock-solid reputation for integrity. There has never been even the slightest hint of scandal about him. None. Says a close acquaintance, "there is no dark side to him. There isn't any secret insincerity or hidden agenda."

To this day, Graham won't enter a hotel room until an aide first checks it for unwanted guests, and he only meets women in public places, never alone.

Early on, Graham put himself on a modest salary and abolished "love offerings" -- donations made during and at the end of crusade services. He accepts no speaking fees or honoraria and has given away his book royalties.

These days, Billy is staying home more, where he and Ruth have a habit of channel surfing in side-by-side easy chairs.

The airy rough-beamed rooms of the Graham home are crammed with antique rockers, wicker chairs and books.

One recent afternoon's lunch was tossed salad and takeout burgers from McDonald's. Graham swims in a small indoor pool for physical therapy.

Ruth nearly died twice from spinal meningitis earlier this year, but has since made a remarkable recovery. She's supportive of her husband, but not a supplicant. She calls him "Bill," musing "How in the world can you call a grown man, who is 6' -2" , Billy?"

This larger-than-life icon has had his own share of health problems over the past few years. He suffers from a slight tremor and unsteadiness brought on by Parkinson's disease. Last year at a Toronto crusade, Graham sat down abruptly in a fainting spell, unable to continue. Later, he broke his back and shortly thereafter, some ribs and shoulder.

But a change in medication, made after a visit to the famed Mayo clinic in Rochester, MN. a few months ago, has given him renewed energy. Attired in a black suit coat, grey vest, crisp white shirt and burgundy tie -- and wearing contacts instead of glasses -- Graham in a recent public appearance looked ten to 15 years younger, despite having turned 78 in November. In fact, he looked tanned and surprisingly healthy.

In one-on-one conversation, Graham speaks in a calm and softly reassuring voice, chooses his words carefully, displays flashes of modesty, an easy grin and occasional laughter. Though he complains of not being able to remember Bible verses as easily as he once could, his mind is still very agile.

On the day of this interview, the world's most respected evangelist was a genial host. Along with his wife Ruth, he greeted guests at the couple's grey log home 3,500 feet atop the Blue Ridge Mountains, just outside Montreat, SC

"The doctor said I shouldn't see anybody," he chuckled. "I don't know why, but I feel very good today. I have good days and bad days."

For the next hour and a half, Graham held court in an expansive, and very rare, interview.

It was clear that he was feeling revitalized. He talked about going to a football game a few nights before and sitting in the skybox with the owners of a team. "They had all kinds of food, just family and friends up there -- a great experience for me," he said in wide-eyed wonderment. "I'm still just a country boy and when I get an opportunity like that, it's a big experience for me to sit where the owners of an athletic contest sit."

Dressed in casual attire that suggested the countenance of a true mountain man, Graham commented, "I wear blue jeans all day long, even when I'm traveling and going to a hotel. In the hotel room I always wear blue jeans. This coat here I've had for about 20-something years, given to me by Johnny Cash."

The only ground rule for the interview was that Graham cautioned, "I don't want to get into any kind of politics...because you can get into trouble real fast." Before fielding the first question, he noted, "I was reading a verse of Scripture that I just happened to come over in my devotions this morning. It said, 'Set a guard over my mouth, O Lord. Keep watch over the door of my lips. Let not my heart be drawn toward what is evil.' In other words, I'm asking the Lord to sorta guard over my lips so that I won't say the wrong thing, because you can make one statement that will be misunderstood."


---

How do you feel about being looked up to by so many millions of people? Is that special or have you just gotten used to it?
That's so difficult to answer because I don't know that people look up to me. They have to look up this mountain if I]m up here because it's about 3,500 feet, but it's a responsibility, it's a pressure, and it's humbling, very humbling, and it keeps me and my wife frightened that we'll say something or do something that would mislead somebody in the wrong direction. We try to be careful in what we say and how we live. We try to live in such a way that people will realize that we are Christians and we are living by Christian practice.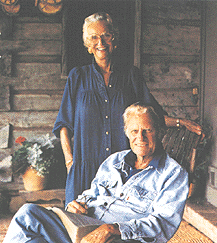 How hard are the crusades on you and what do you have to do to prepare?
It takes a tremendous amount of energy. My part now is just preaching. We have a staff of people who do everything, and they re wonderful people and they re dedicated to the Lord. I 'm proud of every one of them. I have an office here...but my main office is Minneapolis, MN.
People ask me why is our headquarters in Minneapolis. I was in college there for five years. I went out to see the college while I was up there [this Summer] and drove around the grounds. [It] brought me back a great many memories of the five years I spent there and I learned a great deal.

Are you up to all of these crusades physically and can you share with others who have Parkinson's Disease what you've been through?
Yes, I have Parkinson's Disease, unfortunately. It's a very strange sort of a disease because one day you feel fine and the next day you feel way down. You feel like staying in bed all day and then you have trouble walking or great trouble. I can't write anymore, I can't write a letter and it has its drawbacks. But also I think God has sent it for me at this age to show me that I'm totally dependent on Him. When I go into the pulpit to preach, I may have to have a little bit of help getting to the pulpit, but when I get there I can sense the presence and power of the Lord and he helps me in my preaching. I don't think there's been any change as far as my physical stamina in preaching.

We understand that you've been writing your memoirs.
Yes, we have pretty well finished our memoirs. I've been working on them for about five or six years and Stephanie is here, she's my secretary, she could say a lot more about it than me. John Bakers has been helping me in writing, who works with me. The only thing is, he's Presbyterian, and I'm a Baptist, but be that as it may, we have finished it. It 's all in a package ready to go to the publisher, then they 'all look at it and send it back to me and we'll spend probably two or three more months on it in getting it where they think we ought to have it. The publisher will be Harper Collins. By the way, I do not own the book; that's owned by the Billy Graham Association. I will not get one cent from it, personally or none of my family. It all goes to the work of the Lord.

And the title of it?
We have a working title: "Just As I Am." (from the title of the hymn that's sung when he makes the altar call).

What do you think are the biggest problems we face in the world today?
I think we face the same problems that were faced in the first century man's rebellion against God and God's laws and a three-letter word: sign. From the very beginning when Adam and Eve sinned against God in the Garden of Eden and then their family, Cain and Abel, and Cain killed his brother Abel -- that was the first murder, the first act of violence. Man's been that way ever since. It's passed on down to you and me. We all are sinners, the Bible says. And when you have a world with as many people as we have, with this sin in their hearts -- and we see on the news every day about the murders, the rapes and the drug-taking and all that is going on -- it's the same as it was then.

What do you make of all the hostility in America today?
There's another power at work, Larry, that the Bible teaches, and that is the devil. He's called Satan. And there are demons. These demons want to destroy a country like America, or destroy anything that's good in the world. They want to destroy you, they want to destroy me, and they have great power. If it weren't for our faith in God, and the tens of thousands of believers in this country, whether Jews or Catholics or Christians, I think [demons] could overcome this country. But I think it's the religious faith that we have...that holds back that terrible power from absolutely bringing anarchy and chaos here in this country.

You have said that rampant greed is one problem we need to surmount.
We have to overcome it. Greed causes a great deal of harm. When World War II was over, America was dominant. We could have been frighteningly greedy, but we turned to give help to Europe at great cost to ourselves. But, over the years, materialism became dominant -- almost a god -- in North America and Europe.

Our hearts aren't satisfied by materialism. They can't be. That's why you see someone who has made millions driven on to make more millions. People confuse amassing money with security. But it is not so. What a pity to confuse real security with making money.

You're concerned about the environment.
The Lord said we are to look after His garden, and we are responsible for it.

Are you optimistic for the future?
Yes sir, I 'm totally optimistic be-cause...we believe that Jesus Christ is coming back to this Earth again some day, and He s going to rule and reign and it s going to be an era of glorious and wonderful peace. It 'll be a God-imposed peace, it won 't be a peace that we re going to work out on a table in Geneva.

You've stayed in such humble settings -- although this is absolutely beautiful -- but [you have] not gotten into opulence. You write a book and give that money to your association and not keep some for yourself and your family. How have you been able to do this and why have you done it this way?
Because I've had the full cooperation of my wife and family and secondly because the Lord laid it upon my heart. I mean, from the very beginning we decided how we were going to handle money, how we were going to handle things like that. We as a group -- Cliff Barrows and George Beverly Shea, who lives a mile from here -- people like that who were with me in the very beginning, we all got together and we decided that we were going to be very careful about those things. We had seen other people fall as a result of that and God gave us some examples to see and to teach us lessons.

We had a little house given to us many years ago, in San Diego County [Calif.], right in the middle of an orange grove. And we went out there in the Summer with our children and we would live our Summer-times out there, and we had a lot of friends in California. But then when all this trouble began all over the country about, you know, evangelists and money and all that, we just gave away all of our, whatever we had nearly.

When you started this about 50 years ago, was it your goal or did you expect to build a ministry as large and reach as many people?
No, at that time I was preaching on the street. I can still remember preaching on Trade Street in Charlotte, NC on Saturday night when we had little street meetings at that time. A group of young people from the churches would get together and have a meeting and get up and preach and sing for people passing by on Saturday nights.

In Tampa, Fla., if you go there you 'll see a sign that s been put there by Bob Graham [when he] was governor of Florida...this historical marker...where I used to speak as many as seven times on a Sunday on the street corner and in the saloons. They have a place there where the saloon keeper threw me out into a ditch (laughs) and told me never to come back.

And he was there -- he's an old man now -- but he remembered when he did that. I mean, he was there at the dedication of this historical monument. Those were great experiences that taught me a great deal, and I'm very grateful for people who put up with me in those days, and listened to my sermons...

Have you ever considered this work, or is it fun or is it a mission?
It's all of that. It's a mission because that's what God has called me to do as a mission, to proclaim the Gospel to the whole world. We're a witness for Christ by the way we live and by our verbal witness about the death, burial and resurrection of Christ, and about the need to repent, and believe and so I 've never had any doubts about my call.

It has been announced that your son, Franklin, will succeed you. What problems might he face in following you?
When it comes to preaching, he's a much better preacher than I was at that age. I think God has given him an unusual gift of proclaiming the word of God. And he has a gift of riding horseback and motorcycles and shooting all kinds of guns... (laughter)

Did you give him any advice?
Yes. Just study the Scripture. And make the Bible the one thing in your life, which I think he's doing. And spend time with your family. I regret that I didn't spend more time with my family. I traveled all over the world, I took too many engagements I shouldn't have taken, accepted too many invitations to do various things that, as I look back, have very little meaning in my permanent work. I said that to him. But he doesn't need too much advice. He can give me advice, and he does give me advice, for which I'm very grateful, because it's very good.

Tell us more about Franklin.
Franklin is the oldest son [but] not the oldest in the family; we have three daughters that came first. And I often wondered if we were going to have a son.

[Franklin is wonderful about spending time with his] remarkable family. He has a terrific wife, a strong wife. They live in a little farmhouse way back in the mountains up on the other side of Boone, and he lives just like a farmer. They even have a pet bear and they have a pet pig, and they have all kinds of things. He's really a mountain boy -- he was raised here among mountain people. He's a mountaineer, and he has those characteristics which I covet, but I wasn't reared here. I was reared in a more sophisticated place outside of Charlotte.

We have another son by the name of Ned who also does a great work for God in China, and he has a program going in China that nobody else has. In fact, many missions depend on his contact with the leaders of China. He's made friends with the leadership in China. He lives near Seattle and goes back and forth to China constantly...

Have you thought about setting a date for retirement or do you plan just to keep going?
We have a board of directors... Some of them are heads of great corporations. They're highly qualified to run any major company in the country. They meet twice a year. There are 36 of them, black and white, and then every six weeks, the executive board meets and none of us have any salary or paid employee on that executive board. And they make the decisions between the major board meetings; in other words, we have two a year. We have one coming up in November in Minneapolis and they make those decisions, and I have no plans to retire. The Lord may have plans and if He has plans, He'll retire me...through illness or some other reason, but I have no plans because God called me to preach, and I intend to preach as long as I have strength to do so and as long as that board will support me.

Has your message changed over time?
I think there's a greater emphasis on social issues. A greater emphasis on the love of God.

D.L. Moody put a tremendous emphasis on the love of God and some evangelists put it on the judgments of God. Certainly God is a God of judgments and I believe there is a Hell, so people are going if they reject Christ. But at the same time, the overwhelming message is the grace and the love and the mercy of God. And that's what I emphasize now a lot more than I did in the earlier years.

Why is that?
I don't know the answer to that. I think the Lord has just gradually changed me. As I began to study the Scriptures I began to see much love and mercy and grace, because I'm not going to Heaven because I'm good. I'm not going to Heaven because I preach to a lot of people. I'm going to Heaven because of God's grace and mercy in Christ at the Cross... I haven't worked for it. It's a free gift from God for me

Of course I try to start out in my sermons on something topical or something that's in the newspaper maybe that day and make an application of the Gospel to it.

You talked about emphasizing more the love and mercy of God in the later years of your ministry. Can you tell us a little bit about how that applies to people of other faiths?
Well, you know when I was growing up and after I came to Christ in the beginning of my life and went to school, I didn't know much about Catholics; I didn't know much about Lutherans; and people who were more ritualistic in their worship.

Through the years I have been thrown [together] with them and have a great many friends in the Roman Catholic Church. In fact, when we go to a city now nearly all of the Roman Catholic churches support it. When we went to Minneapolis for the crusade -- St. Paul, which is next door joined with Minneapolis, it 's largely Catholic and Minneapolis is largely Lutheran -- they all supported the crusade, which wouldn't have happened 25 years ago. But it does today.

The same is true with the Eastern Orthodox churches, because when I went to Russia, long before Communism fell, I was the guest of the Orthodox church.

You've had an audience with Pope John Paul II?
The first time I dined with him, we were sitting across the table, and he reached out and touched my hand and said, "We are brothers."

You've preached behind the Iron Curtain. How was that?
I remember the first time I saw Mr. Yeltsin to have a talk with him, long before communism had lost ground in the Soviet Union. He was so warm and so friendly. He said to me then, "You know my grandchildren have started wearing crosses. I'm very happy about that." I could tell then that he was growing in his sympathetic attitude toward the church and toward the gospel.

I remember when Mr. and Mrs. Gorbachev were guests [at the White House]. They put me right next to Mrs. Gorbachev at the table. We had a real discussion about spiritual things. And yet she would say, "I'm an atheist. And all those people were claimed atheists. But when you get down to a long discussion with them you find out they re not atheists.

In fact, there's a real hunger in their hearts for reality and truth and purpose in life. When we held our last crusade in Russia -- the only long crusade we've ever held in the Olympic stadium -- the place would be jammed hours before the start of the meeting. I would preach the gospel and give an invitation and the first night about half the audience came forward. I said, "Go back to your seats!" I thought they'd misunderstood. (Laughing).

And then I gave it as straight as I knew how and they still came. It was that way night after night.

We were going to ask you how Mrs. Graham is, but she just answered the question by walking out and sitting down over there.
My wife was in the hospital, as you know, for many weeks with spinal meningitis. Been out of the hospital now for about six weeks and I can't keep up with her at all, she goes from morning 'til night. In the middle of the day I have to lie down a while, to give me strength enough to last the rest of the afternoon, but she's a worker.

Most people have a defining moment in their life. The apostle Paul had a Damascus experience. What would you consider your Damascus experience, the thing that set you on the road that we all know about today?
When I received Christ as Lord and Savior in my life in November of 1934...

Was there another after that?
Oh, yes. I 've had many. I think that we have different stages in our lives as Christians in which we rededicate ourselves to the Lord. I've rededicated myself many times. In fact, I can hear someone else preach and I feel like when he calls people to come and make a commitment or to join the church, I feel like stepping forward again. And I do in my heart many times. I feel that I have failed the Lord in many ways. I have to come and say "Lord forgive me, and I want to rededicate my life to you." I'm sure that that happens with people that are coming forward in our crusades. They're not all people coming for the first time. They're coming to rededicate their lives to the Lord, and that's very important.

Is there something you can point to in your life as an example for those doubters to say, "prayer works?"
It's a thousand answers I could give you positive. I know that prayer works if one prays according to the will of God in the name of Christ. When I go to pray for a sick person, for example, in a hospital or wherever I go to pray for them, I always say, "Lord, your will be done. If it's your will, raise this man or this woman up." Because God has a plan for that person, and I think sometimes we don't take that into account. We say, "Oh, God heal this person," or "God, do this," and that's not the way I felt God led me in prayer.

Many times I've gone to the pulpit and didn't know what I was going to say that evening, didn't know what my first words were going to be. I went there nervous and frightened. Many times that happened. I'm always nervous or tense for the first five minutes. I have even prayed, "Now Lord, you take over this service, take over and give me the words to say." And I've sensed the presence and power of God, and I believe that's an answer to prayer.

I do not believe that any prayer is ever forgotten or lost. It may not be answered immediately; it may be answered a generation from now.

What do you pray for each day?
I pray for strength to do the work that God has prepared for me for that day. Because as I've gotten older I've found out that, at 78 you don't have quite the strength you do at 37 or 38. And so I have to pray "God, give me strength for the work you want me to do today," and I have a marvelous staff of people that help me and I deeply appreciate their help.

Your daughter Ann is a truly inspirational speaker, and I was wondering, was she ever considered a possible successor to you? And also we'd like your thoughts on women in the ministry in general.
Well, if ever there's a woman called of God, she is. Because I think she's one of the great Bible teachers among women in the world today. And that is a miracle of God in answer to prayer, because she never went beyond high school. How she ever got to where she is I have no idea, but she's invited to countries all over the world and to theological schools and seminaries to lecture and to speak. She has a greater knowledge of the Bible by far than I do. And the reason is because even in high school she would study the Bible on her knees and she prayed constantly. She would get up early in the morning to pray and read the Scriptures. Now she's a walking Bible encyclopedia.

I'm very proud of her and love her very much. She has toured South Africa several times. [The church leaders there] had asked me to come and hold the meetings but after listening to her they said, You don't need to come, just send Ann. She's been there twice as the guest of the Anglican church. So I have a great appreciation for her and other women who have a gift from God.

I believe that they have every right to proclaim the Scriptures. I think there are certain things for example that the Scripture's pretty clear on, but I'll let the denominational leaders and the theologians fight over that.

How do you decide how far to go, how much to say on an issue and do you struggle with your responsibilities as a leader?
Well, there was an evangelist that came to Winston-Salem many years ago, and he rented a tobacco warehouse to hold his meetings, and his first sermon was against the use of tobacco. (laughs) His meetings closed in about three or four days, and I've learned that from the Scriptures, the 9th chapter of II Corinthians, that we are to be very diplomatic; we're to be all things to all men. The Apostle Paul skirted political issues when he went to places like Rome...

A cat loves to be scratched and petted some. He'll stick with you...(laughs)

Do you think the Christian Coalition is making a mistake by being so involved in Republican Party politics?
Well, you'll notice I'm not a part of the Christian Coalition. I've tried to stay out of those things. Many of those people are friends of mine, and I think that Christians should vote, whether they're voting Republican or Democrat, but I don't think I have a right to tell them who to vote for.

I think a clergyman can talk about moral and spiritual problems that a community faces and let the people make up their own minds, but to try to tell them or encourage them to vote for this man or that man -- I don't think that's what God wants me to do.

Some critics have said you've been too timid in speaking out on the great social issues.
I don't think there is a single social issue I haven't spoken on. Especially on the race question. Because in the '50s, I wrote major articles in Life magazine and Reader's Digest saying church is the most segregated hour of the week. I took trips with Martin Luther King Jr. I became friends with so many civil rights leaders.

In 1951, when there was segregating of the audience in Chattanooga, TN., they put ropes up to divide the audience, with the black people sitting behind and the whites sitting up front. I went down and personally removed the ropes.

Tell us about Dr. King.
He and I took two weeks in Puerto Rico together once...Oh, we had a great time. You know, he was a divinity student, he was a clergyman. The most eloquent. I think his "Dream" speech in Washington was one of the most eloquent speeches that anybody will ever hear.

And he said "You know, in the South, [the race problem is] going to be solved much quicker than in the North, because in the South, the races are close personal friends. In the North, it's theory." I thought that was a great observation.

You said before that you're thinking of a meeting in South Africa for next year?
We don't know. Mr. Mandela is the one that's pushing that we come, and he feels that it would have an impact on the racial situation that they still have, at least the feelings they have in their hearts.

Do you ever feel frustrated by people, especially in public life, who talk about being Christian, when acting un-Christian?
Yes. That was a great problem in the early church and throughout the history of the church.

We have people who claim to be Christian who don't live it, who don't walk with Christ, and I think that's one of the great stumbling blocks that we have in the church today.

There's been a lot of talk in the last decade or so about the mainline denominations losing membership either to evangelical or Pentecostal denominations or what have you. Why is that?
Well, in the so-called mainline denominations, there are many great churches that are growing, and I think it's a misunderstanding that there's a difference between the mainline churches and the evangelicals because many of the leading pastors and leaders of the mainline churches are evangelical in their faith. Evangelical carries the idea that you believe the Bible, and you believe in the virgin birth of Christ and so forth. There's the other group that could be called radical liberal; they're the group that's way to the left. Then there's the extreme fundamentals. Both of them don't support me, usually, so I feel like I'm on the right track somehow. I'm not supported by either wing. I try to stay right in the middle and love them all, and welcome them all to our meetings.

The discovery of an asteroid from Mars recently raised speculation about the possibility of life elsewhere in the universe. I wonder if that raises any theological questions for you?
It doesn't for me because I believe there is life on other planets. We have this galaxy, the Milky Way, and they now speculate that there are millions and millions of galaxies. And in each galaxy, a trillion stars, planets and all that. I can't imagine that we're the only one that has life that would be a terribly egotistical thing for us to say as a planet. I believe that God is the God of all of it, and that's why He's so awesome and so tremendous and why, when I come into His presence, I feel that I'm not worthy.

So many people turn to you for advice; to whom do you turn for advice? Is it Ruth?
Yes, I would say she's my greatest confidante..and helped me on my sermons. She's a great student of the Bible.

At the end of every crusade you ask people to come up, you make that altar call. What do you think that means to you and to people?
Well, when I came forward it meant that...my life was changed, the direction of my life was changed. I didn't change all of a sudden, I had no great emotional experience. It was just a decision in which I said, "Lord, I'm going to follow you. I'm going to put Christ first in my life as best I can, and I believe at that moment the Holy Spirit comes into your heart, and He gives you the strength and the power to live the Christian life. I can't live the Christian life. I mean the standards and the requirements are far too great for me. I have to have help, and that help comes from the Spirit of God.

A lot of people go to your crusades hoping that their lives will be changed. I wonder if that weighs on you, that responsibility, that feeling that you have to deliver?
It does, all the time. Every night when I get up to speak, I just ask the Lord to help me to say the right thing and not to say anything that might lead them astray. And I've stuck to the same message. I have different texts, different illustrations and different stories and all the rest, but the gospel is the gospel. There's only one gospel, and the human heart is the same. So...a minister or pastor can shoot with a shotgun and cover the whole range of topics and problems, etc., but not an evangelist. He has one topic, and that is the gospel of Christ.

Everybody has their own crisis that they go through in their life, their own journey toward faith, that they come back to and that has really tested them. Talk a little bit about that time in your life, in your ministry or personal life, when you think you were tested the most, or challenged the most.
Well, I would think that was after I received Christ and had answered the call to preach in Florida, and my girlfriend left me and I was very much in love with her -- in fact, we were sort of unofficially engaged, and she took up with another fellow and that was a crisis to me. And I went to the Lord in prayer and committed it to the Lord and I didn't get over it until, really, I met Ruth, about two years later.

I remember I went out into the woods ...about 5,000 to 6,000 feet up in the Sierras; [it was] very beautiful...and I went up one moonlit night and opened my Bible. I said, Lord I don't understand all that's in this book. But I accept it by faith as your word, and I've never departed from that. I accept it by faith.

How old were you at the time?
Well, I'd finished college.

You were in your 20s?
Yes, I would be about 26, probably 27.

I can't prove [the truth of the Gospels]. I can't debate it and be successful in the debate because there's so many things I don't understand. I don't understand God. I don't understand the fact that I have a beginning and He has no end. I don't understand how the blood of Jesus Christ can cleanse me from my sins. [But] the Scripture says that, so I take it by faith... You know the doubts can be resolved by saying, "I don't understand it, and I can't prove it scientifically, but I believe it." That sounds pretty simplistic.

It's powerful, too, though...
...it is to me.

What is the secret to your enduring marriage?
Whew. Oh, you'd have to ask [Ruth], she's here. (Laughs) It's her. I mean she's been a marvelous person to be able to stay here, raise five children, 19 grandchildren, and eight great-grandchildren. She's been the one that 's done the work and kept up with them and talked with them and loved them, taught them the Scriptures and so forth. She let me travel all over the world preaching the gospel. I think if there is any secret in our marriage it's Ruth. There's very few women that I've ever known like her.

She was born and reared in China; she went to school in North Korea

Did your wife's illness earlier this year test your faith at all or strengthen it?
It [didn't test] my faith because I knew she was going to be all right whether she lived or died, because she lives half-way in Heaven anyway.
Click Here To Recommend This Story To A Friend
---
Back to the top
Contents copyright 1995, 1996, 1997, 1998 and 1999. All rights reserved.