Midwest Today, November 1996
---
F O O D
APPLES HAVE MANY USES
New Varieties Plus Old Favorites Used In Tempting Recipes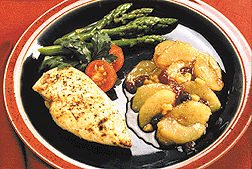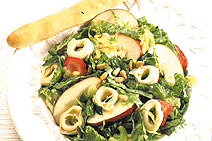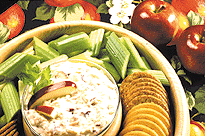 ---
By ROBIN MATHER
We had been talking about re-doing the kitchen, he and I. "You' d better start looking at wallpaper," he said. "Just pick out what you like, and we'll get going."
Alas, it's never quite that simple. I visited store after store, and finally came home with a puny scrap of paper, plus a sliver of its matching border.
"Can you live with it?" I said. "It's the only one I saw that appeals to me in any way."
"There sure are a lot of apples on that wallpaper," he said. "Really a lot of apples. I had no idea you felt so strongly about apples."
"I didn't know I did, either," I said. But I guess they remind me of home."
As a Michigan native, a lot of apple lore should be second-nature to me. Michigan, after all, is invariably in the top five apple-growing states, although its ranking changes, depending on the vagaries of weather and growing season.
Last year, Michigan growers produced a record yield of nearly 30 million bushels, making it number two in the country. The 1996 crop suffered from frost damage and a cool, wet Spring, so the projected yield will be fourth -- after New York, California and Washington.
It's as if Michigan was meant for apples. Its sunny days and cool nights are like elixir to apples, sharpening their flavor and their color. And the trees snuggle happily into its light, well-drained soils.
Alas, the only apple adage I can unfailingly remember is "Spies for pies." It's meant as a mnemonic that Northern Spy apples are a good choice for cooking and baking because they maintain their shape and texture. It was burned into my memory after an unfortunate day when the apple pie I had lovingly baked for supper -- made not with Spies, but with some other variety -- had a thin layer of applesauce on the bottom, and a whole lot of air above that.
Not that knowing this will do either of us much good: Michigan grows a lot of Northern Spies, but they're almost all sold to processors, who put up apples as slices for pie fillings and such.
Happily, Michigan is known as the Variety State for a reason: Michigan grows more types of apples than any other state, including perennial leader Washington. Orchards here grow Red and Golden Delicious, the nation's two favorite apples, and also Jonathans and McIntoshs and Cortlands and Winesaps and Romes and Pippins of all types.
Those are long-loved varieties. Most cookbooks will help you figure out which of those are best for eating out of hand, or best for pies, or best for both.
Just lately, though, you're also likely to find a lot of newer varieties in your market, types the cookbooks don't mention. Here are some descriptions of new apples, together with their best uses:
Empire: A cross between McIntosh and Red Delicious, Empire is a long keeper with the Mac's mild tartness and the Red's sweetness. Choose Empire for eating out of hand and in salads, and for baking and cooking.
Jonagold: An all-purpose apple, great for any use, with flavors ranging from sweet to tart, the Jonagold is the offspring of Jonathan and Golden Delicious. A panel of two dozen international apple experts ranked Jonagold the world's best.
Ginger Gold: Named for the missus of the orchardist who found this variety s first wild seedling, Ginger Gold was discovered in Virginia in the early 1980s. It seems to have Pippin parentage, and its golden color gives away its Golden Delicious heritage. The Ginger Gold is firm and white-fleshed, with a spicy-sweet flavor. It's best for eating out of hand and in salads.
Redcort: A cross of Cortland and McIntosh, the Redcort shares its parents' virtues. It's redder than its forebears, but is just as good for eating out of hand, and for sauces and ciders.
Gala: A native of New Zealand, this apple was brought to the U.S. in 1972 by a Missouri nursery. It's an early apple with an especially fine eating quality -- sweet, zesty flesh in a gold or red-blushed package. Rated second best in the world.
Fuji: Japanese breeders crossed two American strains, Red Delicious and the antique Ralls Janet, to come up with this superb eating and dessert apple. It's crisp, juicy and fragrant, with low acid and sweet flavor. Fuji keeps longer than most at room temperature.
Braeburn: Another Kiwi apple, the Braeburn is crisp, firm and juicy. Like most late-season apples, it has a long storage life, and its eating qualities make it a good choice for cooking and fresh use.
Mutsu (Crispin): What we know as Mutsu, they call Crispin in the United Kingdom and in New York. But both names signal a greenish apple that s equally good for eating fresh and for processing. Moderately sweet, its flesh is creamy white.
Spartan: Canadian breeders crossed McIntosh with the Newtown Pippin, one of George Washington's favorites, and developed the Spartan. It's firmer and crisper than the Mac, but shares its rich flavor and excellent juiciness. A fragrant apple, the Spartan is good for cooking and eating, and many cider processors use Spartan as the secret ingredient to give their ciders special flavor.
Apples figure in lots of good eating this time of year. Though we commonly think of apples in cakes and pies, I've rounded up some recipes for apples as side-dishes.
---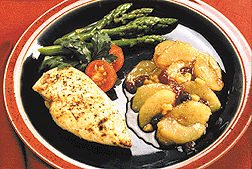 APPLESAUCE-GLAZED CHICKEN
1 pound boneless, skinless chicken breasts
1/4 cup orange marmalade
1 teaspoon cornstarch
1/4 teaspoon ginger
1/2 teaspoon minced garlic
1 cup unsweetened applesauce
2 Tablespoons sliced green onions
Wash and dry chicken. Cut each breast lengthwise into 4 pieces. Place in single layer in foil-lined 13x9x2-inch baking pan. Set aside.
In 1-quart saucepan, combine marmalade, cornstarch, ginger and garlic. Add applesauce. Cook over medium heat, stirring constantly, until mixture starts to boil. Spread evenly over chicken.
Bake at 400-degrees for about 20 minutes or until chicken is tender and juices run clear. Yield 4 servings.
---
SWEET-AND-SOUR APPLES
Slowly sauteing the onions will caramelize their sugars, making them sweet and tender. A splash of vinegar toward the end enlivens the flavors.
3 firm cooking apples, such as Braeburn or Granny Smith
1 medium yellow or white onion
1 Tablespoon butter or margarine
1/2 Tablespoon cooking oil
2 Tablespoons vinegar (choose cider or balsamic, though the flavors will be different)
Salt and freshly ground black pepper, to tasteB
Slice and core, but do not peel, the apples. You'll want wedges, as if to make a pie. Peel and slice the onion about 1/8-inch thick. Set apples and onions aside.
In a very heavy skillet, such as cast iron, heat the butter and oil over medium-low heat. When it is hot, add the sliced apples and onions and toss them to coat with the cooking fat.
Let the apples saute slowly, stirring occasionally, until the onions are quite browned, about 20 minutes. Add the vinegar, toss to coat apples and onions, and simmer until the vinegar has nearly evaporated. Season to taste with salt and pepper.
---
SCALLOPED APPLES
2-1/2 cups sliced apples, such as Jonathan, McIntosh or Ginger Gold
1 21-ounce can apple pie filling
3/4 cup canned whole berry cranberry sauce
1/4 cup chopped walnuts
1/2 cup firmly packed brown sugar
1 teaspoon cinnamon

Preheat oven to 350-degrees . Lightly grease a 1-1/2 quart casserole or a 9x9x2-inch baking dish.
Combine all ingredients. Place in prepared pan and bake about 30 minutes, or until thoroughly hot and bubbly.
---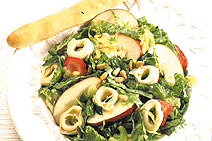 APPLE-TORTELLINI SALAD
3 Tablespoons frozen apple juice concentrate, thawed
3 Tablespoons light corn syrup
1 teaspoon cider vinegar
2 teaspoons firmly packed brown sugar
1/8 teaspoon garlic salt
Dash of white pepper
1 9-ounce package refrigerated cheese tortellini
2 cups sliced red apples, such as McIntosh, Gala or Ida Red
2 cups shredded salad greens
1/2 cup thinly sliced celery
1/4 cup sliced green onions
2 tablespoons pine nuts, toasted, optional

Combine apple juice concentrate, corn syrup, vinegar, brown sugar, garlic salt and pepper. Cover and refrigerate.
Cook tortellini according to package directions. Drain and cool thoroughly. In a large mixing bowl, combine tortellini and remaining ingredients. Toss gently with apple juice dressing and serve..

---
APPLE WHIPPED SWEET POTATOES

3 cups sliced peeled apples, such as Empire, Gala, Jonagold or Rome
3 cups cubed, peeled sweet potatoes, about 1 and 1/4 pounds
1 and 1/2 cups apple juice or cider
1/4 teaspoon salt
1/2 teaspoon cinnamon
1/4 teaspoon nutmeg
1/4 teaspoon ginger
1 Tablespoon margarine or butter
1/3 cup firmly packed brown sugar
1/3 cup chopped pecans, optional

Place apples, sweet potatoes and apple juice in a 3-quart saucepan. Cover and cook over medium heat for about 20 minutes, or until tender. Drain.
Preheat the oven to 350-degrees. Lightly grease a shallow 1-1/2-quart casserole.
Add salt, spices, margarine and sugar to apple mixture. Mash with mixer or by hand until potatoes are smooth. Spread the hot mixture evenly in the prepared baking dish. Sprinkle with pecans.
Bake about 15 minutes, or until thoroughly heated. Serve hot.
---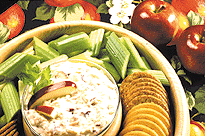 APPLE CHUTNEY SPREAD

1 8-ounce package Neufchatel cheese, softened
1 cup shredded fresh red apple, such as Rome, Empire, Ida Red or Jonagold
1/3 cup shredded carrot
1/4 cup thinly sliced green onion
1/3 cup purchased mango chutney

Combine all ingredients. Cover and chill thoroughly, about 2 hours. Serve with crackers or celery.
---
Click Here To Recommend This Story To A Friend
---
Back to the top
Contents copyright 1995, 1996, 1997, 1998 and 1999. All rights reserved.