Midwest Today, Summer 1996
---
R E L I G I O N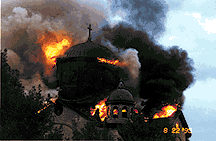 THE FLAMES OF
RELIGIOUS HATRED
The Parishioners of a mainly-white church in
Stuart, Iowa were victims of a hate crime, too
---
By MATT ANDREWS

In the unlikely setting of rural Stuart, Iowa, which bills itself as "a town of 1,600 good eggs and a few stinkers," there once stood a church like no other.

By any artistic, aesthetic or religious standard, All Saints Catholic church was a masterpiece. Built in 1908 by out-of-work railroad laborers when horses, ropes and pulleys were the main means of construction, it's value in today's money was in the inestimable millions of dollars. The ornate church featured irreplaceable stained glass windows from Munich, Germany -- which some experts felt surpassed in grandeur the stained glass found at the largest Catholic church in America, the famed National Cathedral in Washington, D.C.

Under an 80-foot high dome with its 16 skylights, the sanctuary of All Saints was adorned with Italian marble, rare wood, hand painted frescos, gold gilding, rich red carpeting and priceless Biblical statues and figurines.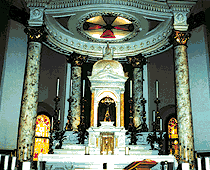 People of different religious beliefs were known to visit and cherish this Byzantine cathedral. There was something about the light, streaming in through the magnificent stained glass windows, that cast an ethereal glow. In a hectic and troubled world, this beautiful church provided a rare setting for meditation, inspiration, and prayerful repose.

Ironically, few people outside of the community even knew what a treasure was sitting in Stuart, Iowa.

But Charles Willard knew. On the afternoon of August 22, 1995, Willard celebrated his 60th birthday by taking the beloved old church away from its parishioners forever.

Consumed by hatred for the Catholic religion -- because of its stands on homosexuality, masturbation and abortion -- and dressed in a new cowboy hat and western shirt, Willard doused strategic areas of both the upstairs and downstairs of the building with gasoline, which he ignited in a carefully planned though insane act of heinous self-indulgence.



Fire departments from 20 communities as far as 50 miles away responded to the blaze, which soon enveloped the limestone structure, piercing its copper dome, and radiating heat so intense it melted the helmets of fire fighters who opened the front door. Police had to shoot out portions of the stained glass windows to get fire hoses inside.

Before setting the blaze, Willard had mailed letters to two bishops and a Des Moines TV station, claiming credit for his actions. Prior to his arrest, he even held a news conference to boast of his deed.

Willard was ultimately convicted of arson and perpetrating a hate crime.

Now, the news is filled with reports of other church burnings, in a national tragedy that has united persons of all faiths and political persuasions.

The burnings of predominantly African American churches occur against what investigators say is a backdrop of widespread arson against houses of worship of all kinds, including white churches, mosques and synagogues.

As of press time, there had been 40 suspicious fires at black churches in the last 18 months. During the same period, there were 23 suspicious fires at predominantly white churches.

The Bureau of Alcohol, Tobacco and Firearms (ATF) has opened investigations of 156 church fires, both black and white, nationwide since October 1991.

The fires have been closely followed in the Christian press for months, but hadn't really made it into the mainstream media until recently. Now the fires have become a Washington story, thanks to House hearings and President Clinton's interest.

Part of the reason for the lack of national attention up to now is that the congregations of the destroyed churches are no one's natural constituency. The churches are scattered and belong to no single denomination; many are independent. Most are small and located in poor, rural areas.

Who's Responsible?

Although few arrests have been made, those charged with burning down black churches in the South are generally white, male and young, usually economically marginalized or poorly educated, frequently drunk or high on drugs, rarely affiliated with hate groups, but often deeply driven by racism, according to investigators.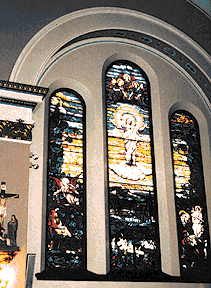 Members of one group told police they picked churches because they were easy targets, isolated and empty.

But in other instances, religious or racial hatred clearly was the cause. In a fire that destroyed the Inner City Church in Knoxville, TN., one ATF investigator said the arsonist(s) put a lot of time and effort into the crime. "We found accelerants. We found numerous Molotov cocktails. We found gunpowder. We found gasoline cans and numerous other items of evidence at the scene," said Dick Garner of the ATF.

A few days after the fire, a couple of local businesses received leaflets saying, "1996 shall be the year of white triumph and justice for the master supreme race."

The leaflets also claimed that integrated communities, schools and churches would no longer be tolerated.

Already more than $100,000 has poured in to rebuild the church, thanks in part to the celebrity of their associate minister, professional football star Reggie White of the Green Bay Packers.

An Angry Backlash

Bob Herbert of The New York Times wrote that "it is important to keep in mind that we are not dealing here with spontaneous combustion. The fuel for these fires can be traced to a carefully crafted environment of bigotry and hatred that was developed over the past quarter-century."

But unlike the 1960s, when the white evangelical church in the South worked against the civil rights movement and misquoted Scripture to justify it, today Southern white Christians have embraced their black brethren.

At their annual convention recently, Southern Baptists, the nation's largest Protestant denomination, passed a resolution condemning the arsons, took up a special offering for the burned churches, and volunteered the services of members to help in the rebuilding.

The politically liberal National Council of Churches has also been in the forefront. It has set up an appeal for $2 million to help rebuild the churches, many of which are uninsured or under insured.

One Evil Man's Obsession

In the Stuart church fire, convicted arsonist Charles Willard was obviously motivated by hate. He despised the Pope and claimed that the Catholic church was "rich, fat, bloated, irrelevant and anachronistic myth."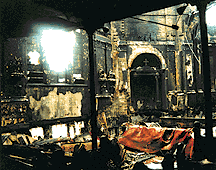 Taking the witness stand on his own behalf, Willard revealed that he had visited the church in Stuart on several occasions and knew it was not secure. He chose to burn it precisely because it was so beautiful. He drove from Des Moines to Stuart with gasoline containers, which he concealed under layers of clothes and placed in a shopping cart he found in the church. He said he doused the upstairs and basement of the building, and tossed lighted matches to ignite the conflagration. He then left and drove around the block. But when he didn't see smoke, he returned and added more fuel to the flame -- so much so that there was an explosion, ("it went off like a canon," he recalled), which knocked him down.

In a long, rambling and at times incoherent fashion, Willard spewed anti-Christian venom, endorsing instead the so-called Book of Thomas and "Q" or Quelle. He said the gospel writer Paul had created the Christ myth.

Willard bragged that he could have locked the doors and burned the church on a Sunday morning when it was full of people, but said that was not his style. He declared "I am a martyr" for my cause.

In her concluding remarks to the jury, Willard's court-appointed attorney, Beverly Wild of Guthrie Center, Iowa, acknowledged that Willard was a complicated man who was hard to understand. She said her client had made a statement that was an expression of his free speech. "He burned down a church," she told the jurors. But Wild questioned whether the crime was committed because of religion. She asked, "How could he spend hours studying religion if he hates it so much?"

The jury found Charles Willard guilty as charged.

The Spiritual Implications

Once God spoke out of a burning bush. He wouldn't let the fire go out until Moses heard what God was saying.

There was a pillar of fire that lead the children of Israel through the darkest night of 40 years of wandering.

In the book of Jeremiah, God tells Jeremiah to speak a word of prophecy and have it written. It took a year to write 23 years of prophecies, then God allowed the King to burn it up. But God spoke to Jeremiah and said, "Take another scroll, and write it down."

Speaking on "The 700 Club", The Rev. Carlton Pierson commented, "The burning of the churches is not the end. We simply take another scroll, and we build again, we build better. We don't bank on the bitterness of the event. We see what God is saying beyond that. There is some judgment, there's some fire, there's some purging.

"This is a spiritual thing. We wrestle not against flesh and blood, but against principalities. What the devil meant for naught, God is going to turn it for our good."
Click Here To Recommend This Story To A Friend
---
Back to the top
Contents copyright 1995, 1996, 1997, 1998 and 1999. All rights reserved.