Midwest Today, April/May 1996
---
R E L I G I O N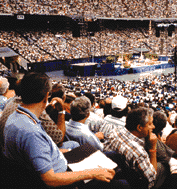 WHAT'S WRONG
WITH THE
PROMISE KEEPERS?
It's Leaders Espouse Views That Are
Antithetical to the Bible's Teachings, and
Outside the Realm of Mainstream Belief"
"Do not believe every spirit, but test the spirits to see whether they are from God,
because many false prophets have gone out into the world." -- 1 John 4:1
---
By MATT ANDREWS

How faithful to the Word of God is the Promise Keepers men's movement? How close of an association do its founders and board members have with the charismatic fringe? What theology is really being espoused by its guest speakers, and in the numerous books, videos, and other materials that carry the PK imprimatur?

These and other legitimate questions have largely been overlooked as this evangelical Christian men's group attracts uncritical and enthusiastic press coverage, and its ranks of members swell with every big conference it holds.

"PK", as it is affectionately called by its followers, has been described by Time magazine as "one of the century s fastest-growing religious phenomena." It attracts a largely white, male, middle-class Protestant audience who listen to soft Christian rock and hard Christian preaching, and weep in one another's arms.

Founded in 1990 by Bill McCartney, the controversial and outspoken ex-coach of the University of Colorado football team, the Promise Keepers movement has grown in Malthusian proportions.

McCartney's idea was to organize a nondenominational parachurch that would minister to and disciple men to "celebrate Biblical manhood and motivate men toward a Christ-like masculinity."

He came up with the concept of men-only stadium rallies -- a combination of Super Bowl game and revival meeting.

Though his idea attracted only 72 participants in 1990, more than 727,000 "Jesus Jocks" -- as one British publication called them -- came to PK events last year. They have filled arenas from Detroit's Silverdome to Washington's RFK Stadium, from Minneapolis' Metrodome to Atlanta's Georgia Dome, for 20 Promise Keeper two-day marathons.

Its leaders say they are tapping into a mass identity crisis among American males, who have for a long time felt isolated, powerless and disenfranchised by a society in transition that seems to view them as expendable.

They trace the country's free-fall to the fact that many men are not keeping their promises to wives, families and churches. They see the skyrocketing crime rate, huge number of divorces, increasing racial tensions, juvenile delinquency and out-of-wedlock births as indications that men have abdicated their Biblically-defined role as leaders in the home.

Many Christians would find it hard to argue with any of these premises.

The Problem

However, critics of Promise Keepers charge its leaders routinely express views that are antithetical to the Bible's teachings, and outside the realm of mainstream belief. They claim it has an unbridled ecumenicism, a charismatic leadership emphasis, and relies on an anti-God secular psychology.

They say Promise Keepers mimics new-age male bonding and self-discovery therapies, and endorses a book which suggests levels of initiation rites to manhood. They decry its emphasis on phallic symbolism and the fact that Jesus is presented as a sexual male. They note that PK requires submission to leaders and employs a pyramid structure in its organization, that it intrudes on the privacy of a man's family life and sexual habits. They point out that the group encourages male domination of women, and is rooted in the Vineyard ministry, with strong links to the Kansas City Prophets -- a controversial cult claiming visions and revelations from God.

Critics say they do not presume to judge the integrity or the motives of all those in Promise Keepers or question the salvation of these men. They concede that many involved with PK are sincere. Instead, they say they are concerned with the doctrine of the movement and the ministry being promoted. They stress that any group that claims to represent Jesus must 1) preach a pure Gospel, and 2) address man's spiritual growth from an accurate interpretation of God's Word. Critics say Promise Keepers fails on both counts.

They worry that the vast majority of men who attend PK rallies probably know very little about the beliefs or church affiliation of the speakers who appear. The lecturers are accepted as authorities on Christian living simply because they say they are Christians and believe the Bible.

"Since the ministry of these teachers runs the gamut from compromising new-evangelicalism and charismatic error, to ecumenical liberalism, it is clear that they [are] introducing the Promise Keepers to unscriptural doctrines and fellowships," says Al Dager of Redmond, WA. "This is a very serious matter."

Rev. Gil Rugh, senior pastor of Indian Hills Community Church in Lincoln, NE. agrees. "There is so much theological diversity among those involved with Promise Keepers that no in-depth discussion of Scripture or what it means to be a Christian could take place without tearing the movement apart."

As one former Promise Keepers member remarked, "it's so diluted and deluded, you can't get very much out of it."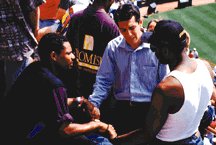 A Typical Rally

There's no doubt that this is one men's movement that attracts followers from all economic and social strata.

At a typical PK rally, bearded, rough-looking and scraggly bikers with tattoos park next to the mini vans which spill forth groups of clean-cut, athletic, preppie types that all look like they work for the insurance industry.

A Promise Keepers rally is a spirited affair. Balloons, gliders and beach balls are batted around. Blaring rock music pounds to increase the hype. Entire sections of the stadiums stand to challenge the other sides, with chants of, "We love Jesus, yes we do! We love Jesus, how about you?" Guys wear T-shirts reading "Men with a mission."

Scores of single young men are called to take a vow of chastity until marriage, and nearby mentors move close to them to lay hands of support on their bodies, all heads bowed in prayer.

Between munching on sausages and nachos, they do "The Wave," and commit themselves to God, family and racial reconciliation. One pro-PK observer noted that "at times the...crowd seems excited not so much by what is being said as by the opportunity to 'hang' with other men."

"Promise Keepers is a fun thing as well as a serious time for men to grow," says Nate Adams, author of "Nine Character Traits Separating the Men from the Boys," who attended a rally in Indianapolis. "An important aspect of the conference is the chance men have to express their boyish and playful sides."

Karl Sooder, a communicant of St. Peter's in Chattanooga, TN., and a volunteer for the PK national organization, says "Promise Keepers deals with contemporary social issues with contemporary men at a gut level and because of that it is attracting young men at an incredible rate." He reports that "The greatest response has been from young married men with small children at home. Promise Keepers helps them in dealing with social issues head-on -- marriage, raising kids, values at home -- in a practical way."

Opposition Surfaces

While PK literature is filled with testimonials from women who say their once-philandering or errant husbands have been transformed into upright citizens and loving spouses, the movement has not been free of controversy.

California Catholics for Free Choice, which picketed one Promise Keepers rally, claims PK is "really not about religion." Rosemary Stasek, director of the Catholic group, says Promise Keepers "have a social agenda. They take the trappings of religion and all their Biblical citations and use them to legitimize their social view about the relative roles of men and women."

According to a statement released by the National Organization for Women (NOW), Promise Keepers "ideology is one of power and control. It resembles the rationale of the batterer, not the savior."

In USA Today, Stuart Wright, a sociologist at Lamar University, Beaumont, Texas, called the organization "an attempt to raise the authority and status of angry white men who find themselves declining in privilege and power. It is part of a movement of the religious right to reconstruct the 1950s."

Jay Coakley, a sociologist at the University of Colorado, said in the same article that Promise Keepers "gives moral legitimacy to men who wish to regain power," and represents "the same white male Republican vote you saw in the last election."

In the New Age Journal, writer Jeff Wagentheim observed: "...despite the group's assertions to the contrary, Promise Keepers is an organization with vast political influence. The fact that hundreds of thousands of men are being actively encouraged to adhere to a highly conservative set of values and to work to instill those values in their communities and nation should not just be a matter of theological interest."

Promise Keepers reports receiving 10,000 phone calls and up to 5,000 pieces of mail per day. It has a staff of 360 and a budget of $120 million.

William Martin, a Rice University sociologist who specializes in modern revival movements, warns that "There is no doubt that the leaders of the religious right will see [PK] as a major resource, and seek to strengthen ties with it. There is a danger it might be hijacked."

There is other evidence that PK leaders are involved in political or controversial issues. In 1992, founder McCartney supported an initiative on the Colorado ballot to block civil rights protections for gays and lesbians.

Harvey Baynes, a full-time employee of the Promise Keepers, was arrested in March 1995 in connection with a protest outside a Denver Planned Parenthood clinic.

Christianity Today magazine even warned in an editorial, "Nothing would sink [PK] quicker than getting drawn into a mean-spirited political crusade."

Although the media frequently describe the Promise Keepers as a fundamentalist movement, there are those who would take issue with this portrayal.

A resolution passed at a Fellowship of Fundamental Bible Churches session complained that "Promise Keepers' teachings are a strange mixture of truth and error. Its methods for promoting these teachings are questionable."

The fundamentalist resolution claimed that, while "some Scriptural values are taught...they are mingled with pop-psychology and have an ecumenical emphasis, while a charismatic aura pervades the proceedings." It condemned the fact that "One of the Promise Keepers' stated goals is to 'break down denominational barriers,' including Catholic, liberals, charismatics, and neo-evangelicals under its banner. It urges its members to 'break down the walls that separate us, to be a bridge builder, and to pray daily for unity among Christians in your community.'"

Therefore, the pastors and delegates to the Fundamental Bible Churches urged Christians to "be wise, to be warned, and to beware of this false movement."

Defending Its Mission

What's the truth about the Promise Keepers?

Defenders of the men's organization counter that while their supposed ecumenical emphasis does include "all who have come to genuine faith in Christ," without regard to the denominational label they may wear, this by definition naturally precludes certain segments of the population.

For example, they point out that the doctrinal positions officially held by Promise Keepers include a belief in the inspiration of Scripture, the deity of Christ, the virgin birth, substitutionary atonement, bodily resurrection and the need for regeneration -- and these things are all rejected by liberal theology.

Additionally, the teaching that man's alienation from God can be removed only by accepting through faith God's gift of salvation distinguishes Promise Keepers from Roman Catholic doctrine, which teaches salvation through the church and its sacraments.

Defenders explain that the goal of Promise Keepers is not unity of all men, or all faiths, but of all who hold to what PK literature calls "the true Christian faith." Stated another way, Promise Keepers claims it "does not promote unity at the expense of sound doctrine. It does seek, however, to focus on the essential issues of the faith, and leave other important, though less essential issues, in the hands of the local church."

All of this sounds reasonable in theory, but it does not appear to be adhered to in practice. How else to account for the fact that members of widely divergent denominations -- evangelical, Pentecostal, mainline, Mormon and Roman Catholic all -- identify with PK beliefs, and enthusiastically so?

Indeed, an investigation by Midwest Today, which included a careful examination of PK tapes, biographies, speeches, literature and interviews with those both inside and outside the movement, cast a far different light on the group and found substantial evidence to contradict many of its official claims.

Others see a far more sinister possibility. Jewel Van Der Merwe, a writer in the UK warns, "Is Promise Keepers creating a new folk religion? The large mass rallies, the exaltation of emotion over reason, the lack of doctrinal integrity, the taking of oaths (Seven Promises), the focus on fatherland and fatherhood, and the ecumenical inclusion of aberrant esoteric doctrines bears a disconcerting similarity to an era which gave rise to one of the most dreadful armies in history."

A Charismatic Fervor

While information contained on an (unofficial) Promise Keepers Internet page on the World Wide Web assures that "Charismatic doctrine and practice is not promoted or endorsed in any Promise Keeper publications or conferences," this appears to be a misstatement.

The Promise Keepers make available a teaching manual written by Dr. Robert Hicks entitled, "The Masculine Journey: Understanding Six Stages of Manhood." At the end of the book is a statement that reads: "Promise Keepers wants to provide men's materials like this book."

A close examination of the book raises serious questions about the true theology and teachings of the PK leadership.

The Rev. Dennis L. Finnan, pastor of the St. Charles Bible Church in St. Charles, Minnesota, and host of "The World, the Word and You" weekly radio broadcasts, says that "Hicks' book is Biblically erroneous, blasphemous and centered on the exclusivity of human wisdom. For example, in chapter after chapter, subjective insights into manhood are offered by quotes of a host of secular authorities such as Carl Jung, who turned out to be a demon-possessed psychiatrist; Leanne Payne, a New Age psychiatrist; and occultist/spiritualist Elizabeth Kubler-Ross."
In the book, Dr. Hicks accuses Jesus Christ of being a sinner, of having sexual thoughts and fantasies about Mary Magdalene, and of being tempted by homosexuality. He urges men to celebrate such rites of passage as their first sexual experience or the first time they are influenced by drugs or alcohol.

And he says David's Psalms are the musings of a manic-depressive.

"Until their endorsement of this book is withdrawn publicly, no man of God should trust any publication or statement of Promise Keepers," says James l. Holly, M.D., a frequent critic.

Another area of great spiritual concern to those who trust the Bible alone, and in its entirety, is the close association of the Promise Keepers with the radical fringe of the Charismatic movement.

James Ryle, one of the Board of Directors of PK, has come under fire for some of his rather far-out beliefs. For instance, he has declared himself to be a modern prophet who has had personal revelations from Jesus Christ.

In 1990, at a Vineyard Harvest Conference in Denver, Ryle asserted that God had personally instructed him to reveal to the church that the 1960's rock stars, the Beatles and their music, were the direct result of what he called a "special anointing of the Holy Spirit."

Ryle boldly proclaimed that he, personally, had been designated by the Lord as a lookout. He quoted God as having told him in these exact words: ":The gifting and sound that [the musicians] had was from Me... It was My purpose to bring forth through music, a worldwide revival that would usher in My Spirit in bringing men and women to Christ."

Not to be outdone, Jack Hayford, who has been a keynote speaker at several PK conferences, claims he, too, has seen a vision of Jesus Christ seated in heaven and has personally heard Him speak.

Hayford also relates a story about how a man rids his house of evil spirits by rituals in his yard. This would be rejected by many Bible-believing Christians as an occultist practice.

The founder and main spokesman of Promise Keepers, Bill McCartney, is a former Catholic who converted to the Vineyard movement. Consistent with Vineyard doctrine, McCartney, when addressing Promise Keeper rallies, often gives what he claims are direct revelations from God. Thousands of men thus subject themselves to the teachings of a man claiming to speak on behalf of the Almighty, when Scripture is clear God is not giving new revelation in this age.

Rev. Finnan comments that "This troubles me that this seemingly wonderful movement, to unite men in the common bond of Jesus Christ, is being founded by those who are at the least spiritually misguided and at the worst are under Satanic delusions."

Critics refer to the Book of Revelations' clear warning that "If anyone adds to these things, God will add to him the plagues that are written herein." (Rev. 22:18).

Vital Relationships With Men

The Promise Keepers' emphasis on pursuing vital relationships with other men includes the stipulation that "Each man willingly grants the others the right to inquire about his relationship to God, his commitment to his family, his sexuality, and his financial dealings."

"This is a common thrust of the Promise Keepers, to call men to openly discuss private sexual matters with other men," observes pastor Dennis Finnan. "This is very alarming to me for the Bible tells us we are not to discuss such intimacy with anybody but our mates."

Rev. Gil Rugh concurs. "Certainly as brothers in the Lord men are to encourage, rebuke, and admonish one another, but nowhere in the Bible are men told to give other men the right to inquire about those things. Obviously, if a man is involved in sin, he needs to be confronted (see Gal. 6:1). There is, however, nothing in the Bible that gives other men the right to inquire into private family and sexual matters."

A Confused Model of Manhood

Promise Keepers preaches that Jesus was a "man's man," a carpenter who lived at a time, according to PK advocate Rev. J. Alfred Smith Sr., "when they didn't have power saws."
Steve Farrar agrees that true manhood can be gleaned from the example of Jesus. "[He] could be tender and gentle, but Jesus could also walk in and clear out a corrupted temple," Farrar asserts.

It is this emphasis on Jesus's masculinity that troubles some observers. As theologian Lewis Smedes, who recently retired from Fuller Theological Seminary, points out, following Christ "is a gender-neutral calling: That which is important about Jesus being a model is not his modeling of maleness but his modeling of humanity," he insists.

On the other hand, Jesus's leadership was also based upon humbling himself, washing the feet of the Apostles. The leaders of Promise Keepers talk about establishing a new, non-domineering male leadership in the home through such servanthood to spouse and family.

But some think PK takes things too far. One of the leading spokesmen on this subject within Promise Keepers, Gary Smalley, is resoundingly criticized.

Al Dager thinks that "Smalley is destroying God's institutional structure of the family by suggesting that the husband submit himself to his wife. This is [found] nowhere in Scripture. I am not suggesting that a husband has the right to boss his wife around. I am stating that it is the husband's responsibility to ensure that his family is following the Lord."

The Biblical mandate for this is seen in Titus 2:5, Proverbs 14:1 and elsewhere.

"It seems as if Smalley is more concerned with how the wives feel about their husbands than how God feels about them.

"Women love Smalley because he focuses men's attention not on how to please God, but how to please their wives," observes Dager. "His courses do not utilize Scripture as much as psychological theory."

Indicative of this approach is that a cartoon included in a Gary Smalley piece portray a man holding window cleaner, a vacuum cleaner, and a laundry basket while offering strawberry cheesecake to his wife who is lounging in her Laz-E-Boy recliner with a rose, a telephone, the TV remote control, and the Bible.

Dager concludes, "The Bible does not tell us to glorify our wives, it tells us to glorify Christ, and Christ alone."

Unity At the Expense of Truth?

Critics claim Promise Keepers blurs the distinction between truth and error.
Comments Rev. Rugh: "Those involved in ecumenism often quote Jesus' prayer in John 17:21, where He prayed, 'that they (Christians) may all be one to show that believers should be unified.'

"Certainly, believers should earnestly desire the unity Jesus referred to." he acknowledges. "However, in that same prayer, Jesus prayed, 'Sanctify them in the truth; Thy Word is truth' (John 17:17). True unity must be based on the truth of Scripture or else it is a false unity. The Bible nowhere calls for unity at the expense of truth.

"Promise Keepers attempt to promote godliness without following God's plan as set forth in His Word," Rugh contends.

Rev. Bill Randles, pastor of Believers in Grace Fellowship Church in Cedar Rapids, IA. complains, "People are being encouraged to de-emphasize doctrines so they can come together as though doctrine is a meaningless detail.

"If PK is supposed to be a great move of God, doesn't truth and discernment count for anything?" he asks.

Its Affect On Local Churches

Many who have embraced the Promise Keeper ministry are now bent on recruiting new followers with fully as much zeal and pressure as sports-minded college alumni men seek to recruit top athletes for sports programs.

The organization has sought to infiltrate local churches through encouraging the formation of men's small groups to aid in building what it calls its "network." PK reports having 11,842 "Key Men" and "Ambassadors" who introduce Promise Keepers to clergy and make available to churches its questionable resources.

Promise Keepers claims it has a commitment to build up the local church through empowering pastors. The rallies have typically concluded with all the clergy in attendance being called to the front of the arenas to be prayed for and applauded by the other men.

But many clergy are distancing themselves from the movement. Gil Rugh says this is because "the pressure to follow the crowd and silence the voice of scriptural reproof is growing."

Critics observe warily that the machinery is coming into place for PK to have a continuing influence on its members and their denominations for years to come.

M.H. Reynolds, Editor of Foundation magazine, sees this dilemma: "How could a pastor say 'No, we cannot...' to men returning from a Promise Keepers conference who promise the pastor they will support him, work with him, and pray for him as never before? How can he deal with these undoubtedly well-meaning, yet misled, men within his own church who are now exerting pressure upon him to fall into line with the program?"

Bill McCartney has offended clergy by his bullying statements about the reluctance on the part of pastors to ally themselves with Promise Keepers. He said at a Detroit rally that any clergyman who wasn't planning to attend the 1996 Pastors Gathering in Atlanta "needs to be able to tell us why he doesn't want to go."

A Summary

The problem with the Promise Keepers is summed up by Pastor Jack Stephens of Columbus, OH. He says, "I am told that when oleo was first sold it came in white, bland-looking sticks. A separate packet of yellow dye was included with your purchase and had to be kneaded into the oleo to give it a butter color. PK is like that old oleo. It is totally colorless regarding any true doctrinal substance.

Anyone involved with it can add whatever doctrinal coloring in whatever amount they choose in order to make it personally palatable. But no matter how much you attempt to color it, PK still isn't butter... "

      
Click Here To Recommend This Story To A Friend
      
---
Back to the top
Contents copyright 1995, 1996, 1997, 1998 and 1999. All rights reserved.