Midwest Today, April/May 1996
---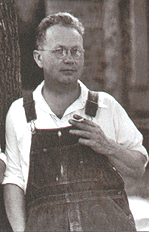 GRANT WOOD REVISITED
Famous Paintings by Iowa's Most Beloved Artist
Assembled for Sesquicentennial Exhibit



For an explanation of why we can't show you Grant Wood's
painting, see below


---

One of the Midwest's most prized artists takes center stage as the Davenport Museum of Art presents "Grant Wood: An American Master Revealed," (now through Sept. 8th). This impressive exhibition features over 60 Grant Wood paintings and drawings from public and private collections around the country, including his most famous, "American Gothic," which is making a rare appearance from the Art Institute of Chicago through June 9th. It is the largest and most complete retrospective of this artist's work to appear in the state in over 50 years.

In this, Iowa's 150th year of statehood, there is perhaps no better artist than native Grant Wood to bring Iowa's history and Regionalism to fruition. Much of Wood's work was inspired by rural Americana. His subjects after 1929 were imbued with his personal response to the Iowa landscape and his Midwestern experience.

Wood concentrated on bringing local color to life in such works as "Appraisal, 1931," and "Dinner for Threshers, 1934." As the exhibit unveils, however, Wood's artistic vision did not develop in a Midwestern vacuum but instead drew heavily on sources ranging from Georges Seurat to the modern German painting of the Neue Sachlichkeit movement, to Arts and Crafts design principles.

Grant Wood was born on February 13, 1891 on his parents' farm four miles east of Anamosa, Iowa, where he spent the first ten years of his life. After his father's death in 1901, he moved to Cedar Rapids with his mother, sister Nan and brother Frank. Even though life on the farm came to an end, the sights, smells and sounds of his country childhood would be preserved forever in the faces and landscapes of his famous paintings.

Grant Wood was an exceptional artist from a very young age. When he was 14, he won third prize in a national contest for a crayon drawing of oak leaves and said that winning that prize was his inspiration to become an artist. His formal art education included two summers with Ernest Batchelder at the School of Design and Handicraft in Minneapolis and three years of occasional night classes at the Art Institute of Chicago.

In October 1920, Grant Wood set out on a trip to Europe, telling his sister "the art critics and dealers want no part of American art. They think this country is too new for any culture and too crude and undeveloped to produce any artists. You have to be a Frenchman, take a French name, and paint like a Frenchman to gain recognition." It wasn't long before Grant would prove them wrong.

In 1923 Wood took a leave of absence from teaching high school art to visit Europe for a second time, where he studied at the Academie Julien in Paris. While in Europe, he experimented with Impressionism and Post-Impressionism. His exposure to modern European art played a significant role in the development of his mature style.

In 1927 Wood received a prestigious local commission from the city of Cedar Rapids to design a stained glass window for the Veterans Memorial Building. The Memorial Window stood 24x20-feet. At the base of the window were six life-size figures of soldiers of every American war, beginning with the Revolutionary War and ending with W.W. I. Above the soldiers was a woman representing the Republic. The window took two years to complete, including time spent supervising the fabrication of the glass in Munich, where the guild tradition of medieval craftsmanship continued.

While in Munich, Wood admired 15th century Northern Gothic painting at the Alte Pinakothek Museum. This style had enjoyed a resurgence of popularity in Germany during the 1920s as part of a broader return to realism, objectivity referred to as "die Neue Sachlichkeit." Wood sought inspiration from the precise clarity of paintings by Jan van Eyck, Hans Memling, Albrecht Durer, and Hans Holbein. He demonstrated a tendency to render rounded forms in a simplified, schematic fashion with the clear definition of Northern Gothic painting and modern German art.

The most important development of Grant's trip to Munich was his change in style from French Impressionist to mature and meticulous. He said in a 1932 Christian Science Monitor interview that his natural tendencies were toward the extremely detailed. As a boy, he once painted a picture of currants "which no one could have executed with a more meticulous finish." It was after this realization that Grant painted his most famous work, "American Gothic," in which he applied this method to the decorative adventures of his native surroundings.

With "American Gothic," Grant Wood tells the story of Midwestern life and culture through the use of many traditional symbols: the rick-rack on the woman's apron, the gothic window, the pitchfork held in the tight fist of the somber farmer. At the annual juried exhibition in Chicago, the piece won the Art Institute's $300 purchase prize. And it propelled the artist's career from local to national recognition.

The painting, which glorified and satirized rural Americans, remains in the running for the most parodied work of art. The model for the farmer's wife in the picture was Grant's sister, Nan Wood Graham. Her face competes with Whistler's mother and the sitter for the Mona Lisa as the most well-known female subjects in a painting.

Wood's philosophical position regarding the advancement of the Midwestern artistic experience manifested itself in many ways. He loved to share his enthusiasm for art with his students, and in the summers of 1932 and 1933, he oversaw the Stone City Art Colony, in which artists under his tutelage lived in a string of old ice wagons, like gypsies in Mexico.

Grant Wood took pride in his region and created a painting style all his own. "Technique does not constitute art," he said. "Nor is it a vague, fuzzy romantic quality known as 'beauty,' remote from the realities of everyday life. It is the depth and intensity of an artist's experience that are the first importance in art."

Intriguingly, though his favorite painting was one he did of his mother, "Woman With Plant," he later forsook portraits, explaining, "If I paint [people] the way they really look, they don't think anything of me. If I paint them the way they want me to, I don't think anything of myself."

With his broad face, florid complexion, stocky build and bib overalls, Wood could easily have been mistaken for a Bohemian farm hand. Accounts by his friends say that Grant was a bit of a freeloader, a typical "starving artist" type who was not always good about paying his bills. He had several benefactors, none more supportive than David Turner, who ran a local mortuary, and allowed Wood and the artist's mother to live rent-free for 11 years in a loft above Turner's brick, gabled garage. Amidst eclectic clutter and artsy decorator touches, Wood held forth, executing a long succession of acclaimed works and firmly establishing himself as one of the nation's most enduring -- and resourceful -- painters.

For example, there was "The Midnight Ride of Paul Revere," in which Grant used a child's rocking horse as a model for the steed. With a woman friend behind the wheel, he took a quart of whiskey along as they combed the Iowa countryside one cold winter day, looking for just the right schoolhouse for his "Arbor Day."

In landscapes, dubbed "unreal realism," Wood sometimes achieved a humorous effect with odd exaggerations. "All my pictures are first planned as abstractions," he explained. "When I think it's a sound design, then I start very cautiously making it look like nature. But I'm so afraid of being photographic that maybe I stop too soon."

Wood used a 50-50 mixture of linseed oil and turpentine, and preferred panel boards to canvas. He examined pictures upside down as well as right side up, to make sure they were still in balance.

Described by a friend as "A New Dealer before there was a Neal Deal," Wood provoked controversy with his portrayal of three tight-lipped, dour women in "Daughters of Revolution."

At one point, he married and moved to Iowa City to take a professorship, abandoning painting to produce a series of drawings, including for Sinclair Lewis' book, "Main Street." His marriage lasted only a few years, and despite a good income, he fell into trouble with the I.R.S.

On a leave of absence from the University, he had a burst of inspiration, producing lithographs and paintings, including "Spring In the Country." Then Wood died of cancer in early 1942.

Concurrent with the exhibit at the Davenport Museum of Art, a selection of photographs, books, furniture and other personal memorabilia which belonged to Grant Wood will be on display. "A Walk Through Grant Wood's World" will provide an opportunity to see the things with which the famous artist surrounded himself from a gothic window-shaped clock, to his round wire-rimmed glasses, along with his bib overalls.

The Davenport Museum of Art has catalogued its traveling exhibit in a beautiful 124-page book, rich with 60 illustrations of paintings and preparatory studies by the artist.

For more information, call 319-326-7804 and tell them you read about it in "Midwest Today Online."
---
Letter sent to Midwest Today by VAGA:
To Whom it may concern:
VAGA, the Visual Artist's and Galleries Association, represents copyrights and related rights for works of art of a few thousand artists and estates of artists worldwide. This includes the Estate of Nan Wood Graham, heir to Grant Wood and also the woman portrayed in his painting American Gothic.
While we recognize the importance of your site in promoting the Grant Wood exhibition at the Davenport Museum, now that the show is long over, we ask that you immediately remove the image from your site within the next two weeks. Reproductions on the Web are of particular concern to us give the broad nature of distribution and the ease of downloading and further unauthorized use.
For future reference all reproductions of American Gothic must be cleared in writing through VAGA or the Arti Institute of Chicago which owns the original and protects the rights in it in conjunction with VAGA.
If you have any questions or comments about this please contact:
Robert Panzer
Executive Director, VAGA
521 Fifth Avenue, Suite 800
New York, NY 10175
212 808 0616
fax: 212 808 0064
Response from Midwest Today:
We realize that there is a need to protect the integrity of an artist's work. But from all that I personally know about Grant Wood -- and over the years I have even talked at length with people who were close acquaintances of his (such as the late Robert Armstrong of Cedar Rapids) -- I am convinced that he would be horrified by the manner in which his beloved sister and her representatives have proceeded to restrict access to his work. My assumption further is that you must be very busy canvassing libraries for any books which have long since outlived their usefulness -- just as you feel our story is obsolete -- and which contain reproductions of his work. You must, in fact, even be horrified that any unauthorized person even mentions Grant Wood without your prior knowledge or consent.
Tasteless parodies or illegal reproductions of art are one category of offense. Being elitist and paranoid about art is the other extreme. By using a small reproduction of one of his most beloved paintings -- supplied to us, incidentally, by the Davenport art museum without any reference to time limits on usage -- we sought only to educate people about this man's work in a very flattering way. To have our efforts rebuffed is truly an insult not only to us, but to Grant's concept of what art is supposed to be all about.
Larry Jordan, Publisher
Midwest Today
---
Click Here To Recommend This Story To A Friend
---
Back to the top
Contents copyright 1995, 1996, 1997, 1998 and 1999. All rights reserved.